MANOR THEATRE GROUP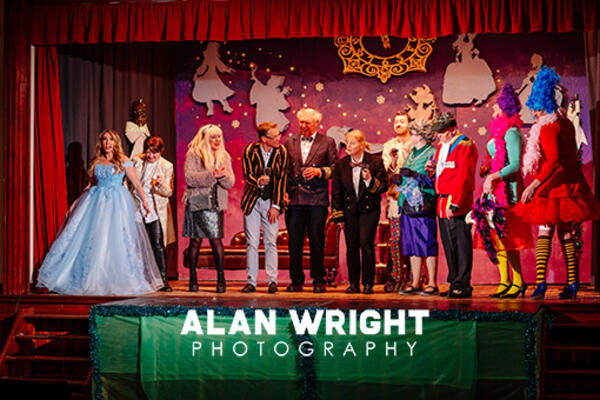 Published on 1st January 2022.
Manor Theatre Group held its festive pantomime at Warnham Village Hall in December. Founded more than 40 years ago at Manor House in the Causeway, the small amateur dramatics group perform everything from comedy sketches to murder mysteries to adapted plays. After a lengthy lay-off due to COVID, the group returned with a raucous pantomime, Cinderella.
As well as nods to classic comedies such as The Princess Bride, Monty Python and The Holy Grail and Four Weddings and a Funeral, it contained all the hallmarks of Manor Theatre's output – slapstick, silliness and near-the-knuckle gags! AAH met writers/ dames Dennis 'Den' Manning and Darren Worsfold, assistant director/Fairy Laine Watson, Cinderella Becky Waine and producer/chairman Andy Page…

Darren: I was working for the police as a youth officer when my colleague Den roped me in when they were short. I said I'd only go if I was the back end of a cow, so nobody saw me. I turned up for rehearsal and he gave me the script and said, "Right, these are your lines and you've got to sing this!" I loved it though and never looked back! There's a family feel to the group and nobody is turned away. We can always find a role, either on stage or behind the scenes.
Laine: We are a close group and some of my best friends are at Manor. This can lead to occasional niggles, as it's like a family. But it ensured that even during lockdown we made the effort to meet up regularly on Zoom. When lockdown ended, Andy filmed short sketches with some members of the cast, which we posted online. They were very good and helped attract a new audience.
Andy: These included 'The Shovel Sketch', 'The Bull Sketch' and 'The Christmas Cracker Interview Sketch', while Den wrote a very funny dark comedy called 'The Noose'. They provided an opportunity for the actors and those of us behind the camera to keep active and explore new avenues.
Dennis: Darren and I have written the pantomime in recent years, although both Roger (Kidd) and Andy (Page) have penned it in the past. We rotate between the usual favourites such as Cinderella, Snow White and Aladdin, as they attract a bigger audience. Traditional pantos like Dick Whittington don't quite have the same appeal anymore. We have tried more off-the-wall ideas, like Pirates of the Curry Bean, and although they've always done okay as we have loyal supporters, they don't attract as many young families.
Darren: We work out the storyline first, then fit the songs and messy scenes around it. The fun part is breaking the plot down to individual scenes, then adding jokes. I collect one-liners all year round, but something that's funny and topical in summer could be irrelevant by Christmas, so you're always making changes. Even at the dress rehearsal, we're thinking of adding a gag about the Downing Street Christmas party!
Dennis: We are conscious of the fact that there are always people in the audience who don't like panto and are watching because they're with family. So we try to include gags that go over the heads of children, but might give the grown-ups a laugh. After a couple of glasses of wine, there are things we find hysterical and add to the script, but later realise we can't keep in! Still, some jokes do sail close to the wind. Most mainstream pantos just follow a script. They may be big and colourful but they're not funny, as they have to play it safe. That's why some people like Manor Theatre, as not only do they save money on tickets, but we can be a bit naughtier too. Having said that, the humour isn't for everybody and some don't find us funny at all!
Becky: The boys are hilarious and I never know what they're going to throw at me. We rehearse every scene, but on the night of the performance, it could be a whole other story! There's a lot of improvisation and they do whatever they can to make me laugh. But that's the great thing about panto - you can have fun and unexpected moments end up becoming the fondest memories for us and get the biggest laugh too.
Laine: I enjoy being on stage, but equally love helping behind the scenes, especially with set design. Den usually gives me an idea of what he's after and I try make it as cheaply as possible! Often, the set contributes to the mayhem. If something breaks or falls off, the cast will shout, "You had one job!" to those of us off stage. The audience loves that! The funniest bits are those unscripted moments when something goes wrong.

Dennis: We saw an influx of early ticket sales for the panto, as people were keen to get back to how things were before COVID. For many, a traditional Christmas includes seeing a panto with family, and we've been increasing our audience year after year, because our shows are different.
Becky: I've been with Manor since I was 12, so I've missed the buzz you get from being on stage over the past two years. There is absolutely nothing like it in the world and I still get that feeling every time I step out from behind the curtain. We always meet the audience after the show in our costumes, and the moment the children get to meet the Princess makes it a very magical experience for me.
Dennis: I'm not sure what the future holds for pantomime. Of course, it's based on slapstick and tongue in cheek humour, but in the last year or two, the thought process of some people has changed. How long before people start questioning genders and the portrayal of stereotypes? But for now, we will just keep trying to have fun.
Darren: Manor has given me many great memories. Before retiring from the police in 2020, I was a youth officer. One time, I found an abandoned car and a group of young lads saw me and scarpered. I knew they were hiding, so called them out and one lad appeared and said, "Hey, I know you! You're the Sheriff of Nottingham!"
Andy: Although we're an amateur theatre group, I like to think we go about things in a professional way. We care about the show and there's a lot of skill and talent in the group, both on and off stage. Although I work mainly behind the scenes in marketing and production, I have taken to the stage a few times and enjoyed it, although I don't think I'm a very good actor!
Laine: We got within 10 days of performing 'Dry Rot' in 2020, which was going to mark our 40th anniversary. It was delayed several times by COVID, so now we'll have to learn our lines again! It's a brilliant comedy farce, so we're all looking forward to that in spring 2022. Fingers crossed, it'll be able to go ahead!

INTERVIEWS: BEN MORRIS
PHOTOS: ALAN WRIGHT

Further information: Dry Rot is scheduled to be performed at North Heath Hall, Horsham, on 1 – 2 April 2022, in aid of Macmillan Cancer Care. For tickets and information visit www.manorhorsham.com