Rotary Club of Horsham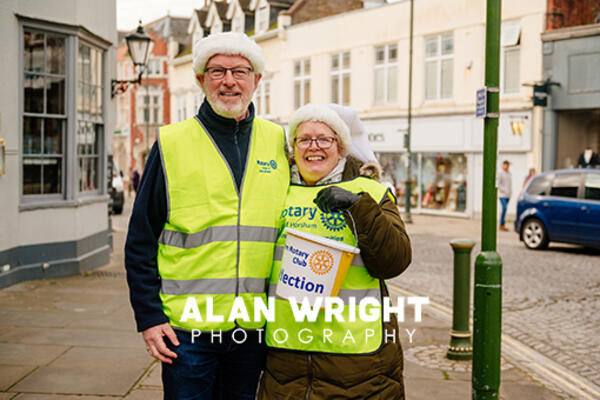 Published 1st January 2022
The Rotary Club of Horsham was founded in 1923 and continues to make a positive impact on the local community. As well as helping to organise large-scale events such as Funday Sunday, the Rotary is behind many popular town centre activities such as the Pancake Races, Trick or Treat Trails and Children in Need fundraisers.
On December 11, Rotary members were collecting for good causes with the Santa Steam Bus, run with the help of the Searles, a local family with its own private collection of stream engines. The Horsham branch is one of about 1,700 Rotary clubs in the UK and Ireland, built on the principles of fellowship among members of the business community. Around the world, Rotary's work ranges from fighting disease to protecting the environment, with the organisation playing a vital role in eradicating polio. However, each individual club supports many local good causes too.
Andrew Edwards, who heads the Community Service group, said: "I first joined Rotary in 2003 in Wiltshire, where I lived at the time. It provided me with an ideal opportunity to get to know people, as I was new to the area. When I transferred to West Sussex, I the first thing I did was look for a local Rotary club as it connects you to a group of people that you can socialise with."
"As well as our social get-togethers and meetings, part of my role is to organise community events. I worked with the late John le Rossignol, who was a larger-than-life character and very well connected locally. He was pivotal to launching events like Funday Sunday and Set4Success, as he had a way of getting people on board and empowering them to make things happen. Of course, they're big shoes to fill, made harder by the fact that it's been difficult to hold events in the past two years."

"However, the Trick-or-Treat Trail continues to do very well and the public are supportive of our Children in Need collections with Pudsey too. As well as the Steam Bus Rides, we sent Santa out on his sleigh in the run-up to Christmas, collecting for local families in need, helping them buy food or even presents for children."

Changing Rotary
Rotary Clubs often comprise current or retired members of the local business community, with an element of networking to the group's social events. Women were only permitted to join in 1989 and because of this, it has taken time to shake off a reputation as an old boys' club. However, there is a growing contingent of female members in Horsham, and in recent years they have occupied key roles, including Club President.

Dr Sabani Mukherjee, a Consultant Radiologist for the NHS before her retirement, moved to the area in 2020 after 48 years in Manchester. Inspired by her father, who worked as a Doctor in a poor region of India and was known for putting the needs of his community before personal wealth, Sabina joined Soroptimist International, the women's equivalent of Rotary International, which has provided a global voice for women since 1921. When she moved to Horsham, she joined Rotary with her husband, who worked as a GP for 40 years.
Sabina said: "When my husband first joined, Rotary didn't accept female members, so I joined the Soroptimists. I was also a magistrate and trustee for a domestic violence advisory group. I like helping people and raising money for good causes, so when we moved here, I looked for another group. In all honesty, I would have stayed with the Soroptimists if there was a local club, but the Rotary Club have been very welcoming and even in these challenging times we've held social events, such as the car treasure hunt."
"Maybe Rotary has been a bit of an old boys' club in the past, in the same way the Soroptimists was an old girls' club. But there has been a change and perhaps in another decade, it will be closer to a 50-50 split!"

Worldwide Aims
As part of Rotary International, the Horsham Club is involved in many initiatives, supporting Rotary's global mission to promote peace and goodwill. As well as its highly successful programme to eradicate polio, it sends shoebox parcels and food boxes to poverty stricken regions, or those affected by natural disasters. Locally, Rotary supports a variety of organisations such as the Phoenix Stroke Club in Horsham and local branches of the YMCA and Age UK, with donations or assistance, often liaising with businesses to provide expertise.
The Making a Difference campaign is a wide-ranging project that assists people in many ways, from providing washing machines for elderly or vulnerable people to sourcing Christmas presents for families in need. Much of this work is carried out in partnership with local authorities and organisations such as West Sussex County Council, Horsham District Council and the Citizens Advice Bureau.
Social Skating
On the social side, Rotary hold regular meetings (usually at Roffey Park, with a meal and guest speaker) and enjoy nights out, such as bowling or even ice skating at The Rec. Recently, members teamed up with the Horsham Hospital League of Friends to clear the central garden.

Jane Grainger has been with Rotary for eight years and also volunteers at the Phoenix Stroke Club. Jean said: "I love being involved with Phoenix, but joined Rotary as it offers more on the social side. We watch films, meet for coffee or meals out, and you get to know people you wouldn't have otherwise met. It's also a great opportunity to get to know the town, because of the range of events Rotary is involved in. We're a happy group and I love what Rotary entails, but we need some new faces. A lot of Rotary clubs - as well as those from similar organisations - have disappeared, and the reality is we're all getting older, so it needs others to step up and serve the community, giving as much time as they can afford."
Greater Need
But will the next generation take over the reins? A Young Rotary group for men and women aged 25 – 40, failed to gain momentum in Horsham, as the organisation struggled to attract members. Dave Smith, current President, joined Rotary in 2010, having been roped in by his friend and neighbour John le Rossignol.
He said: "Rotary has changed over the last decade and that is reflected in society. I think there's less desire for people to get involved in their community and those who do express an interest can lack the drive and commitment of some of the older members."
"As a community, we're happy to put money into a bucket and support fundraising. But when it comes to getting feet on the ground, finding people is more difficult. I hear talk about people having busier lives these days, but my wife and I both worked hard and raised a family, as did most Rotarians. There's a lethargy that wasn't there before. That might sound harsh, but it's there, yet possibly the need to get out and help people is greater than ever."

WORDS: BEN MORRIS
PHOTOS: ALAN WRIGHT
For details about joining the club, email: secretary@horshamrotary.org.uk or visit www.rotary.org/enRotaryClubofHorsham