Horsham Army Cadets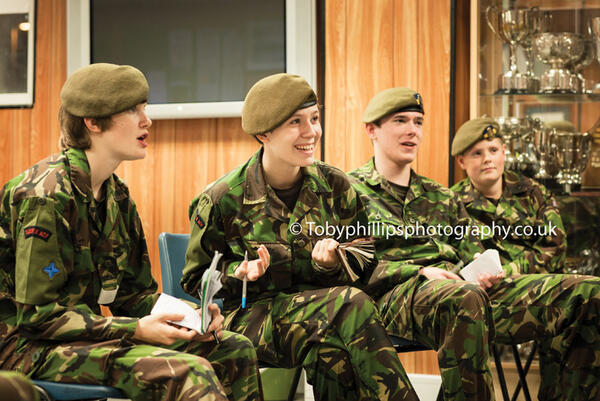 During a visit to the Billingshurst Show last summer, I couldn't help but be impressed by a group of young people putting together a kit car in under two minutes. The well-drilled team were Sussex Army Cadets, and it transpired that the kit car assembly is one of the force's most popular exercises.
For more than a decade, hundreds of cadets have learnt how to dismantle a Jago Sandero Kitcar into 70 separate components and then rebuild it. It's a drill that has taken them to the Royal Albert Hall, and even television with appearances on Blue Peter and You Bet!
It is just one small part of being a Sussex army cadet, but one that highlights the variety of skills that young people aged 12-18 can learn with the cadets. Sussex Army Cadet Force is made up of 25 detachments, with 11 Platoon
Horsham being part of B Company along with eight other branches including Steyning and Worthing.
The Horsham cadets meet every Monday and Wednesday night at 7.30-9.30pm and during the year they enjoy excursions and a two week camp. The army cadets – along with RAF cadets also based at the Drill Hall in Denne Road – were in attendance at the Remembrance Sunday services at Horsham War Memorial on 11th November.
It is natural to assume that being a cadet is a stepping-stone for those looking for a career in the army, but that is not always the case. Instead, cadet Officers aim to produce well-rounded individuals with a range of life experiences.
Mick Kendall, Sergeant Instructor, was once an air cadet. He then spent eight years in the army as a military policeman before working for Sussex Police as a road traffic officer. He said: ""You can see a young person coming to us in one state - appearing to be unmanageable, unruly, and disruptive - and progressing until they leave as a well-rounded, mature, intelligent individual. That is very rewarding.We've one lad who came to us a scruffy, unruly boy who refused to cut his hair. He wouldn't polish his boots and his uniform was a mess. Now after a year, he is worthy to go forward as an NCO (Non-Commissioned Officer).
"We haven't shouted or threatened him – he has made the changes himself. He has taken on board what has been said and that is very satisfying to see. We are funded and supported by the army, but this is primarily a youth organisation. All of the instructors are volunteers, and with the exception of the officers we are not subject to military law.
"So it's not a recruiting base for the army. However, we run the detachments on regular army lines in terms of values and standards, and we hope that the conduct of the instructors rubs off on the cadets. A lot of our cadets don't join the army. Some do of course, some join other services. It's not an automatic stepping stone to a career in the armed forces."
The cadet force welcomes young people once they are in Year 8 at school. As well as installing discipline through training, cadets can develop through the ranks. The first step is to pass the APC (Army Proficiency Certificate) 1 Star to become a Lance Corporal, and passing the 2 Star can see you progress to Cadet Corporal. A Cadet Sergeant/Staff Sergeant will have normally passed APC 3 Star and will usually have an interview with the cadet Commandant to see if they are suitable for promotion to Sergeant.
Promotion to Staff Sergeant follows after a period of time as Sergeant. A Cadet Sergeant Major will have passed APC 4 Star and if this cadet shows exceptional skills they may become Cadet Regimental Sergeant Major. There are occasionally opportunities to appoint a Cadet Under Officer (CUO), an appointment rather than a rank,
allowing the holder to stay in the officers' mess.
Sergeant Simon Ward was a cadet from the age of 11, and was among the first Cadet Regimental Sergeant Majors in the country. After 12 years in the army and the police force, he is back as an officer. He said: "When I stopped working for the police about five years ago I decided I wanted to do something with my evenings, so I applied for the army cadet forces and was taken on. It takes a while to go through the training and you have to go away for a week-long exam and assessment with the regular army.
"I was posted in Horsham and before becoming second in command in Steyning. Then I came back here as Commander. I got so much out of the cadets as a young man. It really helps with self-confidence, and the ability to achieve things that you didn't think were achievable. That has always stayed with me. I felt I had the knowledge and the ability to nurture youngsters and help them become better people.
"The army cadets does gives them structure and discipline to their lives. Some of the children here do not have that in their lives away from here, but here they meet others - some in the same boat, some who are not – and they feel like they belong to something. You will get some here that do want to join the army, and what they do learn here will actually help them in the regular army. They will know how to get up in the morning, how to iron their clothes, how to look after themselves how to prepare for different weather conditions.
"Our cadets are saying 'mum, please don't iron my uniform. I will do it, as you'll probably get it wrong!' it's quite funny!"
The Army Cadets learn from a syllabus and the skills they learn cover a wide area from orienteering skills to first aid and combat techniques including camouflage and concealment, and basic warfare. Numbers are currently very good. During conflicts, if the army is viewed positively by the public, that can have an impact on cadet
numbers, and there are currently about 1,000 cadets in the three Sussex companies.
Major Dave Burberry said: "People don't join the army during the quiet spells. Soldiers want to do what they have been trained to do and for a period of 30 years, infantry troops trained and never actually got the chance to use those skills.It is like training to be a journalist and never writing an article. It was very frustrating, and that is why so many wanted to go to Northern Ireland because it was active service and you put your training into practice.
"Now, because men and women are deployed in operations, people join the army knowing that there is a good chance they will use the skills they are taught on the ground in Afghanistan. Because of this, the training is taken more seriously across the board because one day it could be very important."
Cadets are often involved in community projects, with schools, hospitals, and old people's homes. They integrate with emergency services, undertake regimental drills, and of course partake in a certain amount of physical training. There is a huge range of adventure activities including mountain climbing, caving, windsurfing and rafting, and many cadets attempt the Duke of Edinburgh award scheme. If the cadets reach a certain level of discipline, they are taught how to handle a rifle.
Sergeant Simon Ward said: "We start off with what is tantamount to an air rifle and go though the safety issues. The cadets can progress to a .22 target rifle and then an assault rifle, the Cadet A2 GP, which is like the SA80 used by the regular army. That's why we have so much discipline – it's to do with safety. If cadets can't behave themselves then of course there is no way that we are going to let them use a rifle. It won't happen. So when they do drill they are learning discipline."
Needless to say, it is the outdoor activities that prove most popular with the cadets. Sergeant Jonny Wheeler said: "I've been with the cadets for four years. I was in the scouts, and I had a friend who joined the cadet force as his dad was in the armed forces. He said it was good so I came along and haven't looked back since.
"I was a quiet boy when I joined but the army cadets develop you as a person. I'm more confident now, and I've spoken in front of top brass about the cadet force. I particularly like field craft, wearing the war paint, and shooting is good too. I've now gained my marksman badge. I was thinking of trying to become an Apache pilot. I'll go through officer training first at Sandhust and hopefully progress from there.
"I would recommend people give the cadets a try. I'm sure that some don't have the right attitude but the ones who stick it out will get far if they put the effort in."
Jack Jennings, Acting Lance Corporal, isn't so sure about a career in the military as he is only 14 and still has two years at Tanbridge. But he says that the cadets has had a positive impact on his life. "If I didn't come here I might just sit around the house so being a cadet gets me outside and it is fun. Being a cadet has helped me as I only really used to speak to people that I knew but I'm more confident in conversation when meeting new people."
Corporal Richard Bateman has competed in a variety of regional and national sporting competitions thanks to the sports set-up in the army cadets. But his hopes for a career in the armed forces have been scuppered, hopefully only temporarily, by a knee injury. I'm the longest serving here, as I've been here for five and a half years", he said. "My granddad fought in the Second World War and the stories he told me inspired me.
"The opportunities I have here are amazing - I've been involved with football, athletics and the kit car team too.
"I feel I can diffuse tension and conflict just through what I have learnt here. It gives you the confidence to take charge of real life situations."
Since 1982, girls have been welcomed into the army cadets and Corporal Kim Stamp, 16, is the current holder of the Lord Lieutenant Award for West Sussex. Kim said: "I was nominated for the role and I had to prove that I was looking after my cadets correctly. I've been here with the cadets for three years and I've gained so many life skills. You learn how to take care of yourself, how to manage stressful situations, teamwork and leadership skills.
"I joined when I was not physically fit – which was one of the reasons I came here – and because I had no self-
confidence. I was really shy. I've matured a lot and it's had a big impact. I'd be a different person without the cadets."
Sussex Army Cadets are currently on the lookout for more adult officer instructors. Instructors do not need to come with previous military knowledge as training is provided. But be warned. Major Dave Burberry said: "We have an adult training centre in Frimley where every adult instructor in the army cadet force has to go for basic training.
"It's a week's intensive course initially and as you progress you will return for more training. It's run by the regular army instructors. It's a good week but hard work!"
For more details visit www.sussexacf.co.uk or call 01273 552222.