Belly Laughs at Glynde Place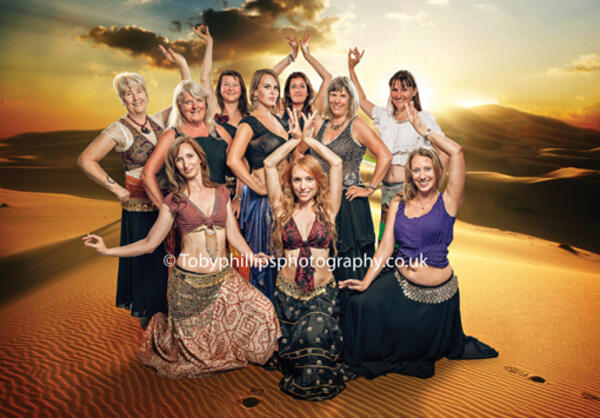 It's that same old cliché...an HGV mechanic is made redundant and, naturally, decides to become a belly dancer.
In what must be one of the more unusual curriculum vitae, Carina Rose can list 'replacing shackle hanger brackets with an air gun' amongst her skills, as well as 'improvised dance based on torso articulation'.
Carina runs two classes each week at The Glynde Place Dance Studios in Horsham town centre, with a belly dance fusion class on Wednesday and a Polynesian-inspired dancing class on a Monday.
It's quite a change for the shy, former mechanic who claims that when she was younger she was the one 'talking to the plant pot in the corner' whilst everyone else was dancing.
Carina said: "I started dancing about ten years ago. I was bored one summer and decided I would try belly dancing. I absolutely loved it. I never danced before; I never did any ballet or tap dancing. I came out of my shell through belly dancing, and before long I was going to three classes a week. I made loads of friends too, which was a real bonus.
"I was an HGV mechanic but was made redundant in the recession. I thought 'what else am I good at?' Belly dancing was something else I could do, so I started teaching classes of my own. I asked my teacher, Storm Bower, if she would mind if I set up a class of my own. I set up in Dorking at first, with the name Dancing Roses, and then started a second class in Bookham. But when Storm retired she asked if I would take over her Horsham classes."
"On Monday nights we do Polynesian and Hula dancing, and we have Belly Dancing Fusion on Wednesday nights. There are so many different types of belly dancing, which people do not always appreciate, but fusion is when you take a variety of influences to create your own style. Our fusion has a little Flamenco influence,
Indian, Celtic, Hawaiian, and a little street dance too. If you look at professional dancers, a lot of them do
create their own blend.
"People usually come to their first class thinking they are going to leave as a belly dancer. That is exactly what I did. I didn't realise it would take so long, but it is not easy to learn as you use muscles in your body that you don't really know that you have.The key to belly dance is isolation as you isolate certain muscle groups and use them alone. That is why it looks so pretty, as if a girl can move her hips without moving her torso, then her torso, then make them both do different things at the same time, that takes skill.
"You can, however, do basic moves within a few weeks. You don't need natural rhythm and there's nothing that cannot be taught."
At least in the eyes of her students, Carina has successfully made the transition from student to teacher. Jenny Coote started belly dancing five years ago after moving to Horsham and now considers belly dancing to be a weekly highlight.
She said: "I started dancing with Storm, but then she left and Carina took over. From being a student like the rest of us, she has learnt with us and has become a brilliant teacher. What I like about belly dancing is that although there are set moves, you can put your own spin on it and adapt the dance to your own body type. It is a very inclusive style that allows you to be creative. You'll see there is a wide range of body types here and belly dancing can suit everyone."
This is certainly the case in Carina's classes, where the youngest student has been just 14 and the oldest 92. One of the regular dancers is in her seventies and regularly performs solo. Carina said: "Belly dancing is meant for all women, as it's a celebration of the female form at all its different stages in life."
Diana Patterson first went along to the class with her friend, Rosie Stringer, six years ago, and the two have continued to develop their belly dancing abilities. Diana said: "I've always been interested in it, as I love dancing, and this was a chance to carry on now that I'm older. At the age of 60 I was thinking 'can I do it?' and when I first came along with Rosie, I found it quite difficult.
"It's something I hadn't done before, and the rhythm and the moves are quite extreme. But you learn. Not only is it lots of fun, but it's nice company. I really would recommend it to people and try it. I think sometimes people are put off by the image of belly dancing, as perhaps it's seen as being a little sexy, but it's not really. You can cover up as much as you like and wear what you like."
Most of the women make their own costumes and veils from bits found in charity and fabric shops or online auction sites. Carina managed to pick up her belt in India, where she spent five weeks and was able to pick up new inspiration from the tribal dancers of the north-west regions.
"Different countries have different styles and ideas of what is attractive. In some countries, they like more flesh, and stretch marks from pregnancies are shown like a badge of honour. I wouldn't be given a job out there as I would be way too skinny. That is what is so good about belly dancing; technically there are no real right and wrongs. It is important to have the right posture but otherwise it is expressive and everyone has their own interpretation.
"I don't drill the women to do exactly as I do, because I don't want to take their own personality out of the dance. If they are doing something wrong with their posture I will pick them up on it, but you'll see during the dances they may all have slightly different arm movements, and that's nice. When we do the Polynesian dancing there are more finger signals, all with a meaning.
"Men can feel quite threatened by it. It's a powerful dance for women to do, and the tribal style dancing is really quite imposing."
Whist freedom of expression is generally encouraged, there are occasions when some of the dancers give professional performances where a synchronous dance is required.
Lucy Wigham, who receives additional private tuition from Carina, said: "We've done quite a few public performances. We were at the Loxwood Joust in August, and we've performed at Beautiful Days, which is The Levellers Festival. We've also performed at Knepp Castle and we were recently at the Bandstand in the Carfax where we raised £400 for charity."
Whilst some may find the dancing imposing and overly sensual, it is one of the few dances which women of all ages can enjoy without the need of a partner.
Lisa Legg, from Mannings Heath, was able return to belly dancing after stopping for several years to have children. She said: "For ten years I said 'I'm going to do that again' but it never happened, but then I started coming here. I did do salsa dancing briefly, but it's something you need to do with a partner. I went along for a few sessions, pairing up with various people as my husband was not interested at all, but it didn't really happen. This is something I can do on my own in the company of friends."
For details visit www.glyndeplacedancestudio.co.uk or contact Carina at dancingrose@live.co.uk or 07760 162385.