The animal friendly form of hunting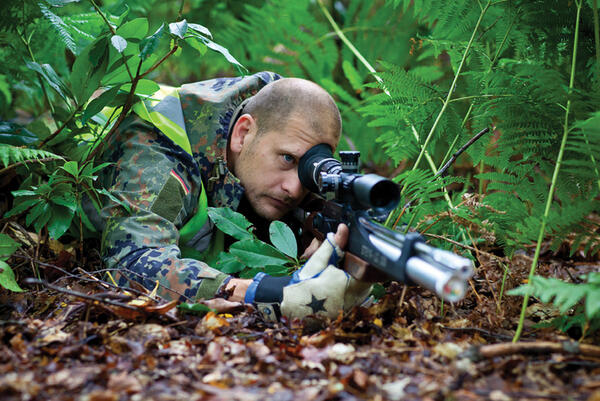 On a Sunday morning in some privately owned woodland near Colgate, Steve Light, dressed in camouflaged Army surplus, lines up his next shot. Concentrating hard, weighing up the wind, the distance, and the trajectory of the target, he gently pulls the trigger and that's it - once again he has hit his target. Another rat, shaped from a metal sheet, is gunned down. Until Steve pulls a piece of string and brings the target back to a shooting position for the next competitor!
This is Hunter Field Target shooting, a relatively new form of hunting. Essentially, it's a cheaper and more accessible form of Field Target (FT) shooting, in that competitors can use basic air rifles and scopes. As Derek Watson - who founded Horsham Hawks along with James Sellwood, Mike Lycett and Steve Light - commented: "In FT, the equipment is very expensive, and there were people thinking they couldn't afford it, so HFT was developed as it allows anyone with an air rifle with a scope on it to come along and shoot. They might not be competitive, but they can shoot, where as you would not dream about bringing an old Springer rifle along to an FT competition and trying to shoot, because you'd be laughed off the course."
HFT members must use UK legal air rifles (rated at a maximum of 12 ft·lbf), and a typical HFT course is made up of 30 lanes. Each lane consists of a peg and a metal "knock down" target placed in a position to simulate a hunting scenario. The Hawks have a member who is a window cleaner and specialises in climbing trees, and he is able to place the targets in some superb spots!
The targets are mainly based on rabbits, rats, crows, magpies and grey squirrels. They are made from metal and each target has a circular kill zone that varies in size, (typically 15–45 mm in diameter), and are set out at varying ranges (typically 8-45 yards). A direct hit to the kill zone triggers a mechanism that makes the target fall back flat, simulating a kill. This bags the shooter two points, while one is scored if the metal target is hit outside the kill zone.
The club is accessible to all and invites junior members too. You must have your own gun, but set up costs can be low. James Sellwood said: "That doesn't mean to say you don't see expensive equipment in HFT, but you can have a basic set up for a lot less. You can buy a basic Springer (spring piston air gun) for £200 with a £60 scope on it, but if you want to spend £1500 on a rifle and £600 on a scope then you can, and you'll have a slight advantage. That's why we have different classes - we have a primary class, a junior class, an open class and a recoiling class."
The Horsham Hawks Club was formed about six years ago, set up by former members of Horsham Rifle and Pistol Club. They meet on a Sunday mornings at a site near Colgate, on privately owned land where they have a course set up. They have been at the same site for about18 months, and members also compete in a Sussex inter-club competition with four other clubs. After the first round, they are second in the club competition while Steve won the individual shooting prize in the first round.
For more information about the club visit the Horsham Hawks HFT website or contact Derek Watson by email at
derekwatson609@googlemail.com or by phone on 01403 253386. Also, if any AAH readers have an old air rifle or equipment they would like to donate the the club Derek would be happy to collect it.