The Magog Morris Dancers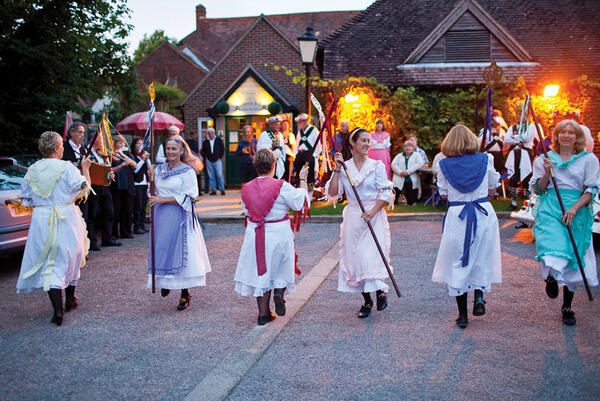 You might have heard of the Broadwood Morris Dancers, the all male troupe that organises the popular Day of Dance in Horsham town centre every year.
But in 1974 - just two years after the Broadwood group was formed, the Magog Morris dancing group was born.
The all female group dances from May until September in a variety of traditions including Cotswold, Stave, North West Clog, Garland, as well as dances in the Horsham tradition.
In addition to the presence at town festivals and village fetes, the Magog host their own events and are often
invited to dance with other Morris groups. For the rest of the year the Magog meet at Mannings Heath village hall on Tuesday evenings, to go over familiar dances and to learn some new ones.
Marjorie Holdsworth was among the original founders of Magog Morris. She said: " We have about 18-20 people but typically there are about a dozen of us at each dance. We have the Magog musicians too. Most of them are husbands of one of the dancers, which helps make it all the more enjoyable for everybody. It's such fun and I really would recommend Morris dancing to people of all ages.
"We ask for donations at each event we dance at, and we're currently collecting for QE2 School in Horsham, as they need to raise money to provide seating for their new performing arts centre. Last year we raised about £360 and I think it might be a bit more this year."
The Magog dance with other Morris sides and travel all over the country and even abroad on occasions,to
perform at folk festivals and to join in Morris weekends of dance. AAH met the Magog ladies at the Queens Head in West Chiltington, where they were dancing at the invitation of Thakeham Morris, formed in 1991 and in good health for a village team.