SEMKA: PACKING A PUNCH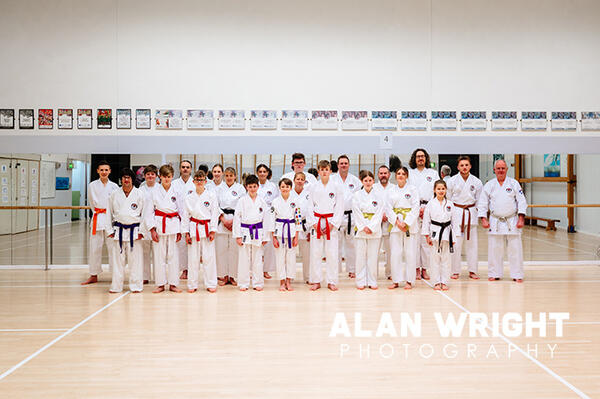 Published 1st February 2022
Paul Elliott has dedicated much of his life to karate, having been teaching for more than 40 years. Throughout that time, his SEMKA School has been committed to Wado-ryu, a traditional form of karate with a focus on life force energy...
When did you start learning karate? I joined a class at Lower Tanbridge School (on the current Sainsbury's site), under the instruction of Gary Swift, In 1972. It wasn't until 1980 that I started leading classes.
What kind of karate do you teach? There are several popular types of karate including Shotokan, Goju-ryu and Kyokushin. I teach Wado-ryu, which was founded by Hironori Ohtsuka and introduced to the UK by Tatsuo Suzuki in 1964. SEMKA Classes are affiliated to the International Wado Federation (IWF), the British Wadokai (BWK) and the European Wado Federation (EWF).

What is SEMKA? SEMKA is the name of my karate school and stands for the Samurai Enlighten Mushin Karate Academy. I teach the fundamentals of agility, balance and coordination. Wado-ryu is grounded in self-defence, but it's also a good way to improve fitness and revitalise your internal energy. Karate is a physical discipline but trains the mind too. You've got to concentrate solely on movement. Life's troubles are left at the door and you don't have to collect them on the way out.
What is the style of Wado-ryu? It's one of the more harmonious, peaceful forms of karate. Some styles are rigid and tense in terms of stance, but Wado-ryu is quick and snappy. There's a lightness to our movement. Like Muhammad Ali, we float like a butterfly, sting like a bee. Etiquette is important, as it is with all forms of karate, but there's less contact. With some styles, rigidness means that when you block you can hurt your opponent's arm, whereas in Wado-ryu it's a deflection of energy.
Has Wado-ryu changed since its foundation? In martial arts, there's always an evolution, as you adapt self-defence methods for different methods of attack. Traditionally, we trained people to defend a frontal knife aggressor, but that no longer reflects real life scenarios, so you adapt your teaching.
When was karate at its most popular? Karate grew across the world thanks to the films of Bruce Lee. That was karate's heyday, although it didn't attract juniors initially. During the 1980s and 90s, children's classes became more popular and I had about 400 students in classes at several venues, including Broadbridge Heath Sports Centre and the Pavilions in the Park. TV shows like Power Rangers and more recently Cobra Kai can renew interest, but often people have pre-conceived ideas about what karate is, but the reality is very different.
Is karate also competing against other martial arts? For a time, I was the only karate instructor locally and people had to travel further afield for classes. Now there are other clubs affiliated to different styles of karate, as well as sports like Brazilian jujitsu and Aikido.
How did you fare during COVID? It has been difficult. For a time, we were down to about 20 regulars joining Zoom classes. It was important, as keeping training going helped people maintain a sense of structure and routine to support their physical and mental health. We took the opportunity to meet outside as soon as we could, hiring a tennis court, which was great as we hadn't met in person for over a year. Now, we have risen to about 80 people and the recovery is ongoing. With more members, you can hold classes for various levels of ability, allowing students to develop at their own pace. That's better than throwing beginners in at the deep end.
At what age can people begin karate? We have classes for children from the age of seven. However, young people are different to what they were even ten years ago. Many have mobile phones and their concentration isn't always what is used to be. However, I see some teenagers coming to classes to focus their mind on something that isn't electronic.
You recently became an 8th Dan. How rare is that? You have to be quite old to get it! It took me eight years to become a black belt (1st Dan) but nowadays it's possible to do it in four or five years. Then you need to wait two years to become a 2nd Dan, another three for a 3rd Dan, and so on. I started at the age of 24 and am now 71, so it takes a long time. Being an 8th Dan is really a recognition of dedication to teaching and organising events or competitions. Ability is important, but not so much in the higher Dan grades because you can't do certain moves when you're older. My arm movements are still sharp, but the twisting and height required for a roundhead kick to the head would leave me needing a trip to the osteopath!
Do you have help from other instructors? I have the assistance of several excellent instructors, some of whom have been with SEMKA for many years. Ray Brown (4th Dan) helps with the children's class, while Steve Gray was recently awarded his 6th Dan and has been with me since we were at the old Tanbridge School site. Hayley and Julie Jeffries were my first female students to reach 3rd Dan, and Louisa Bland is a great example of what can be achieved. She brought two of her children along and after a while decided to try it herself. Now, Louisa's the only one still here!
Do you have any plans to retire? None at all! I intend to carry on as long as I can. I love teaching people of all ages, both karate and Tai Chi. I've been practising karate for 50 years and teaching for 40, and recently attained the instruction level of Kyoshi, having previously been a Renshi. Age has nothing to do with it. Some people in their 50s who struggle to get around, whereas others can be fit and healthy in their 70s.
Where do you teach Tai Chi? I have taught Tai Chi at Adult Education classes through Aspire in the past and continue to run classes at South Lodge Hotel in Lower Beeding, as well as local venues including North Heath Lane Hall, Horsham Unitarian Church, Jubilee Hall in Rudgwick, Broadbridge Heath Sports Centre and Billingshurst Community Centre. I love the combination of karate - which is more physical - with Tai chi - which offers good balance and focus, especially for older people. Both are wonderful disciplines for physical health and mental wellbeing.

WORDS: BEN MORRIS
PHOTOS: ALAN WRIGHT
Further information: www.semka.co.uk