The Horsham Embroiderers' Guild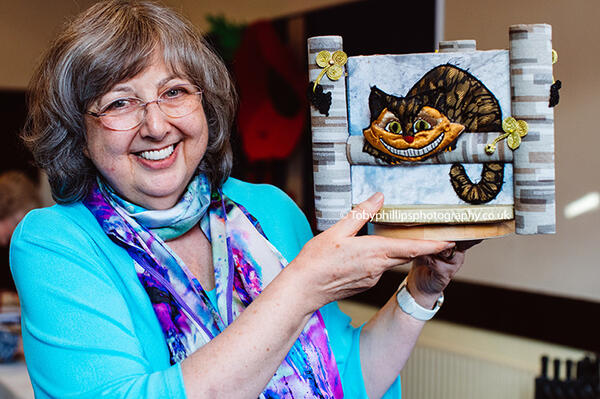 Published 31st January 2018
Much excitement has been generated by the planned arrival of the Bayeux Tapestry in five years' time.
The historic work, which depicts the defeat of King Harold by William the Conqueror during the Normal Conquest, hasn't left France since the 11th century.Perhaps the arrow in the eye will prove to be a shot in the arm for the popularity of embroidery in this country.
Embroidery's prevalence in art and culture is steadily on the rise. Textile artist Victoria Villasana applies colourful embroidery to black and white images of music icons, including David Bowie and Nina Simone. Fashion designer Pablo Ramirez is making waves with his contemporary embroidered clothing, whilst its increasingly prevalent in decorate shoes and boots by niche brands.
For over a century, the Embroiderers' Guild has helped ensure that those with a passion for crafts have always had an outlet to discuss and practice the art. Formed in 1906 by graduates of the Royal School of Art Needlework, the Guild's aim is to maintain a high standard of work and design.
Across the land, local branches attract healthy membership numbers. However, the Horsham branch has struggled to draw new faces to its monthly meetings.
The branch meets at Wesley Hall, within the Methodist Church on London Road, Horsham, on the fourth Thursday of each month. Members enjoy occasional outings and the group regularly hosts workshops, inviting textile and stitch specialists to talk about and present their work. But persuading those who love embroidery to join the Guild is a challenge.
Horsham branch president Frances Westwood, who particularly enjoys making covers for books, said: "We used to have more members but times have changed. Embroidery is still very popular, but some embroidery groups can't attract new members.
"I enjoy coming as you meet new people. There is a strong social side to our meetings, as people are always willing to share their knowledge. We also have workshops, so we can keep in touch with how embroidery and associated arts are evolving. Things come in and out of fashion and new techniques are being developed all the time.
"The difference between the embroidery that my mother used to do compared to what we do now is huge. There's a lot of influence from overseas and the internet has made the world smaller, so we can learn about new skills and even new materials."

What's in a name?
Janet Brown, chair of the Horsham branch, believes the name of the group could affect membership numbers, which is currently down to about fifteen.A Guild might suggest a degree of excellence is required to join, which could convince potential members that they are not good enough to be considered.
However, that isn't the case and the Embroiderers' Guild welcomes anyone who loves stitching or textiles."Some people have left the Guild and formed independent groups, but I believe it's a great thing to be a part of," said Janet.
"It has a long history, keeps a very important collection and membership brings many advantages. To me, the Embroiderers' Guild allows like-minded people to meet and exchange a few ideas. We host stitching afternoons, workshops and occasionally participate in regional and national competitions. We also attend events such as Stitchfest at the South of England Showground with the
South-East Region of the Embroiderers' Guild."The competitions usually have a theme. One focused on Alice in Wonderland, which resulted in some very colourful work, whilst this year the Guild will be marking the centenary of the end of the First World War.
"We've had some fascinating workshops over the year too. Liz Ashurst spoke about European folk art and Fay Maxwell, who is well known in the world of embroidery, presented an excellent talk on Ladies with Hatitude."

Simple Ideas
On the day of AAH's visit, Anne Hellyer was visiting the Horsham branch to present her eye-catching work. Based in Andover, Anne creates textiles of buildings or cityscapes for her small business, Painting the Town. (www.paintingthetown.org.uk)
The uniqueness of Anne's work is typical of the type of speaker the Horsham branch brings in to pass on new skills and techniques to members.
Anne said: "For my work, I start with calico, paint various strips of fabric to build layers and then stitch it together with a technique called free machine, which is when you use the sewing machine to move in different directions, as opposed to straight lines.
"My big pieces, such as the city scene of London, are very time-consuming, but when I take them to craft shows, they are always a talking point. I love architecture as there's always history and a story behind a building. "'m known for using unusual materials. I work with potatoes, as well as other household items, to apply print effects. It's great talking to people, particularly young people at schools or Brownies groups, to show them how you can create texture and colour with simple ideas."
The Horsham Branch of the Embroiderers' Guild meets in the Wesley Hall at London Road Methodist Church, Horsham, on the fourth Thursday of the month. For details email janet-brown@btconnect.comor visit the national website at https://embroiderersguild.com


WORDS: BEN MORRIS
PICTURES: TOBY PHILLIPS