Phoenix Stroke Club Offers Helping Hand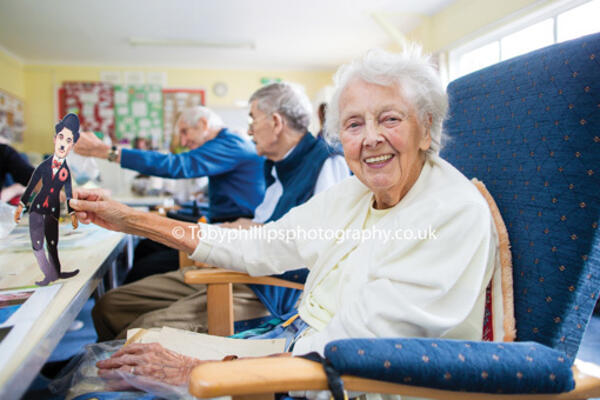 Members of The Phoenix Stroke Club are reminiscing as they look through a box of items donated by Horsham Museum.
Phyllis Wocjik inspects a small Charlie Chaplin toy, whilst others in the group look over old records, vintage camera equipment, fashion accessories and even a corset. This box of nostalgia is an occasional treat for the members of the Phoenix Stroke Club, but on other days they may be painting, playing bingo, baking cakes or competing in quizzes. It's all part of the club's efforts to restore confidence in its members, which has often been shattered by a stroke.
The club meets three times a week, from Monday to Wednesday, in a former Ministry of Defence building behind the Youth Wing at Forest School. Since 1979, Phoenix has offered a stimulating environment where members can receive physical and mental exercise. It also gives people a chance to interact with others who have suffered from a stroke of have disabilities arising from a neurological disorder.
On Thursday mornings a 'Supported Communications Group' provides an opportunity for its members to exercise and improve their communication skills, mainly, on a one-to-one basis.
Jackie Mullin, manager of the club, said: "When the club started, it was run one day a week by a small group of volunteers and involved people coming in for a game of snooker or bingo, having a cup of tea and enjoying a chat. Phoenix has developed over time into much more of a specialist service and we now continue the work of hospital physiotherapists.
"When people leave hospital following a stroke, the NHS provides six weeks of physiotherapy, speech therapy and occupational therapy, but after that these services are cut off. We step in and continue this work. We have exercise sessions every day. We continue with speech therapy and we also train our volunteers to teach different methods of communication.
"It's not just about what we do here; it's about what the carers can do with some free time. A lot of carers are themselves elderly and they need time off, as caring for somebody 24 hour a day is demanding. We give them the chance to have a day off, and they know that the person they care for is in good hands and will enjoy a good
lunch. That is a vital part of what we do.
"In contrast to other day care centres and respite clubs for the elderly and infirm, the Phoenix Stroke Club specifically caters for people with strokes. If they don't benefit from coming here then we wouldn't take them. They have to see a benefit."
West Sussex County Council provides funding for Jackie and an assistant manager on a part-time basis, but the Phoenix Stroke Club also relies on a team of about five volunteers each day. On a Thursday, nine volunteers are needed for the communication sessions. In addition, Lottery funding has meant that the club now has a care support worker.
The club does not promise miracles, but for many people it has become a vital service. There are, however, many more that could benefit.
Jackie said: "We've seen in the past that some people have been able to return to work. They've needed to come here to build their confidence up, and actually believe they can go back into the community and overcome that fear that they will have another stroke. Because of the nature of strokes, it is more prevalent in older people, so naturally people are more likely to continue to decline rather than make huge progress. But every individual is different and they all have different needs, and a different way of approaching the sessions.
"Not everybody who is told about us by the hospital will come to us. The ones who do not take it up at that stage are the ones we struggle to reach in the future. They have stacks of paper and leaflets that they leave hospital with and our information is usually lost amongst it.
"Sometimes, if you reach them a year later, they are ready to join us, as they have adapted to their circumstances, and often when they do come to us they often wonder why they hadn't come here before."
The cost is £10 per day, which covers the food, tea, biscuits and activities. For more information visit https://www.phoenixstrokeclub.org.uk/ or call 01403 268130.