Withyfield Cottage saves family farm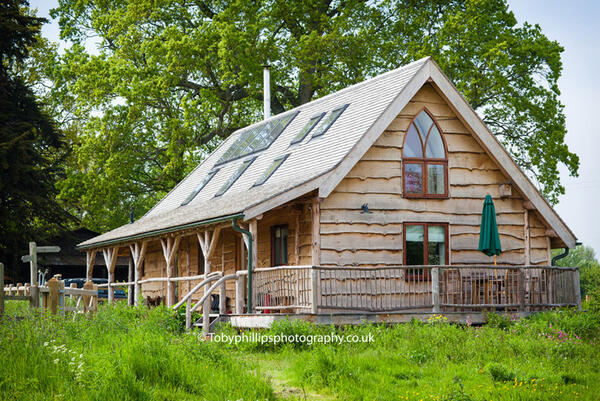 When Alice and Janice Griffiths were thinking of ways to secure the future of the family farm in Partridge Green, they turned their attention to an old chicken house.Like many others, Merrion Farm was struggling with the low cost of dairy prices, so the couple decided to create a luxurious holiday cottage on the farm.
In little over a year, the chicken house was a cottage made from roundwood timber, straw bale and cedar shingle.
Ben Law, who has been profiled on Channel 4 television programme Grand Designs, constructed the cottage which is made almost entirely from sustainable products. Surrounded by wildflower meadow, Withyfield Cottage has proved very popular and is already booked up until November.
Janice said: "If you want to rent a home out you need it to be a little bit different so we had the idea for an environmentally friendly cottage. "We spoke to the chap from the South East England Development Agency (SEEDA) and he asked us if we had heard of Ben Law of Roundwood Timber Framing Company in Lodsworth.
"We had seen him on Grand Designs so I sent an email and it went from there. We put in planning permission in January 2010, started building in September and it finished in May 2011. Everything we use is sourced as locally as possible. The timber is from the Cowdray Estate in Midhurst, the straw insulation is from a local supplier, and the outside cladding comes from the woods on the farm. The clay plaster render used to seal the gaps on the outside is made of Weald clay taken from the foundations.
"A young man from Plumpton was very excited to build the stairs, the chandelier was created by someone in the village, and the fireplace hearth is from Horsham Stone. Even the curtain rails are made locally. We knew we wanted it to be locally made, although the cottage is probably a bit grander than what we originally thought but you might as well do it properly. We'd never done anything like this before. We've never even put an extension on our own house!"
There are many nice touches to Withyfield Cottage, such as seats below several windows, an 'honesty window' which reveals the straw walls, and a south facing veranda. Rather than a garden, the cottage is surrounded by a wildflower meadow, while many city guests also enjoy the sight and sound of tractors making their way along the bumpy driveway to the dairy farm.
Withyfield Cottage has already proved to be a success. In their original business plan, the Griffiths family believed the holiday home would be full about 25% of the time during the course of the year. It easily surpassed that rate, and is currently fully booked until November.
Janice said: "The house has helped a lot in terms of finances. Hopefully this will save our bacon so it's been good from that point of view. We had no idea it would be as full as it has been. Lots of people have booked with us because of the link with Ben Law. He is very well respected in the industry. We've had a lot of people
coming here from London as they like how peaceful it is. A lot of people like to go and see the cows being milked on the farm.
"There are lots of walks from here too, and several of them take in The Fountain pub in Ashurst. "We're fortunate that the South Downs are now a designated national park as that attracts people to the area. We also have some wildlife living nearby. We have bird feeders all around the cottage and a few Nightingales have been seen. There is a pair of buzzards by the river and a barn owl is seen quite often too. We had one boy ask where the wolf is, as he was concerned the cottage might be blown down as its made out of straw!"
As we depart, Janice is busy preparing for new guests. A couple of bottles of beers from Partridge Green brewery Dark Star and treats from Just Brownies are placed on the table of the kitchen, which was built by
village company Thomas Ash. Little touches that have helped ensure this big idea has been a huge success, and helped secure the future of one of our few remaining dairy farms.
For more details about the farm and the cottage visit www.withyfieldcottage.co.uk