The Legend of Ridge Farm Studio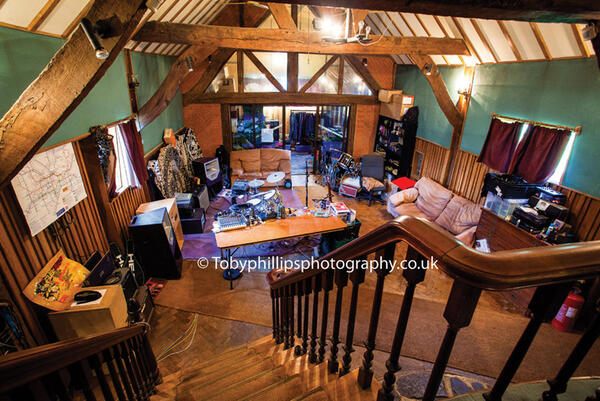 Towards the end of 1996, Oasis influenced British culture in a way that no other band had done for a generation.
The Manchester band's feud with Blur, the constant bickering between the Gallagher brothers, drug-fuelled bad behaviour and of course some of the greatest rock anthems of the time ensured they were both the heroes and
villains of society. The media couldn't get enough of them.
Desperate to escape a tabloid industry in relentless pursuit, Oasis found a studio at a farm in the rural outskirts of Rusper. They retreated to the peace and tranquillity of Ridge Farm Studio to complete the recording of their third album 'Be Here Now'.
Today, a disc to recognise sales of 1,800,000 copies of what remains the UK's fastest selling album of all time hangs in the corridor of Ridge Farm alongside other gold discs by the likes of Roxy Music, Pearl Jam, Bad Company, OMD and Wet Wet Wet.
Yet just five years after the release of Be Here Now, and only two years after Muse recorded what is considered by many to be their best album, Origin of Symmetry, Ridge Farm Studio closed.It is now run as a venue for weddings and functions, where couples can play tennis on the same court used by Freddie Mercury and have breakfast at the table once occupied by The Smiths.
You can even stay in 'The Cottage' and stand on the balcony where, as legend has it, Sharon Arden threw a Rolex watch belonging to her then-boyfriend Ozzy Osbourne into the pond below. It may still be there…
Ridge Farm Studio was established in 1975 by Frank Andrews, who as a lighting technician had toured the UK and across Europe with a number of successful bands including Queen, Bad Company, Rolling Stones, The Doobie Brothers and Abba.
Frank recalls: "One day I came back off tour and my parents were living in a different place, which was here at Ridge Farm. I started the studio with my brother, Billy, and initially, bands would use it to rehearse. But they would bring mobile recording units as we didn't have our own studio equipment at that time.
"The idea was unique as it was a retreat in the countryside. The cliché of recording a classic rock album in the countryside was very new at that time. Record companies and managers liked it here as they could keep an eye on the band and make sure they got all the work done.
"If they didn't turn up for work someone would go and drag them out of bed! The first band we had here was Back Street Crawler, set up by Paul Kossoff (formerly of Free) and they were recording with Ronnie Lane's mobile unit. We had a bare barn back then, but it took off straight away and we were able to bring bands to Ridge Farm quite quickly.
"Queen came here in our first year, as I had toured with them in Europe and Scandinavia. They were relatively unknown at that stage, and that was just at the point where it really took off for them. They liked it here as they could all focus on what they were doing, and all live together.
"There was a family atmosphere, and the band would stroll around and play with the dog we had at the time. Queen played a lot of tennis too, and I remember Freddie in particular was very good. Queen were rehearsing and they actually wrote Bohemian Rhapsody here.
"There was a nice article in The Telegraph where Roger Taylor talked about that. They were lovely young men, and they used to go out most evenings to The Royal Oak pub around the corner.
"My parents had an outdoor swimming pool back in those days, and the bands would spend a lot of time around it. My mother was pretty open-minded about it all and thought the studio was a good idea. In hindsight, all the bands were pretty well behaved. It was a more innocent time."
Over the next couple of years, bands including Bad Company, Thin Lizzy and Hawkwind would visit Ridge Farm Studio, whilst Roxy Music would record 'Manifesto' and Magazine their post-punk classic 'Real Life'.
So when Frank's parents decided that they wanted to sell the farm, Frank was in a position to buy it from them. It also meant that in the winter of 1978, Ridge Farm could create its own in-house, 1,200 square foot studio complete with Grand Piano. Initially, Ridge Farm was equipped with a 28 channel JH-400 mixing desk with a JH-24 multi-track and MCI quarter inch machine, all belonging to Yes singer Jon Anderson.
Frank said: "We made the Roxy album 'Manifesto' on Jon's equipment and that was when we started becoming a serious studio. But I wanted to get my own equipment as obviously Jon was taking a large chunk of the revenue
and I had this whole farm to run. So I borrowed the money for the equipment and that moved us on to the next level."
In 1982 Ridge Farm had been re-equipped with a 32 channel 4000E, the MCI multi-track being replaced by a Telefunken 15A. The new equipment, which was again updated in 1985, ensured the eighties brought more success for the studio. The likes of Frankie Goes to Hollywood, Wet Wet Wet and A Flock of Seagulls recorded in Rusper, whilst the Smiths' Meat is Murder was added to the list of Ridge Farm classics.
Another regular was Ozzy Osbourne, who recorded three solo albums with some of the greatest rock musicians in the world. Occasionally, disciples of Randy Rhoads, who played with Ozzy and Quiet Riot, still visit Ridge Farm. Rhoads, considered one of the great guitarists, was killed in a plane crash aged only 26.
Frank recalls those days with great fondness. He said: "Ozzy came here a number of times but we don't have gold discs as his record company were so difficult to deal with. Getting gold discs out of some record companies is like getting blood out of a stone, as when they leave the studios they all move on to promotional work.
"He came here firstly to record Blizzard of Oz. We thought he was washed up at the time, but of course he went on to have his show and become this huge cult figure. He was incredibly funny, and he used to go down The Plough in Rusper at lunchtime and buy everyone in the pub a drink. He used to stay in the cottage rather than the farm house.
"He was with Sharon, who he later married, and there are some funny stories including the night she apparently threw his Rolex watch off the balcony. We've had metal detectors in there looking for it but we never found it!"
As time went on, Frank continued to invest in the farm, building an indoor pool in 1987, whilst in 1990 a Neve VR60 was installed and the tape machines (2 X 24 track Studer A800s) were moved to a machine room under the control room. The first session with this new set-up was the mix of Pearl Jam's 'Ten', an album which surprised everyone by catapulting the band to global stardom as (thanks also to Nirvana) Seattle became the heart of rock
music.
But by 1996, Britpop usurped grunge and Oasis was the band everybody was talking about. Late in the year, the band booked Ridge Farm to record Be Here Now after abandoning the problematic sessions at Abbey Road.
Several other successful guitar bands of the 1990's recorded at Ridge Farm, most notably Supergrass (their excellent eponymous third album), Muse, The Bluetones (Expecting to Fly) with many others using the studios to rehearse. And whilst Ridge Farm had over the years built up a reputation of classic rock, it is worth remarking that leading electronic musician Goldie recorded Saturnz Return there in 1998.
But gradually, the bookings dried up, and Joe Jackson was the last person to record there in 2002.
Frank said: "When we started there really was just a couple of residential studios around, but people began imitating the formula, and towards the end it made it difficult. We were never short of work, but we suffered because the rates were being pushed down by record companies. Then you would wait three months to get paid.
"We were losing money and the bank wouldn't support it anymore. I kept thinking it would come back, but it didn't happen and we closed in 2003. I sold the recording desk to Radio Denmark, and seeing it all go was very difficult for me. You kind of plough on through it when it is happening, as you have to, but looking back it was a sad time.
"The microphones went very quickly, as that was like selling the crown jewels. There was a lot of old Neumann and AKG microphones which are highly regarded in the recording world, and most of those were snapped up by
Radiohead.
"There were a lot of studios closing down. England used to have the best studios in the world and there were a lot of them. But those days are gone now. I think the 70's and 80's were my favourite times. It was more difficult in the 1990s, trying to keep it going through the pop and dance eras, and the earlier days were more carefree.
"It's difficult to pick any favourites, but I always liked the Roxy Music album we did here and Pearl Jam springs to mind too. Nobody knew them when they came here and recorded 'Ten'.That's what we were good at, finding new young bands and bringing them on. That is what I enjoyed doing the most."
Now, Frank runs Ridge Farm as a wedding venue. The first wedding at the farm was in the 1970's when Simon Kirke, the drummer in Bad Company was married. It was an event Frank describes as 'pretty outrageous' but
these days the venue is geared specifically for weddings.
Richard Mann joined Ridge Farm as an eager music production student, and remembers that on his first day at work Danny Goffey of Supergrass welcomed him in. Now he helps run one of the most quirky and interesting
wedding venues around.He said: "We have a self-catering 11 bedroom house, and in the summer we hold a lot of weddings. The guests enjoy it here because it's a really interesting old place, and because we hire out the venue for three days so they have the freedom to schedule their wedding day as they please.
"The swimming pool room becomes the reception room, so we put boards over the pool, the wedding party has a sit down meal and then it becomes the party room. We come in early in the morning and we turn it back into
the pool house, so as they wake up they can have a swim! They love seeing that transformation. We are also renovating the Cottage (where Ozzy used to stay) into a bridal suite too, as you continually have to improve what you offer."
As for the old studio building, there are little clues to its glorious past, but innovative music is still made at Ridge Farm. A producer called Ben Watkins set up his own equipment several years ago and recorded 'Goa Trance' tracks under the name Juno Reactor.
Now Frank's son Tom has set up his own equipment, and is making a name for himself in electronic music as 'Broken Note." Tom said: "I was the little kid that used to hang around the stars, but it didn't mean anything to me as I was so young. It wasn't until I was 15 or 16 that I realised that music was something I could actually do. I
ended up in the studio, which was unexpected. I used to play in punk and metal bands, and getting into music production was a crossover from that.
"Now I take a sound and see how far I can take it. I find a lot of what I do fits somewhere between bands and electronic music. It's a link between heavy metal bands and the more electronic end. I guess it's
a niche.
"I've performed all over America, Mexico, Brazil, Scandinavia, Russia, Japan, Australia and New Zealand. I just set off with a backpack and my laptop and perform. What I do seems to be considered to be quite original by others, so in a way it's pioneering a sound.
"The history of Ridge Farm does come into it as I feel an expectation. I have to put something in to the music or I feel like I'm putting the place to shame. What I make may not be as engaging as the prolific records that have been created here, but I do feel I am doing something original that people haven't heard before."
For Frank, the glory days of rock 'n' roll records may never return, but it would seem that the spirit of Ridge Farm is still alive and kicking. And as Frank points out, wedding guests certainly don't make as much mess as the bands used to!
To find out more about Ridge Farm visit the website at www.ridgefarmstudio.com