Roots to Growth in Washington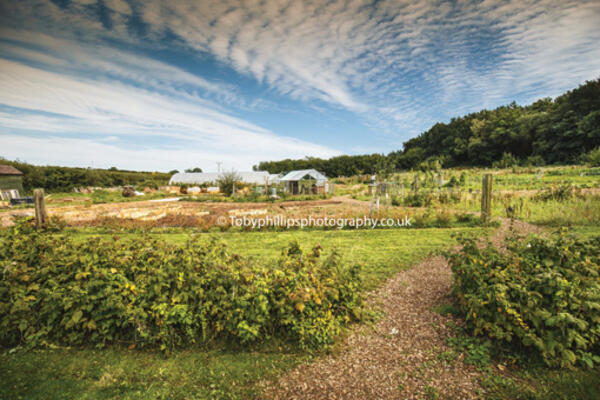 Published on 6th November 2015
On a corner of the Wiston Estate in Washington, you'll find vulnerable people growing fresh produce within a six acre market garden. For those who attend the site, Roots to Growth is a sanctuary from their everyday life and offers a chance for inspiration and transformation.
We spoke to founder Zoe Colson-Spence, long- serving volunteer Cliff Evans, Tom Jayston from Brighton-based charity Justlife, as well as Ashley, Omar and Phil, who all visit the site on a weekly basis...
Cliff: I have been volunteering on the Wiston estate in Washington for five years, since retiring from teaching. Friends First, a charity helping homeless people in Brighton, started taking people to a lovely walled garden within the estate as part of a project called Growing Together. The head gardener taught them how to grow plants and produce too. It was such a successful scheme that Friends First were offered a six acre site, where we are now.
Zoe: I was taking a horticultural therapy course, and as part of that I volunteered at Growing Together. This site was formerly a 'pick your own' site and had an agricultural layout with long rows and fenced sections. You would have a team of 10 people working hard all day and you be lucky if they cultivated half of one row. It was absolutely demoralising for them!
Cliff: After a while, Friends First decided to base their activities closer to Brighton, so they gave back the lease on the land. Some of us volunteers persuaded Zoe to take over running the site and her life has gone downhill ever since!
Zoe: The Goring family, who own the Wiston Estate, wanted to maintain a community growing project on this site and some of the volunteers were saying 'We cannot leave this behind as it's too important.' I was the one pushed to the front and Roots to Growth was born in April 2014.
Omar: Roots to Growth was just starting when I first came along. I think I was one the first clients. I am from Zanzibar originally, which is a peaceful country but life is hard and I have lost three children. I live in Brighton now, but I had a bad accident. I was knocked off my bicycle and was lucky to survive. I have spent a lot of time in hospital and still feel the effects. I do not remember the accident, but I couldn't claim any money in compensation as they said the driver was not at fault. I was a welder/fabricator but can't do that job anymore. I feel I have been both physically and mentally broken and I'm finding it difficult to be who I was before. I still feel like a victim, so coming here once a week helps me a lot. My life is stressful in between, but the people at Roots to Growth are always there for me.
Zoe: When we started out, I used a more therapeutic approach to make changes around the site. I saw that we needed a fire pit and a seating area near the cabin, and that we should actually eat the produce that we grow so people can enjoy the fruits of their labour. Gradually, fences came down and we created winding pathways so the space has opened up. It encourages people to explore the site and work smaller sections. Now when they leave,
people have a sense of fulfilment as they have achieved something. We engage them, build confidence and self-esteem, and improve their chances in life.
Cliff: That is the whole idea of this place; we make a community for people, where they feel safe and it acts as a kind of sanctuary from the problems they face at home or in some cases on the streets. By the end of the day, some don't want to leave because they are so relaxed.
Tom: I work for a charity called Justlife, which supports vulnerably-housed men and women in Brighton. Those we help don't have much support outside of the group, so we host art sessions, photography walks, trips to the cinema, and as part of our work provide sessional activities. Coming to Roots to Growth is one of those
activities. If you talk to the people we bring here, they will say that they feel better for the experience.
Zoe: As a society in general, we don't give people a second chance. Everybody here has an interesting and valued story and they all deserve to have another chance if they have made mistakes previously. That is very much the philosophy that we work to. Here, people can develop new social networks which are much healthier than what they have been used to before.
Ashley: I was drug user but then found this place and something clicked in my head. I didn't feel the need to be on drugs any more, and as I speak I've been clean for 25 days. I'm sofa surfing as I'm homeless, which makes it very difficult to find work. But at Roots to Growth I'm always busy and I like it that way. Everyone knows with me, it is always go, go, go, from the moment I arrive. That way, I can walk away satisfied, having done a good day's work.
Zoe: We grow everything here – beans, tomatoes, melons, cucumbers, peppers, squash, pumpkins, courgettes, carrots - you name it. We like to grow interesting varieties too, so we produce yellow and purple carrots. When we harvest them they look stunning and when they go to market they are easy to sell. It also helps build people's interest in the produce. The food we grow is sold elsewhere, as well as being cooked in our own kitchen. We sell at the Florence Road Market in Brighton as well as several farm shops, and we are involved in a couple of vegetable box schemes.
Cliff: As the site used to be a pick-your-own, we grow gooseberries, blackcurrants, raspberries and blueberries. We have some fantastic people who bring expertise, such as Keith, our chili plant expert.
Tom: It's a good day's work for those who come here. It is productive; they can talk to others and they are kept busy. Whether they are clearing shrubs with a wheelbarrow, mowing the lawn, planting potatoes or cooking lunch, it helps them feel better about themselves and introduces routine, which will help some of them get back to work. They know they can't come here and sit around. It is one small step to a different type of living for them.
Phil: I live in a hostel in Brighton, and it was there that I found out about Roots to Growth. I was quite sceptical at first, but it has worked out well. I come here, water the plants and pick the fruit and vegetables. I generally keep
myself to myself and nobody minds, but I like it as it gets me outdoors and builds my confidence.
Ashley: Every Friday I am out of the house here, socialising with great, friendly people. I get a lovely lunch and it's nice to be out in the countryside rather than being in Brighton, sitting around with people who don't want to do anything with the day as they're lazy. Here, you have motivation, support and love. Just this one day helps me get through the rest of the week.
Zoe: People don't feel pressured to do any particular role. They can get their hands dirty in the chicken pen or doing the gardening, but they can also help prepare food and cook. Then they can sit by the fire, chatting and enjoying the food they have grown. That gives us a sense of community, which is something I'm very passionate about.
Tom: When I first came here, the site didn't look anything like it does today. Even as a member of staff, I get a real sense of pride and achievement when I walk around and see the projects I had a hand in. So for the other people here, who often have confidence and self-esteem issues, it must feel even better. They are steadily growing a market garden and by the same token they are improving their own skills.
Ashley: It's been about two months since I first came here and I've loved it. They are talking about allowing me to come up on Thursdays as well as Fridays. Personally, I'd love to come up here Monday, Tuesday and Wednesdays too!
Cliff: I love coming here to volunteer. I come down here two days a week and when I sit down with a cup of tea, I always think that I could be sat in an office, but instead I'm here, which is good as I'm an outdoor person.
Zoe: We have to fight for funding and make it work as well as we can. We have held corporate team building days and these really help us, but we need more help to grow. I'm trying to grow and sell the food, pursue funding, find people from various groups who can come here and benefit, as well as everything else. So it would be great if someone could help us on the produce side, as we have outlets that want to buy from us but we haven't been able to grow the amount they need. We'd also like somebody with a good business head. Some people come up with brilliant ideas on how we can make money, but I need somebody who can produce a plan and show how it is feasible! Then hopefully we can reach more people, as I'd like to see 15 people enjoying this fantastic site every day of the week.
Zoe and the Roots to Growth team are looking for people with skills, experience and contacts in specific areas who might be interested in helping with the growth of the project. You can find out more at http://rootstogrowth.org.uk/ or email Zoe at info@rootstogrowth.org.uk