The Opportunity of a Lifetime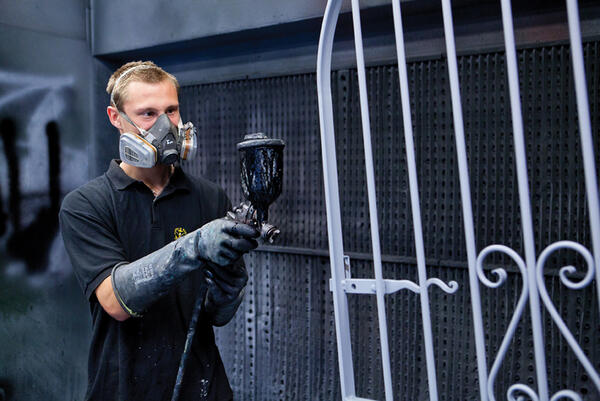 These are not good times to be a young adult looking for work. Record unemployment, with one in five people aged 16-24 out of work, means it's tough for those even with good qualifications to find a job. For those not academically minded, or disadvantaged in some way, finding any employment can be a real headache.
But in Cowfold on the rural outskirts of Horsham, the Camelia Botnar Foundation has been providing incredible opportunities for such young people for more than 30 years.You may well have visited Camelia Botnar Homes and Gardens in Littleworth Lane, Cowfold, but not given too much thought as to where many of the products for sale were actually made.
Just a mile or so away along the Maplehurst Road is the Camelia Botnar Foundation. Here, up to fifty young people are employed in workshops and departments devoted to metalwork, horticulture, pottery, carpentry, painting and decorating, catering, estates maintenance and building. "All of the trainees have been given an extraordinary opportunity. They are offered two years' paid work experience, we support them, get them into college and hopefully they leave with qualifications, " said Emma Mitchell, Chief Executive of the Foundation.
"We train and educate 16-21 year olds who are in a special need situation due to circumstances outside of their control. They are enabled to improve conditions in their lives and to develop as individuals. Initially, they apply to us directly or come through one of several organisations such as Connexions or Social Services, we bring them in for an interview and assess them to ensure that they are right for the Foundation. We offer a five week trial, and if they settle in we hope that they will stay for two years. At the end of that time we help them find jobs, and we put some of their earnings aside to ensure that they leave here with a lump sum."
The 550 acre Camelia Botnar Foundation estate was established in 1979 by Octav Botnar and his wife Marcela, in memory of their only child, Camelia, who was killed in a car accident at the age of 20. Octav was a highly successful entrepreneur, who led an extraordinary life even before he founded Datsun UK in 1970. He died in 1998 at the age of 84, leaving the Foundation as his enduring legacy to helping young people in difficulty.
Products made by the trainees are designed and finished to a high standard, and retailed commercially through Camelia Botnar Homes & Gardens, the Foundation's retail outlet. As well as showrooms of the products made at the Foundation, Camelia Botnar Homes & Gardens also boasts a Bistro which is something of a hidden gem in Cowfold, and a gift shop full of other goods and items such as greetings cards, tablewear, locally produced confectionery and chutneys and many other usual gifts.
Camelia Botnar Homes & Gardens bespoke service means it is hard work for the trainees at the Foundation. Unlike college, where you may get three months to work on a project, the work must be done quickly and to a professionally high standard to meet the orders coming in from the garden centre. So trainees are thrown in at the deep end by their experienced managers, learn quickly and develop new skills all of the time. In some instances, trainees can see their work being sold just a week after joining the Foundation!
The Foundation has other advantages, trainees get the opportunity to have their wages increased every six months depending on their performance, and gain several different qualifications which will make it easier to walk straight into a good job in their trade of choice after their time at Camelia Botnar. Independent accommodation is provided in a number of cottages on the estate where trainees cater entirely for themselves. There is an incentive scheme for those who wish to learn to drive. In the evenings there's also table tennis, snooker hall, gymnasium, sports hall for indoor football, basketball, badminton, weights room, squash court, satellite TV, outdoor football pitch, tennis courts, library and a computer room to keep trainees entertained!
Andy Hespin, manager of the carpentry department, said: "From day one, the trainees are thrown straight in at the deep end and what they make is sold, so it has to meet a certain standard. We buy in sawn timber so it teaches the youngsters to learn how to unload, about health and safety, how to stack timber, and develop social interacting with delivery drivers. The world's your oyster here."
Even after four and a half years at the Foundation, Andy is continually impressed by how the youngsters respond to the workload. He said: "Some of the trainees have no experience, but from day one we sit down, have a chat, and I explain to them that this is essentially a workshop and you have to earn your money. They can and do make mistakes along the way of course, but once they've made that first item, you''ll see them sneakily take a photo of it and from that moment you know you've got them! It never fails to amaze me what they can do."
Tim Clement, Metalwork Manager, agrees. "Generally they are not always academic people that come here but because we provide assisted learning through the qualifications it doesn't really matter. Our trainees may have gone through school and struggled, but this is run more like the traditional apprenticeship systems and they thrive in it. It's all to do with the set up. It's very supportive here but the trainees have to learn to stand on their own two feet and think for themselves. This gives them a sense of achievement."
The Metalwork Department is used as a fabrication, welding, and blacksmithing workshop, and also sheet steel work, so the trainees will experience a bit of everything. In Tim's twelve years at the Foundation, only one student has left having been at the Foundation for the full two years without at least NVQ Levels 1 and 2, and a City & Guilds Certificate. They attend college at Crawley one day a week and many attain NVQ Level 3 by the time they leave. Tim said: "We run it like a little autonomous business - we're preparing them for when they leave. That's where it differs from a college environment. There you might have a few months to make a product, but Camelia Botnar is ultimately a business so we need to get work done to meet the orders.
"So working here not only gives you qualifications, you'll also have two years of work experience, and a huge portfolio of photos of items they've made here. It gives them a huge advantage. It's an amazing foundation. I would have loved to have done an apprenticeship like this!" This hasn't gone unnoticed by the trainees either. Charmaine McCarthy is a student in the pottery department, and she told AAH: "I learn more here than if I was to stay at college as I'm constantly working and making things for sale at Camelia Botnar Homes & Gardens. "It's normally a two year contract here and I'd quite like to study sculpture at art school once I've finished."
Hopefully one day, Charmaine will be another Camelia Botnar success story. But for Emma Mitchell, every trainee that steps foot inside the Foundation falls into that category. "Even if they come here for just three months they'll have learnt something - even if it's just getting into the routine of getting out of bed in the morning. We've had some fantastic stories over the years, of people who have gone on to do great things, but they're all a success story for me."
For more information on the Foundation visit www.cameliabotnar.com
The website also has details about Camelia Botnar Homes and Gardens (sales 01403 864773) and the Bistro (reservations 01403 864588) at Littleworth Lane, Cowfold.