Amberley Museum & Heritage Centre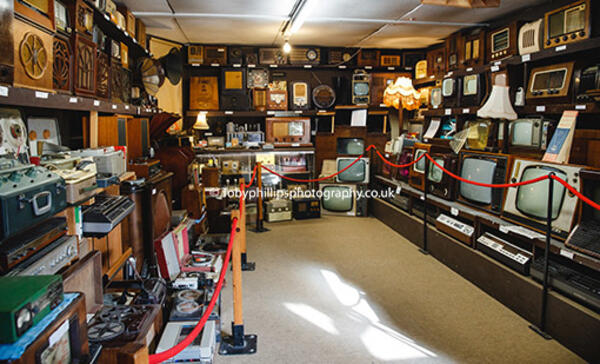 Published on 1st April 2019
The finest hour for Amberley Museum and Heritage Centre may have come in 1983, when Roger Moore and Grace Jones visited to film scenes for A View to a Kill.
One dummy of May Day, Grace Jones' character, was totally destroyed as the explosions outside the former chalk pits were bigger than anticipated! Today, there's little mention of the Museum's role in the Bond classic. Occasionally, visitors can be seen pointing to the mine entrance or working out where Christopher Walken's airship loomed menacingly over the Downs. But for most people, this local 'claim to fame' remains something of a secret. Much like the Museum itself...
Now celebrating its 40th year, it has remarkable exhibits spanning 150 years of Sussex history, brought to life by a team of craftspeople and volunteers.

EARLY DAYS

Brian Johnson, Chairman of the Museum Trust, was among those who helped get the project off the ground. He said: "In the early 1970s, there was a group of people, led by Horsham architect John Warren, who were interested in creating an industrial heritage museum for Sussex and the South-East. The curator of Horsham Museum gave hissupport, as did the director of Weald and Downland Museum. The Sussex Industrial Archaeology Society, which still exists, was also a fundamental part of this group."
"Over the next few years, the ideas grew, but the ideal site didn't come up. Then, Amberley Chalk Pits was placed on the market in 1974. It had been a chalk pit and lime works for 150 years before going out of business in the late 1960s. The County Council was concerned that the site could be bought and developed into something that would not be an asset to the South Downs, as these were the days before it was declared a National Park. So, to prevent that happening, the council allowed us to create a working museum."
Amberley Museum and Heritage Centre opened in 1979, with many of the original industrial buildings and equipment from the chalk pits utilised.

SOCIAL CONTEXT

Since then, over 40 exhibits representing different trades have been introduced, ranging from fire stations to pottery workshops. Some collections and artefacts have been donated or supported by individuals, whilst local businesses have also helped preserve and maintain interest in industrial heritage.
In several instances, listed buildings have been moved to Amberley Museum so that they can be maintained for future generations. Long-term residents of the District may find there's something familiar about the Spooner & Gordon wheelwrights (once in Horsham) or Fairmile Café (formely a roadside cafe near Amberley).
What makes Amberley different is that many of the exhibits are used and enjoyed today. Julia Owen, Curator, said: "Our focus is on giving people an interactive experience. We like to show industry in its social context, demonstrating the skills once required in various trades."
"We have a lot of people demonstrating these skills and crafts on-site. One or two are professionals, using the Museum as their working base, including our blacksmith. However, most people here are volunteers and we couldn't continue without them. Most are retired and see this as a good thing for them to do from a social perspective, whilst also giving something back to the community."
"By continuing to do a job that is now probably redundant, they are keeping certain skills alive, so they can be passed on to somebody else in future."

SCHOOL'S OUT

Education is a key part of the Museum's work, with schools and youth groups regularly visiting, often in relation to a project. The enclosed nature of the site, away from the road and concealed by the South Downs Way, makes it safe for children to explore and discover whilst their parents enjoy a coffee in the café.
Brian said: "Our visitors can ride on historic buses and locomotives around the site and experience things hands-on, as oppose to just looking at exhibits. They feel it, see it, ride it, handle it, and in doing something practical, they learn things that couldn't be taught in the classroom."
"Some exhibits may be more popular than others, but the purpose of the Museum is to preserve the past for future generations. If an attraction doesn't work, we don't just do away with it and introduce something else, as we're not a theme park."
"We conserve buildings, artefacts and machines, keeping them in working order and demonstrating how they were once part of life. The interest comes from how it contrasts with the present day."

SPECIAL EVENTS

To generate more interest, Amberley Museum regularly hosts themed days, with the vintage and classic car shows among the most popular. A bus rally is held twice annually, with other favourites including motorcycle shows and a Mini day.
For some of these events, Amberley works with clubs, organisations and even other museums. Brian said: "For the bus events, we welcome lots of enthusiasts. Private owners drive their vehicles here and we also bring in buses from museums that specialise in public transportation or automobiles. There's a pool of knowledge we all benefit from."
"We organise these days to bring people into the Museum, as public admissions keep the place running. When it comes to developing new exhibitions though, we need to find additional funding from the Lottery or other sources. That's always a challenge!"
Amberley Museum is open from 6 March -3 November on Wednesday - Sunday and Bank Holiday Mondays. For details of special events visit www.amberleymuseum.co.uk
Page 40.