A Friendship With No Strings Attached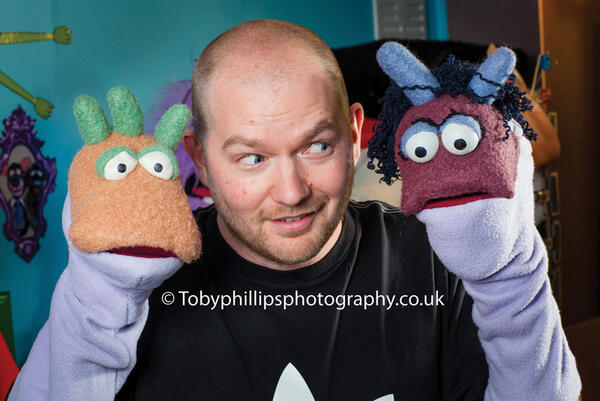 David Hellyer's videos have been watched over a million times on YouTube. He hasn't had his finger bitten by his baby brother, invented a Korean dance craze or, as far as we know, performed a duet with Justin Bieber.
Instead, his popularity is down to his puppets. David's full time job is as a Youth Leader at Kingdom Faith Church, but in his spare time he runs Hellyer's Puppet Workshop, creating puppets similar to those on Sesame Street or The Muppets – in a small studio at his parents' Horsham home.
It's a hobby that has attracted worldwide interest. He has sold puppets to customers in America, sent a purple monster puppet to a Children's Hospice in Canada, a reindeer puppet to Australia, a parrot puppet to a film maker in New York, and one of his creations is even on children's television in Zimbabwe.
It was inevitable that David would become involved in puppetry in some way. His parents Peter and Diane Hellyer are involved with Upbeat Puppets, and have performed puppet shows for over 20 years. They continue to do so, mainly at care homes, schools and churches. Diane said: "It's all voluntary work, and the idea is to teach people about the gospel through puppetry. It is entertaining but it carries a message.
"A lot of our puppet shows are set to music. We don't do plays or little skits very often as we use parodies of well-known songs. So we have songs such as Jailhouse Rock, which is re-written as Church House Rock. Older people who remember Elvis will like the music and will enjoy it, but it has a gospel theme to the song."
It was Peter and Diane who introduced David to puppetry at Sunday School at what is now the Christan Life Centre in Horsham. Back then it was Peter's puppet 'Scripture Squirrel' that was spreading the word of Jesus. Whilst his parents still perform with puppets that they have bought, David has gone in a different direction and prefers making puppets to giving shows.
David said: "When I was a kid my dad used to run the Sunday School sessions, using glove puppets to tell stories. One thing led to another and I started doing bits and pieces and eventually I began acting out scenes.
"A company called One Way UK was set up and they basically provided puppets and training for people to do what my parents were doing. They are based in Reading and I went to work with them for a year after finishing school. Through them I was able to perform around the country and also teach people how to use the puppets. I was also able to go to America a few times for puppet festivals and competitions.
"But rather than it being inspiring, it was frustrating to see how much more they could do out there as there are so many people involved in the puppet industry. It's a big business in America. To come back home and know that all you can do is something small with perhaps two other people was a bit of a blow.
"The puppets in America were so much better. I was a bit naïve so I thought 'it can't be that hard to make them' so I gave it a go. But it was that hard."
David started making his own puppets in 2005, but his early efforts were disastrous. However, he improved gradually and created Pierre, who he would take on television when he and his wife Shelley were contestants on
Bargain Hunt! Only when he was given some top tips by an industry professional did his creations jump up to the next level.
"MySpace was all the rage back then, so I was going on puppet forums," said David. "A guy started sending me tips on how to make better puppets. His name is Phil Fletcher and I discovered he is a professional puppeteer who operates Hacker the Dog on CBBC. My puppet building went on to a much higher level just through his advice.
"The puppets I make are rod-arm puppets, so they are akin to the sort of puppet you would see on The Muppet Show. The performer is always below the puppet, and you either operate the hands with your own hands or you use rods to move the arms to make gestures.
"It's not hugely difficult. You have to maintain a good height of the puppet, make sure you have eye contact and ensure it's looking where you want it to look, and to make sure lip synchronisation is right. I used to practice this for hours as a child!"
David's puppets are all entirely hand-made. He uses two different types of foam. There are two types of foam. Minicell Foam is dense and lightweight and provides a firm structure, and Reticulated Foam, which is a flexible, low-density foam and difficult to rip. Fake Fur is a popular material, but the thin fleece fabric used for puppets such as Kermit the Frog is Antron, which is a much sought after material. It is reportedly only available from one company in Georgia which only spins the fabric once a year!
It's not often that David gives performances with his puppets, although he does still do the occasional show through his involvement with Kingdom Faith. Instead, it is his videos on the internet that are his best
advertising outlet. Despite his success so far, he is not considering making puppet-making his full time job. "I have been tempted in the past," he said. "In 2008, I did a stint with the stage production of Rainbow, as George, the pink Hippo. That was good fun.
"Until the BBC moved to Salford it was tempting to audition for them. I went to the studio to watch my friends – who operate Hacker and Dodge for CBBC - work for a couple of days, and it was great but they devote their entire lives to it. I worked with young people at the YMCA Centre for three years and I think when you've worked with people who have lived on the edge and have had endured real difficulty, it changes your priorities.
"There are some things in life we have to deal with that are perhaps more important than big, purple furry monsters."
For more on David's puppetry visit www.hellyers.com and we also recommend his YouTube channel here