Pulborough Brooks: A Wading Wonderland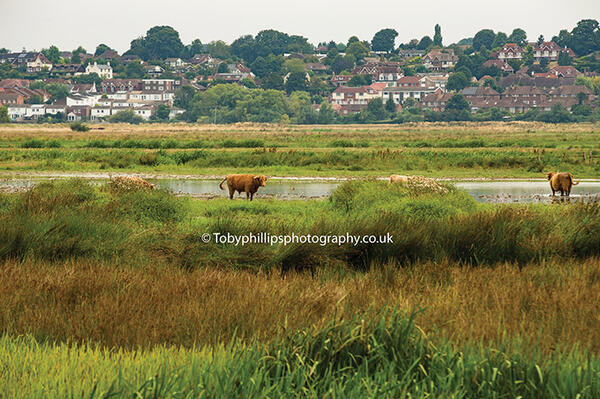 Published on 1st September 2016
Through binoculars, I'm looking out across the wetlands of Pulborough Brooks, to a willow tree where a Peregrine Falcon is perched. It dawns on me that this is the first time I've seen one in the wild; at least one that I knew was a Peregrine.
The last time I saw one, it was chasing Steve Backshall in a sports car for an episode of BBC's Deadly 60, a programme my children loved. They would be a little jealous, if they only knew I was watching the falcon swoop down from the tree, only to scan the area on a short flight before returning to his perch.
I feel a little guilty for having never taken my children along to RSPB Pulborough Brooks, particularly as they both take an interest in wildlife and it's so close to home. I hadn't appreciated the variety of birds and butterflies that the 1,100 acre site in the Arun Valley attracts.
Wven during my two-hour walk along the main footpath, at a time of day when good sightings are far from guaranteed, my untrained eye spotted dozens of birds including buzzards, kestrels, herons, falcons and butterflies like the distinctive clouded yellow. We were very nearly even more fortunate; minutes after leaving the peregrine behind at Hanger View - which offers a stunning view over wetlands towards Pulborough - word came over our guide's radio that a red kite and a marsh harrier had made an appearance.
Julianne Evans, site manager at RSPB Pulborough Brooks, said: "It's fair to say that, if you are an avid birdwatcher, there are better Reserves to visit if you're on the lookout for migrating birds.
"However, for sheer variety, Pulborough is a fantastic site. This 10 km² is the most bio-diverse in the country. It has wetlands and grasslands along the Arun Valley, heathland, woodland, the chalk downlands and the marine environment of the coast. The only thing that we don't have is upland areas.
"With such diverse habitat, there are few species of migrating bird that we don't see. You never know what might arrive on the Reserve. We've seen a white stork this year and a black stork flew overhead, which is an extremely rare sighting for the UK."
Tourist Attraction
For centuries, the land was wet marshland, but in the 1960s much of it was drained and river walls were constructed so that it could be used as farmland. However, by the 1980s, the land was not being managed; nature took its course.
Noting the site's importance as a breeding site for wading birds, the RSPB bought the land in 1989. One year later, having converted a derelict barn in to a visitors centre, Pulborough Brooks opened to the public.
With a sheltered setting within the Arun Valley, the site provides the wet grassland necessary for hundreds of species, including Bewick's swan, wigeon and teal. They're happy to share the land with grazing cattle herds, managed by the RSPB. This variation of wildlife has seen Pulborough Brooks become one of the most popular tourist attractions in West Sussex.
Julianne said: "We have around 90,000 visitors per year. Our numbers peaked two years ago, when we had 110,000. Never in the wildest dreams of the RSPB did we imagine back in 1990 that so many people would visit.
"Not all of our visitors follow the wetland trail; some take the heathland trail, some visit the shop, and a good number come here for our café, as it serves good food.
"We're now the third most visited RSPB site in the UK and one of the reasons for that success is that we focus on families and reconnecting people with nature through our trails and also our events during the school holidays.
"Of course, there needs to be a balance, as we want people to get relatively close to wildlife without disturbing the natural habitat. With Hanger View, in particular, we're able to do that, as it is hidden on higher ground.
"That's not always possible. There is another RSPB site of a similar size near Amberley, which is not open to the public, because it does not offer the same viewing opportunities. So here, we're always looking at ways to improve the experience for visitors; but first and foremost we are a conservation charity."
Dedicated Volunteers
Whilst the site has a number of dedicated staff members, Pulborough Brooks wouldn't be quite such a success story without the help of its volunteers. About 150 people devote time free of charge, helping to run the café, attract new members, work in the visitor centre, give guided tours or even maintain the habitat.
Whilst the Reserve may look a little wild and unruly in places, it's all part of a controlled management plan to encourage wildlife, from insects to birds of prey.
Emily Summers, Visitor Experience Officer and our guide for the day, said: "We manage our habitats to suit all species. We are developing more wild-flower meadows, because they provide vital pollen for butterfly and bee species, in particular.
"We are in the process of turning one grass field into a meadow, using yellow rattle to reduce the growth of grass and encourage wild flowers.Sometimes, it might look a little unruly, but there's an awful lot going on behind-the-scenes.
"As well as protecting what we have, we also want to be able to give people an enjoyable experience and for them to gain an appreciation for nature. That is why we're not too intrusive with the information we display; we want to keep the site as natural as possible.
"People can explore the site in their own time, and of course, being an RSPB site, the overwhelming majority of people who visit are very respectful of wildlife."
Famous Birdsong
There are countless birds that you may come across, but Pulborough Brooks is well known for its nightingales, which liven up spring with their famous birdsong. Barn owls are making a recovery on the Reserve too. In recent years, their numbers were hit hard by flooding. Two years ago, the Arun flooded the lower fields, decimating the rodent population. This had an impact on barn owls, but there are now two pairs breeding on the site.
"This is encouraging, as it suggests the rodent population is healthy again," said Emily. "This is vital, as it's not only barn owls that rely on rodents for food, but also raptors and snakes. We also have tawny owls here, and I recently saw two short eared owls fighting off a red kite over the Reserve. They are a beautiful owl, my personal favourite, and can often be spotted perched on fence posts.
American Visitor
The RSPB hasn't been able to confirm it for certain yet, but staff believe that buzzards are breeding on the site. Adults have been seen teaching juveniles how to hunt in the skies over the Reserve.
Other birds are more unusual...
Emily said: Occasionally, we have surprise visitors. Widgeon is a pretty duck that we see here, but we also saw an American wigeon arrive in spring. We assume it was blown off course by Storm Katie. We had bird enthusiasts flocking here from all over the place to see it.
"This is also one of the most important sites for sandpipers and lapwings, as wetland habitats are in decline. On the heathland, we have nightjars, although they can be difficult to see as they can camouflage themselves amongst the fallen leaves.
"Nightjars are nocturnal, but we listen out for their very distinctive sound on our night safaris."
Bat Detectorists
These safaris are one of the many popular events held on the Reserve over the year.
One popular tour sees guides using detectors to locate some of the seven species of bat found around Pulborough Brooks. Experienced detectors are even able to identify the species simply by the sonar sound detected!
During the summer holidays, child-friendly events include pond-dipping, with youngsters hunting for all three species of newt, and bug-hunting in the meadows. Emily said: "Most of the children that visit are interested in the natural world anyway, so their parents bring them here to fuel their interest.
"Sadly, I think there is still a bit of a stigma attached to children who are interested in nature; it's sometimes seen as being a bit nerdy. I hope we're helping to change that perception, because it's not the case at all and we find that all of the children who take part in our events have a good time."
Seasonal Treats
Whilst the summer holiday fun may soon be coming to an end for young nature lovers, there's plenty to interest bird enthusiasts at Pulborough Brooks over the coming months.
Migrating birds, including the winter thrushes, will be seen around the Reserve in the autumn, as well as redstarts, flycatchers and yellow wagtails, with ducks like teals and shovelers starting to appear. Emily said: "Autumn and winter tends to be quieter, in terms of visitor number on the Reserve, yet there is so much more to see.
"We have a good group of regular visitors who like to keep us up to date with sightings, which we record on a board in the visitors centre. Often, they are here before the centre opens, as dawn and dusk are good times to see some of the birds, particularly the owls.
"So, just because it's no longer summer, that doesn't mean that the window for visiting us has passed!"
The Visitor Centre is open from 9.30am - 5pm every day. The nature trail is open daily sunrise to sunset. You can find out much more about Pulborough Brooks and all of the RSPB sites, as well as membership details, at https://www.rspb.org.uk
REPORT: BEN MORRIS
PICTURES: TOBY PHILLIPS