WARNHAM RESERVE: A HAVEN FOR WILDLIFE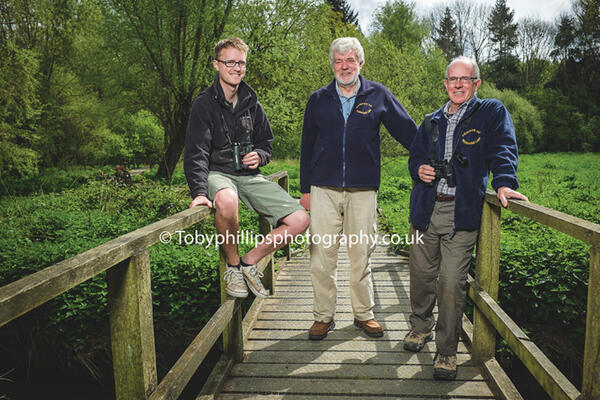 It seems incredible that there are still people in the Horsham District who have never visited Warnham Nature Reserve. Yet members of Friends of Warnham Local Nature Reserve insist that it remains something of a hidden gem for many residents.
Over recent years, there has been substantial investment in the Reserve, with new pathways and hides put in place, making it a great (and cheap) day out for families. Thankfully, none of that has had a negative impact on wildlife.
Warnham remains a popular spot for experienced ornithologists. Two avocets and an osprey have judged the Mill Pond to be an ideal resting point in recent months. Even to the untrained eye, there is a huge amount to see. Despite Toby lugging around his cameras and noisily chatting to fellow photographers about shutter speeds, we still spotted several herons, a shrew, a grass snake, a mouse, a Kingfisher, several buzzards and many small birds during our two hour trek.
The Millpond was created in the 16th Century to provide water for a watermill used as part of an extensive local iron industry.The Reserve was, for a time, owned by the son of the Romantic poet Percy Shelley, before it was sold to the Lucas family. But when the A24 was expanded in the early 1980's, it became separate from the Warnham estate, and was purchased by Horsham District Council. They now manage the land as a Reserve.
We spoke to two members of the Friends of Warnham Local Nature Reserve, John Wilks and Neil Henry, as well as Countryside warden Jake Everitt, to find out more...
John: Warnham is such a lovely place and fairly unique. By Reserve standards, it is not that big, but it has a variety of habitats and is species-rich. We see over 100 varieties of birds here and much more besides.
Neil: The Reserve is managed by Countryside Wardens on behalf of the Council. But I think there are only two permanent wardens and a couple of temporary staff, covering six sites in the district. That leaves them thin on the ground at times, and as the Friends of Warnham Local Nature Reserve, we to try to ease the burden on the wardens and work with them to promote the site in any way we can.
John: The Friends has been going since 2007, and we've raised funds for many of the improvements you see here. Annual membership is just £10 per household, and members enjoy special events and lectures. We also host events for the public, often for or in conjunction with Horsham District Council. We get a lot of enjoyment out of the Reserve, and it's nice when we're able to give something back.
Jake: In the Visitor Centre, if there is not a warden around the Friends are here, so there is always someone for the public to talk too. There's also a donation box for bird feed. People see how well it works so they're happy to donate, as we get through a lot of food!
Neil: We try to attract children, in particular. During the Easter trail, we found that children that had visited with their school or with Cubs and Beavers were bringing their parents along too! I recently saw a toddler who was very interested in worms and she was turning over logs and collecting them. Whilst not strictly abiding by the ethics of keeping a nature reserve, I'm always encouraged to see young people taking such an interest!
John: We're very pleased that lots of mums come here with pushchairs, which shows it is a safe place and accessible. Children will see birds, ducks and butterflies, and of course it's good that they are out in the open air. The mums like it too as we also have the café!
Neil: We have chickens too. They are Jake's chickens really, as he raised them from eggs and is very fond of them. They are vulnerable to red fox, but we lock them up at night. We're going to build them chicken run as well. They are a big attraction for children, as are the harvest mice in the Visitor Centre. You'll see deer footprints all over the place. We've even had them on the flowerbeds right outside the Visitor Centre!
John: You'd be disappointed if you didn't see a heron during your visit. We have a heronry in the conifers opposite the Mill Pond. It's one of the biggest around, and we counted 19 nests earlier this year. There's a camera feed from a nest to a TV in the visitor centre, powered by a solar panel in the Mill Pond reeds. I don't know anywhere else in Sussex that has a live feed from a heronry.
Neil: The heronry has spread back from the rim of the mill pond where it could be easily seen, to one or two trees back, where it can't be easily seen by predators. Buzzards, herring gulls and even terns have been attacking, or defending their own territory and irritating the herons. So the herons have moved back from the water's edge just a little.
Jake: The opposite side of the Mill Pond, where the heronry is, is actually off limits to the public. They wouldn't nest there if there was a public path underneath. One of the biggest problems we have is wildlife photographers trying to capture that perfect shot and ignoring the signs. It's a fragile position, because if they infringe on heron territory, the birds will leave here and the photographer has ruined it for everybody.
John: We often have great crested grebes on the Reserve too. We once had a small screen in front of some bird feeders, and that has been turned into a 40ft hide. We have lots of feeders in there and the selection of birds that we see, especially in winter, is unbelievable. When a rare species is spotted there, people will flock here from all over the place!
Neil: You could barely get into the hide in February without tripping over tripods and lenses. There is an informal online network around Sussex that discusses sightings. We used to have a sightings board here, but it's all on the internet now. The sightings go on there and suddenly people turn up. We had people travelling 50 miles to see a Mealy Redpoll, and in April two Avocets arrived in the morning and were here until 3pm. During that time the wires were buzzing!
John: We tend to forget sometimes that some of the things we've seen a lot are really interesting to visitors seeing them for the first time. People see a heron flying across the surface of the pond and say 'Wow, I've never seen anything like that!'
Jake: If you happen to be interested in moths, the Reserve is a good spot as we've had about 700 species identified here. I've been interested in moths for about ten years, and have spoken about them on programmes such as Countryfile. Every year, we find something here that is out of the ordinary. We have a couple of species that haven't been seen elsewhere in Sussex, and last year we found a moth usually endemic to Sicily. It was only the second time one had been verified here in Britain.
Neil: We do have some animals that shouldn't really be here! A red eared terrapin has been spotted. More of a concern is the American mink. It's very exciting when people see one, but they are the villains of the piece!
John: They council has some Hebridean sheep and they move them around between sites. The wardens look after them, in the main. The sheep are at Owlbeech Woods at the moment, and come here for autumn and winter. We want the grass to grow for insects and butterflies, but after that we have them back and they act as lawnmowers!
Neil: They're not that friendly to people but people do like to see them. Thanks to them, a variety of wild flowers have grown in the meadow and people are coming just to look at the flowers.
Jake: We also see mice, shrews, water voles, and sometimes snakes. There have been no adder sightings here for a while, as it's not really their ideal habitat. But the grass snakes are often seen near the dipping pond as they like water. We had several sightings over Easter.
Neil: During the floods at the start of the year, we had to close the Reserve for three days, which is unknown. The water was up to the windows in the second hide! We also lost our tern raft which was floating on Mill Pond, so we've built a new one ready for common terns' arrival from Africa. We've put on Perspex sides to allow easy viewing from the hides and to keep out the mink.
John: Flooding is an issue here. Last summer, we did a survey of the wet meadow at the north end of the Reserve and tried to trace the course of Boldings Brook, which leads to Mill Pond. At some point, probably in the 18th Century, it was straightened. That has meant that silt is coming straight down the brook into the pond. The Mill Pond was assessed as being 80% silt, 20% water. It means that when we have heavy rainfall, the water rises dramatically.
Neil: To give you an idea of how fast it can rise, we had a rain storm on Easter Sunday and the water rose 6-8 inches in front of the hide in only an hour. We did a sweep of the far side of the Mill Pond in January, and filled up 17 large plastic sacks with assorted plastic and glass.
John: Boldings Brook runs past the landfill site, so it may be that water runs off the site there, and that's why the water rises so dramatically here. We're working with Arun and Rother River Trust, and have spoken to them about the issue. If we could get the stream moved back to its natural path, then that would lessen the impact of the flooding, and lower the silt rate. About 200 years ago, the Mill Pond stretched to where the bypass is, but ever since much of it has been filled in by silt deposits. It's a natural process, and this will all become a field eventually. We just hope to slow down that process!
Neil: We have just paid about £4,500 for a new hide in the reserve, and Horsham District Council paid for an accessible pathway to it. It took us three years of saving. We are fortunate that a lot of the work is able to be done by volunteers from the Friends group, and also from the Green Gym, who give a tremendous amount of help in maintaining the Reserve.
John: We like the fact that we encourage young people to be interested in nature. On 29th June, we are hosting a Creepy Crawlies day. There will be a bug hunt, crafts, a quiz trail to follow, they do some pond-dipping, and we'll have some live inspects too for them to hold. It's amazing what the children bring back from the hunt!
The Reserve is open all year, seven days a week at 10am-6pm. Visit the Countryside Events page of the Horsham District Council website for more details. If you'd like to know more about the Friends and forthcoming events, do visit https://www.friendsofwarnhamlnr.org.uk/