Acid Bath Murderer's horsham Trial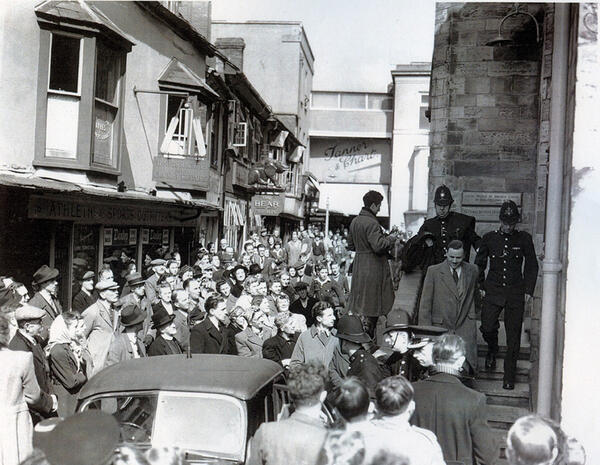 When the head of Horsham CID forced open the door of a small brick building in February 1949, he had walked - unwittingly - straight into John George Haigh's workshop of death. In that moment the police brought to an end a six year orgy of crime that ranks as one of the most chilling sequences of killings uncovered this century.
Haigh had carefully selected his six victims, all friends of varying degrees, lured them to a swift execution and then systematically disposed of their bodies in large oil drums of sulphuric acid at a workshop meticulously equipped for that shocking purpose.
When Detective Sergeant Patrick Heslin, entered the building in Crawley, he discovered all of Haigh's working tools: a war time gas mask, a stirrup pump, an enamel bucket, glass jars of acids, a large rubber apron, rubber gloves and wader length rubber boots.
Outside the building was a collection of old oil drums, some of which were seriously corroded. When after many weeks the police had pieced together the full story of his activities, they carried out a bizarre reconstruction of Haigh's working uniform, inviting a Sussex detective to wear the equipment for an official photograph.
John George Haigh murdered six people who were his friends, disposed of their bodies by using a unique method perfected whilst in prison, forged deeds to acquire their possessions, and covered the disappearance of his victims with a trail of false stories and bogus documents that were accepted as genuine by relatives and lawyers alike. He goes down in criminal history as the Acid Bath Murderer, but he also picked up another label too: The Vampire of London.
When his six year spree came to an end and he was questioned by senior detectives at Chelsea he told them quietly and calmly that he had not been motivated to kill for money, but had been compelled to drink the blood of his victims. His statements describe how he would take a small penknife and slice open the neck of each victim, allowing blood to drain into a glass tumbler.
Whilst this notion was dismissed as sheer fantasy by many, the fascinating thing about Haigh is that all the other stunning revelations he made in his six hour confession - the six victims, the use of acids, the aquisition of their possessions - all proved to be true in every respect whilst even on the day before he was executed he told a close friend that he stuck by every word of his story. It was Haigh's "method of disposal" that continues to have a unique place in the history of Scotland Yard. He always lured his victim to a private place, usually on the pretext of examining a business idea, or some other ruse.
Each of the first three he attacked from behind with a heavy iron bar across the back of the skull, rendering them dead almost instantly. The second trio were all shot in the back of the head with a wartime pistol stolen from one of his victims; again quickly despatched. He kept all their personal valuables, then stuffed the bodies into 45 gallon oil drums which he proceeded to fill with stocks of sulphuric acid kept in small carboys. In order to protect himself from the dangerous fluids and toxic fumes, Haigh donned a macabre uniform consisting of rubber gloves, large rubber raincoat, thigh length boots, a rubber apron and a war-time gas mask to cover the whole of his face.
With a stirrup pump and a small enamel bucket he spent laborious hours completing the grim task, leaving the drum to stand for at least two days to do its work.
Working to a meticulous routine, Haigh always killed on a Friday. He let the drum stand through the week-end, returning on Monday to check the contents, or to stir them with a wooden rod in order to speed up the disintegration process. The rod was later recovered by detectives and stands in a glass case at Scotland Yard's Black Museum to this day.
Victims one, two and three died in a small basement at Gloucester Road in London, their remains being washed down the drains and into the River Thames. Four, five and six were killed at a tiny engineering workshop in Leopold Road, Crawley, where the sludge from the drums was spilled out across land where the bits and pieces merely merged with the rubble of a builders' yard.
Haigh was the fictional Jekyl and Hyde come to life. To everyone around him he appeared to be a smartly dressed businessman, was good looking, had a pleasant manner and sparkling blue eyes. But beneath the smooth veneer he could conceal another quite ruthless character which went unrecognised by all who knew him. Even those most close to him, his teenage girlfriend Barbara included.
Born in Lincolnshire in 1909, he was the only child of fanatically religious parents. He grew up in a small village near Wakefield in Yorkshire, attended the grammar school and became choirboy and later assistant organist at Wakefield Cathedral. There were no outward signs of criminality then but during his twenties he became involved in a series of frauds which clearly demonstrated how his mind was beginning to turn.
To the immense shock of his parents, he was sent to prison first for defrauding a finance company and then for posing as a solicitor and attempting to sell bogus shares. He received a third term in 1942 after attempting to defraud his landlady. Whilst inside Lincoln Prison, he began planning "perfect" murders.
Using glass jars from the kitchens, dead field mice brought in from the fields and small quantities of acid taken from the tinsmith's shop, Haigh carried out experiments to see how long it would take a small body to dissolve in acid. It was not long before he had devised a formula which later could be applied to humans. On release from jail at the age of 32, he obtained a good job as a book-keeper with a small engineering firm in Crawley and within a year had established his own firm, Union Group Engineering.
In 1944 and 1945 three people perished there: William McSwan, who was about the same age as Haigh and with whom he had become friendly, and that man's parents, Donald and Amy McSwan. Between them the family owned six homes in London which Haigh proceeded to acquire thanks to another of his special skills, the forging of other people's signatures.
So perfect were the forgeries that not one solicitor questioned the deeds that transferred the freeholds over to Mr Haigh, whilst he spread more lies to friends and neighbours that the McSwans had emigrated to America. During the next two years, the killer and conman sold the properties and lived very comfortably off the proceeds. When his bank account ran low again, he began seeking new victims. The next to die were a fashionable London couple who had become friendly with Haigh, Dr Archie Henderson and his former beauty queen wife Rose.
On Friday, February 13, 1948, Archie was invited to visit a small workshop at Leopold Road in Crawley on the pretext of discussing a business venture, making powder compacts. There Haigh killed him with his own pistol.
On the same day he lured Rose to the building and killed her also, disposing of both bodies in acid. With the same cunning used on the McSwans, he wrote letters to their relatives to convince them that the couple had gone to live in South Africa, kept possession of the family dog and proceeded to forge deeds which gave him access to their home, a shop and a block of flats.
The small fortune obtained from the Hendersons vanished in a year. Early in 1949 Haigh was seeking out victim number six, and she appeared in the form of a fellow guest at the Onslow Court Hotel in Kensington, London, where he enjoyed a fairly expensive and comfortable room. Elderly widow Olive Durand-Deacon had stocks and shares worth £36,000 salted away and Haigh was soon persuading her that she should invest in a small business enterprise manufacturing powder compacts.
On a winter's afternoon in February, 1949, the lady dressed in her furs and finest jewellery was persuaded to leave the comfort of the hotel to visit the grimy workshop in Leopold Road. There she was shot in the back of the head, her valuables plundered and her body dissolved in a brand new oil drum, specially coated on the inside to resist powerful acids.
The killer enjoyed poached eggs on toast at a local café later that day. In fact, it was to be his last disposal. Whereas none of the other victims had been reported missing, one of Mrs Durand-Deacon's closest friends visited Chelsea Police station within 48 hours of her failure to return to the hotel.
Horsham detective, Det. Sgt Pat Heslin, was called in to check on his movements in Crawley and after days of painstaking enquiries in the town he arrived at the Leopold Road workshop that Haigh often borrowed from a legitimate engineering firm. There Heslin found the equipment and also uncovered hundreds of documents, all in the names of people he had never heard of: William McSwan, Donald McSwan, Amy McSwan, Archie Henderson and Rose Henderson. Finally the game was up.
Even after arrest, Haigh continued his trickery. He did his best to provide his defence team with some grounds for a defence. He was charged with the murder of Mrs. Durand Deacon and appeared before magistrates at Horsham Town Hall on five separate occasions during which the town was brought to a standstill. A Horsham solicitor, John Ireland Eager, was appointed as his legal representative and he was later joined by a top team of QC's whose fees were paid for by The News of the World, in exchange for his exclusive life story.
Horsham magistrates eventually sent him for trial on April 1, 1949. When he eventually appeared at Lewes Assizes Haigh's lawyers tried to persuade a jury that he was insane, and thus should not hang. No one believed that. In less than two days Haigh was found guilty and just after his 40th birthday in the August of 1949 he was executed at Wandsworth Prison.
Next day they put up a waxworks effigy of him at the Madame Tussaud's waxworks museum in London to which Haigh himself had the pleasure of donating one of his suits and a tie. It was one of the last gestures he was to make in his bizarre life.
Many thanks to David Briffett for providing this story for June's edition of AAH.