SHIPLEY SOAPBOX DERBY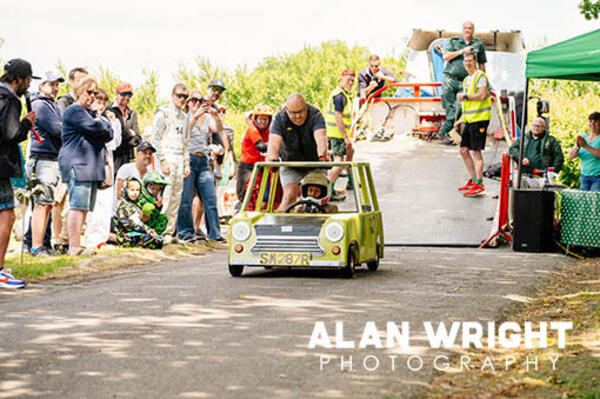 Published on 1st July 2023
The Shipley Soapbox Derby was staged for the second time on Saturday 3 June. Hosted by Shipley CE Primary School, the event attracted a large crowd, who cheered competitors of all ages as they flew down the short downhill track. AAH was there to speak to some of the star performers, as well as organiser Sarah Cuthbertson…
LIGHTS OUT!
The Shipley Soapbox Derby is the brainchild of Sarah Cuthbertson, Chair of the PTA at Shipley CE Primary School. Having long been a fan of the Red Bull Soapbox Race, which has been held in cities across the world since 2000, Sarah had the idea of utilising the gentle slope of School Hill in the rural village to host an event that children could participate in.
Sarah said: 'Somebody told me it would be impossible to organise, but once that gauntlet had been thrown down, I was determined to make it happen! The Headteacher, Mrs Jen Harvey, was incredibly supportive, and trusted me to go through every safety detail with a fine-tooth comb. We secured insurance and organised medical support, just in case there were any crashes, and held the inaugural derby in 2022.'
'Unbelievably, we had 28 soapboxes taking part, which far surpassed our expectations, and hundreds – if not thousands - of people came to watch. It was in the wake of Covid, when people were eager to get out of the house and support community events. Lockdown had given us all the chance to reflect on what was important, and we all wanted to spend more time with our families, which contributed to an amazing atmosphere.'
WATER HAZARD
This year, the number of entries dipped slightly to 19, without the novelty of last year's event. However, it still drew a big crowd, even though it coincided with the FA Cup Final. The organisers resisted the temptation to make the course more challenging, although the 'Crocodile Swamp' near the finish line saw competitors having to steer through a water hazard, with keen youngsters firing pistols from the roadside.
Sarah said: 'We have categories for children and adults, who might have better resources when it comes to building a soapbox. Some of the adults in the 'Wacky Racers' category can be very competitive, even wanting to check their times. We have to remind them that this is a family event, hosted by a primary school with about 70 children, and our chief timekeeper is a teacher with a stopwatch. It isn't the Red Bull Soapbox Derby! The course is designed so that children can compete and this year we had five pupils from the school taking part, with one being only five-years-old. The youngsters are often the bravest, flying fearlessly down the hill.'
RUNNING A BATH
When it comes to prizes, it isn't all about speed. While time taken to complete the course is important, there are other factors for judges to consider. There is an entertainment element, with some teams performing comedy skits or dance routines (one crew member even performed 'The Worm') before a run. Design is important too, and all the karts are inspected by chief scrutineer Clive Richardson, who has taken part in several soapbox derbies.
Zach Linfield, 11, is a pupil at Castlewood Primary in Southwater. He was one of the stars of last year's event, behind the wheel of a Postman Pat kart, and starred again in 2023 in a Mr Bean Mini. He also performed a comedy routine, earning praise from the judges. Zach said: 'When I talked to my dad about converting last year's kart into something new, we thought Mr Bean's car would be funny. It took more than 20 hours to finish, but my dad is an engineer, so that helped! We were just here to have fun, and were not too worried about winning again, but I think our run was even quicker than last year!'
Another star performer was Lewis Kemp, a pupil at Burgess Hill Academy. Lewis dared to take on the jump and succeeded in getting all four wheels off the ground. He said: 'I made the kart with my dad, using an old bath tub that we found for free. Then we painted it the colours of Michael Schumacher's Ferrari, with the number 47. We had a good run, although the front got a bit smashed up over the jumps!'
AIR TIME
The event was well supported by local businesses, some of which made generous donations to the school. James Cuthbertson, Sarah's husband and formerly a director of Dark Star Brewery, is now a partner at Lakedown Brewing Co, established by Roger Daltrey (The Who) in Heathfield, East Sussex. James was serving some of Lakedown's beers in the playground, while House Coren, served glasses of its signature brand, Boco. Sussex Lamb, based in Shipley, and The Boars Head in Horsham served food, while live music by singer Jo Buckland (a former Shipley pupil) and MC Matt Carr helped ensure many people stayed for the award presentations.
The Best Blooper prize went to the Platinum Ambulance Service team, who were not only a main sponsor, but also provided emergency support. Mitchel 'Mitch' Smith, a member of the Platinum team, had vowed not to take part after injuring himself at last year's event, but bravely completed the course this time. The Blooper's prize was provided by the Co-Op, who also supplied a hamper to the winner of the children's category, while trophies for all the classes were made especially for the derby by local company Design Woodcraft.
The children's prize went to Charlie Challinor, who completed the course in just 35 seconds, only a second slower than the time posted by the winners in the adults class. That was won by Ian Smith, who stepped in at short notice to drive a Mad-Max inspired kart built by Justin Ellis and Dan Howick. Dan said: 'We like to support the event, as I run a tree surgery business and have done some work at the school. Justin built a chassis for last year's derby and I helped out with fabrication. We adapted the kart for this year, giving it a rustic, post-apocalyptic look. We got a lot of air time over the jump, which the crowd appreciated!'
MAKING MEMORIES
Sarah is yet to decide whether there will be a third Shipley Soapbox Derby. Having previously thought that two would be enough, the success of this year's event – which raised about £2,000 – has tempted her to organise it once more in 2024. Whatever happens, she hopes those who have taken part will take away cherished memories.
'Soapboxes were what children used to build and play with in the days before video games and mobile phones,' said Sarah. 'It's nice for youngsters today to experience that too, building a kart with parents, friends or relatives. It brings the community together, as people chip in to help where they can, and some even share their kart to let others experience the thrill of a soapbox derby. The best thing about the day is that all the children are smiling. My daughter was the first person down the hill today, and I know that even though she takes it all in her stride, she will remember days like these and look back on it one day with great fondness.'
Further information:
For videos and to keep informed about future events, visit the 'Shipley Soapbox Derby' page on Facebook.
Words/Interviews: Ben Morris Photos: Alan Wright