Lodge Hill: Activities for All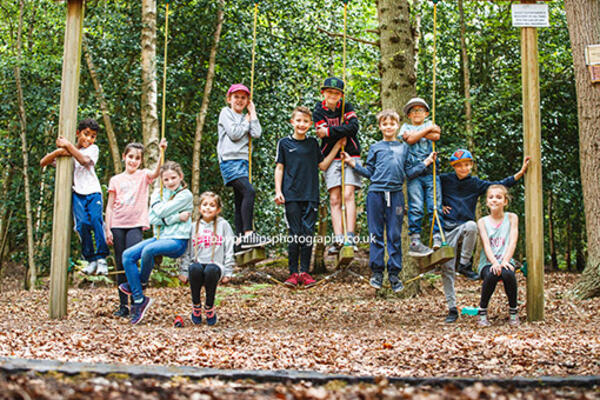 Published on 1st August 2019
Every year, about 28,000 people enjoy the remarkable outdoor activity centre at Lodge Hill in Pulborough.
Children and grown-ups alike can experience tunnelling under the ground, go-karting on the ground and a zip wire high above it, in a beautiful, scenic setting. This year the centre celebrates its 20th anniversary. But far from resting on its laurels, Lodge Hill is extending so that even more people can benefit from its facilities.
SOLID FOUNDATIONS
Lodge Hill was once a private residence and then a hotel, popular for its views of the South Downs. West Sussex County Council later used the site to offer activities to schools and community groups, but in 1998, its funding came to an end.Recognising the centre's positive impact, the late Penny Hardwick OBE led a group of like-minded people to raise funds to purchase the lease of Lodge Hill.
Matthew Wykes, Chairman of Trustees, said: "Penny was a remarkable woman and somehow raised £1million in just six months to buy the site. The Lodge Hill Trust was formed and the Council sold the freehold for £1, delighted that it would continue to be an asset to the community."
Lodge Hill has continued to expand ever since, improving catering and accommodation as well as introducing new activities to challenge each generation.
Lisa May, Chief Executive, said: "Lodge Hill's aim has always been to provide activities, education and life-building opportunities for children and young people of all abilities and backgrounds. Schools come here for residentials, as outdoor learning is part of the National Curriculum. We also welcome disabled groups, businesses on team building ventures, as well as hosting conferences, meetings and even weddings. It truly is a site for all. Recently, a 92-year-old visited us with a family group and flew down the zip wire!"
"We do whatever we can to make sure that everyone has the opportunity to take part, regardless of ability. We have specialist bikes adapted for wheelchairs and electronic all-terrain karts, alowing less able visitors to follow the kilometre-long adventure trail around the perimeter."
FUN-FILLED DAYS
Lodge Hill offers more than 30 activities across 32-acres. These include team-building games like the crate stack challenge, physical fun in the form of mountain biking or tunnelling, knee-trembling tests like the high ropes, high wobble board or climbing tower and educational activities including orienteering. An outdoor go-kart track was refurbished in 2014, while snow tubing is an adrenaline-pumping recent addition.
Lisa said: "Tunnelling and the crate stack challenge are popular as they require teamwork. The zip wire is a major draw too as it has the excitement factor. The activities are designed to build confidence, self-esteem and toencourage young people to work together. No-one is forced to do anything and yet we find that the camaraderie and support within a group helps people achieve their goals. It's wonderful to see that happen. We work on a 'challenge by choice' ethos. The child who climbs to the top of the tower instantly was always going to do it. The one who was timid, cautious and only makes it halfway up has achieved just as much, if not more."
MODERN 'VISION'
There are options for morning, afternoon and full day visits, or even longer residential programmes that include meals and accommodation. Those staying at Lodge Hill have plenty of choice. As well as Hardwick House and a cottage, there are two woodland lodges (one of which is disability friendly) for those looking for an outdoor experience. Lodge Hill is renowned for its catering too, with children often saying that the food was the best bit of their stay!
To celebrate its 20th year, the centre has raised funds to commence work on its 'Vision Project'. This will see residential capacity increased, while the kitchen will be modernised and two new orangery-style extensions built. Lisa said: "Previously, we haven't been able to accommodate some large groups. If a school has three classes in a year group, we've not had space for them all and they've gone elsewhere for their residential.""We have raised £550,000 in one year through various trusts, foundations and personal donations so that we can provide that extra space. Once the work is complete, we'll be able to welcome groups of over 100 children, staff and supervisors."
The new look Lodge Hill will include a stilted viewing platform over the side of the hill, behind Hardwick House. By working in partnership with Chichester Planetarium and South Downs National Park's Dark Night Skies project, it is hoped that the centre can host astronomy sessions. Matthew said: "Our idea is to take groups to the Planetarium and in the evening they can use a telescope on the viewing platform to bring space to life. We encourage children and young adults to engage in the natural world, so it'll be a worthy addition."
FRESH CHALLENGE
Another project now offered at Lodge Hill is the ChallengeU early intervention programme.ChallengeU is a holistic, outdoor activity programme designed for young people who have disengaged with society oreducation. That can include those who have offended, or are deemed to be in danger of offending.
Matthew said: "Young people are referred here as it's a safe space. We liaise with their families, schools and partner organisations to hopefully get them back on track. Those who complete the programme are rewarded with a trip to Wales where they can take part in rock climbing, kayaking, hiking, camping and other outdoor activities. It's about giving them a positive experience."

PHONES DOWN
But are today's children as excited by abseiling or archery as they used to be? Or do they struggle to concentrate without technological distractions?
"The physical and mental health benefits of being outdoors are clear," says Lisa. "The skills children learn - intellectually and physically - are second to none. So, most teaching staff ensure that mobile phones are kept inside during the day.""Fundamentally, children haven't changed. We see them grow during their time here and we often have teachers reporting back to us after seeing a positive change in an individual or even a group. It's great when young people take new skills back into their everyday life and demonstrates that we're helping them become well-rounded members of society."

Lodge Hill is open all year round and this year is hosting events to celebrate its 20th anniversary. For more information on its activities or to book, visit the Lodge Hill Centre Facebook page or the website at www.lodgehill.org.uk


WORDS: BEN MORRIS / PHOTOS: TOBY PHILLIPS