SURVIVAL OF THE FITTEST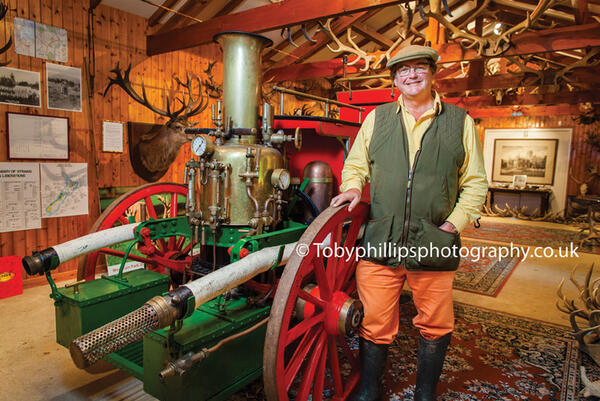 Two years ago, an eleven-year-old Stag called Poseidon produced antlers with 50 points, breaking a British record that had stood for 119 years. Still, he was not a pretty animal. He would often have a crow perched on top of his antlers, and the bird would nibble away at the points, gradually rounding them off.
Jonathan Lucas, owner of the 215-acre Warnham Deer Park, would regularly see Poseidon strutting gracefully across the stunning, Oak-laden Deer Park with the crow chipping away at the antlers which held considerable value; Jonathan had once turned down £10,000 from a Norwegian marksman wanting to claim the trophy.
"I kept seeing him just outside the house with a crow perched on top of those antlers," said Jonathan. "The crow would look at me and just start pecking, and I would be screaming 'leave him alone! He's going to be a 50 pointer!'"
The number of points for the British antler record established in 1892 was the so-called Great Warnham Head. In 2011, I finally produced another 47 point antler, as well as Poseidon, who had 50 points but looked hideous. I can see the magnificence in a large antler but it still needs symmetry too. I don't like a forest of little tiny bumps like Poseidon. When he was in his prime with 35 points, he looked wonderful."
Breaking the record for the number of points is not the ultimate goal at Warnham Park Estate which has been world-renowned for its Red Deer for over a century. Alongside the Deer Park, Jonathan has developed a modern
stud, breeding genetically superb deer for international sale. These deer are exported to improve other herds developed for the production of trophies, velvet and venison.
Jonathan said: "In the world of Red Deer we are right at the very peak. I would qualify that by saying that we are at the top with one other estate and that is Woburn Abbey Deer Park in Bedfordshire. The two have been the pre-eminent herds for over 100 years and there has been a great history of exchanging animals, so there is a lot of shared history between Woburn and Warnham.
"If there is only one other source of Red Deer with the right pedigree then it makes sense to work with them as we avoid running the risk of a closed herd getting too inbred. Things can go wrong very suddenly."
The Lucas family has a long and illustrious history in Warnham. Warnham Court was built in 1825 and twelve years later a Deer Park was established in the surrounding grounds for a herd of fallow deer. Charles Thomas Lucas bought Warnham Court in 1865, when there were only 30 Red Deer in the park.
With his son, Charles James Lucas, Charles Thomas expanded the estate, purchasing many properties including Warnham Place Farm from Sir P.F. Shelley (the son of the great poet). But in 1851, a hunt would lead to an event that would change the course of Lucas family history. A Red Deer Stag owned by Lord Leicester of Holkham Park, Norfolk jumped into the park for refuge from hunters and was subsequently given to his new owner.
The stag was kept for hunting and was joined by three purchased hinds (female Red Deer). Over the years, when any animal was killed by The Warnham Stag Hounds (formed in 1870) they were replaced with deer from other English parks and some wild hinds from Scotland, creating a broad genetic base to the herd as the Fallow Deer were reduced.
There were dramas outside of the Deer Park too. On Christmas Day in 1901, a fire broke out in the billiard room of Warnham Court. The blaze claimed, among other possessions, a painting by the Venetian artist Canaletto. When you read that one of his paintings sold for £18.6million in 2005, you can understand why Jonathan remarks that "I would quite like to have the Canaletto in my collection!"
The Warnham Court Fire Brigade had been created in 1897, with a horse-drawn cart and a crew made up of estate workers. It may not been of much use during the fire at Warnham Court, but in 1904 the crew responded
quickly to a huge fire at Knepp Castle. Their efforts were commendable but they couldn't save Knepp's own extensive collection of valuable Holbein paintings!
The fire engine is still in the hands of the Lucas family, at the Warnham Park Estate. After the Second World War, Jonathan's grandfather sold the rade II listed Georgian mansion house at Warnham Court. He did though maintain
the land for the Deer Park. Jonathan said: "There was a very grim economic outlook at the time that my grandfather sold it. He felt he needed to and it was the right decision at the time. I've since learnt that he actually offered the whole estate to go with it, so it could have been much worse!"
As it is, Warnham Park remains one of the world's finest deer parks in the hands of the Lucas family. Jonathan is one of four children. He has a brother in Dallas, and two sisters. One has a livery on the estate and the other lives in Wiltshire, but Jonathan is responsible for running the Estate.
He said: "I'm a trained land agent, and was previously a partner at (Arundel-based property experts) Cluttons. I found that it was getting increasingly difficult to have two masters. I knew that my future was here as ultimately the reason I became a land agent was to get myself qualified to be able to come back home and take control of the estate.
"We have a full-time deer herd manager, and really everything else is done on a part-time basis. So we don't have our own forester or property maintenance staff, as they would tie up properties. The most crucial revenue opportunity is now our bricks and mortar. We have a portfolio of farm houses and cottages both in the village and on farms and one or two other interesting properties like the Old Warnham Mill."
The Deer Park itself supports a winter herd of about 200, comprising of 20 - 25 breeding stags, 85 - 90 breeding hinds and 90 young stock, increasing up to 280 animals each summer with calves. But it is the modern stud deer farm, built on a small 72 acre site next to the Deer Park at Bailing Hill, which has taken Warnham's Red Deer enterprise to the next level.
"The stud farm is on an old dairy farm which was too small 25 years ago to be viable, so it was closed, and it turned out to be a good move," said Jonathan. "The motive was to establish a second, Tuberculosis accredited herd of Red Deer, with the same selected genes. This was vital in order for us to be able to continue selling live animals to New Zealand, which was a market that had opened up for us when the stud farm opened in 1986.
"I went around New Zealand on my motorbike in 1980 as a young man, with a lot of photographs of the deer in my back pocket. When I arrived in New Zealand, the government there was opposed to imports as they felt it was a disease risk. But by the time I was finished six months later there was a great demand and therefore there was the nucleus of an idea and it was a matter of considering how it could be controlled.
"They were worried about TB and Foot and Mouth Disease so they said they would only take animals from a TB-accredited source. That is why we developed the stud farm. We now own a pure Warnham Park herd in New Zealand, which has produced a number of record-breaking animals (Hotspur, a Stag with 50% Warnham Park blood line, grew the heaviest antlers ever recorded in 2006).
" Traditionally our major export areas are in Europe - mainly Germany, Austria and Spain. More recently I've sold to Latvia and Czech Republic. A lot of our business comes from cultures where there is a tradition of hunting, and there are new opportunities, particularly in the Eastern Bloc where lands have been reclaimed."
It is through the New Zealand farm that they are able to enter the velvet market. Velvet is harvested from antlers in early growth and exported to Korea, where it is considered an health tonic. Velvet harvesting is banned in Europe but Jonathan defends the practice.
"Unfortunately, in the minds of most people in the West, velvet production is classed in the same category as rhino horns, but there are fundamental differences. The first is that it is a harvest from a living animal, with the aid of drugs, so it need not be painful or destructive.
"Secondly, it is a farmed animal so it is not out in the wild or endangered. There is no moral equivalence in my view between the indefensible shooting of a rhino or elephant and harvesting for velvet."
Over the years, the number of deer shot at Warnham has fallen too. Jonathan said: "Trophy shooting at Warnham is really just a fringe operation. But if there is an old stag in the park with a good antler and someone is prepared to pay several thousand pounds to take away the trophy then I'm very happy, because I want the animal to be spared being beaten up in the next rut because he's too old to defend himself properly.
"We have to cull. Any enterprise in a fixed acreage producing animals will always have a surplus. You don't wait for animals to starve and die so obviously if you're creating - as we are - 150 new animals each year, then we have to lose that many too.
"So which animals do you take out and how? As many as possible of the young ones are sold for breeding. Old ones are taken out of the equation, and surplus young ones are sold to the local butcher, so we get down
to our winter carrying capacity. What I'm really in the business of doing is producing young animals with great genetic potential and heredity to sell on to those wanting to improve their existing stock or, if they have a foundation herd, they are starting off with the best."
Picking the best, at least in terms of its strength as opposed to its genetic line, is not always easy. October marks the height of the rutting season, when stags fight for the right to breed with the females in the herd. Anything can happen in the park.
"In the park, the deer will decide who is the master stag and I have no control over that," said Jonathan. "On the stud farm I am totally in control. I have single sire mating, I can match calves to dams (mothers) and record their progeny, so I can get to the point where I know exactly which hinds are producing good stags and which are not.
"Sometimes there are big disappointments in the park. You can help to create – we'll let Mother Nature take the bulk of the credit - a fabulous young animal, and this animal agrees with you, so he'll prance around the park until he decides that he is going to take on a bigger, older stag. He's inevitably the one that gets beaten up in the rut and you have to shoot because he has a broken leg.
"It is uncanny how often it's the very best young up-and-coming animal this happens to. But I need to get them to the point when whey are competing in the park in order to put their genetics in the herd. That is not the case on the stud farm. I can take something fantastic out of the park when it is young and use it as a sire and then put it
back into the park in middle age. You hope he will adapt. It's quite extraordinary though how often you find that these fabulous young stags, when they are returned to the park, are absolutely useless!
"They have never had to fight. They don't hold their own as they haven't learnt. They are too passive. I have a wonderful stag, called Heracles, the son of Hercules (one of Warnham's greatest stags, who had an antler width of 62 inches). He is an amazing animal but he is not holding hinds now he is in the park – he is a complete wimp!
"To be master stag I think the animal requires body weight and stamina more than anything else. The master stag will change during each rut in this very competitive environment."
The incredible trophy room includes the antlers of some of the greatest deer Warnham – or any other park for that matter – has produced. But perhaps the most astonishing are two interlocking sets of horns. During a rut several years ago, a young and extremely promising stag took on an older stag. Such was the force of the collision, Jonathan and the herd manager could not separate them. One took a trez tine (third stage antler) through the eye, and they died together.
Such experiences are why Jonathan is always nervous at rutting time. The finest Red Deer can fetch huge sums of money – in 2008, the son from a Warnham Park embryo hind sent to New Zealand, sold at auction for 80,000
New Zealand Dollars.
But one day it will be somebody else's turn to worry. Jonathan considers it to be a huge privilege to run the Deer Park and it is a privilege he intends to keep in the Lucas family. "When I talk about passion it's because it reflects my own approach. There are generations before me who have done this, and it is an inherited passion. It's a wonderful challenge to see if you can create an even better stag next year.
"When you come through the gates you realise what a huge privilege it is, and with privilege comes responsibility. One is absolutely a custodian. This is an inheritance and I assume it will continue to be.
"I have three children and I have no doubt that my eldest son, Charles, will take it on. He is equally keen on the deer and almost as knowledgeable. So that is a real motive for doing things beyond the profit motive – to leave the place better than you found it.
"If each generation aspires to do that then isn't that a way of living?"