HORSHAM CHRISTMAS FANTASIA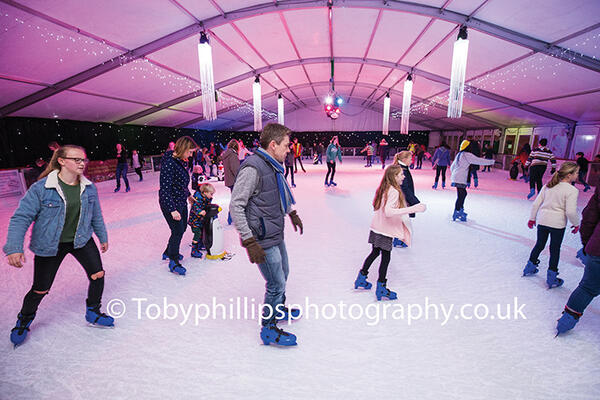 Published on 3rd January 2017
When word spread on social media that an ice rink was to be constructed in Horsham for the winter, the response was sceptical, to say the least. There was an expectancy that any such entertainment would be underwhelming and lacking the authenticity to inspire and excite today's children.
But when the ice rink arrived, it proved to be a pleasant surprise, adding some much-needed magic sparkle to Christmas in Horsham.In days when most Winter Wonderlands only make headlines if they are truly appalling, Horsham Christmas Fantasia managed to generate fanfare through positive word of mouth.
The concept is the brainchild of husband and wife team David and Suzanne Fearn, owners of Camping World at Hornbrook Park, Horsham.The shop has the largest outdoor display of tents in Europe during the summer, but the site is empty over winter. So, David thought of different ways to utilise the space.
"I spoke to someone who runs an ice rink in Worthing and we set up a company called Horsham Outdoor Events," he said. "I visited his ice rink on the seafront and said: 'This is what I'd like in Horsham, but I want to make it bigger and better.' That's the sort of person I am. I have the biggest camping display in Europe and I wanted the biggest undercover ice rink in Great Britain."
My business partner knows a lot about ice rinks and through his contacts I bought this ice rink, as well as the covers and necessary equipment. A part of you fears the worst; you worry that nobody will turn up, which is natural when you've made such a big investment. But now our idea is to use the rink year after year."

Cold Ice Receives Warm Reception

The ice rink has been a huge hit, particularly at weekends, with families flocking from across the Horsham district and beyond to experience the real ice of Horsham Christmas Fantasia.
David said: "Many people expected us to use synthetic ice, but it's real. It's created by running tubes across the base of the rink, using anti-freeze to keep pumping water through at -25 degrees.
"It took several weeks of spraying small amounts of water on the rink, which is 30m x 20m, to build up layers until the ice is about six inches thick. "Even then, it needs maintenance every hour. When the public have finished skating, our team clear any loose ice with shovels and make it nice and smooth for the next group. "Then, at the end of each day, we add another layer of ice."

Idea for a Winter Wonderland

The ice rink opened in October and was an immediate hit. Suzanne was responsible for building up anticipation on social media sites and responded to people's questions on Facebook.
Before long, Adam Proto – a renowned events organiser who has hosted children's entertainment in Horsham in the past – was on the phone. David recalls: "Adam told me 'I don't think you should stop at an ice rink; you should do a winter wonderland.' He came in and took over control in terms of producing the event and I'm very pleased about that.
"Key to that idea is Santa's grotto. Adam has helped us create an experience, so children are not just walking into a shed. They enter through a Narnia-style wardrobe before entering Santa's work room, where the elves are busy making presents. A magic key then triggers the arrival of a special vehicle which transports the children to Santa's cabin in the North Pole at 25 light years per second.
"The transport is in fact a genuine ski-lift cabin we've brought in, fitted with cushions and decorations."Our Santa is as good as you'll ever meet. He has long white hair and a beard and his costume is unbelievable. The presents he hands out to the children are fabulous too. People have told us that our grotto is better than the Harrods grotto, which is very nice for us to hear."


Market Attracts Local traders
A Christmas market and funfair rides from Irvin Leisure are among the other highlights of Horsham Fantasia. Lil' Riders provide a sit-on ride for young children, whilst the crazy caterpillar, fairground swings, big wheel, bungee trampolines and a helter-skelter all add to a colourful atmosphere.
A café area inspired by a ski lodge helps make the visit more pleasant for adults.There are 19 sheds in the market, selling produce including German sausages and savoury crepes, Christmas gifts, festive T-shirts and scented candles.
Stella Luczkowski was selling her small, hand-made Christmas wreaths on one of the stalls. "This is just a hobby for me," said Stella. "My father used to make wreaths for over 60 years when he ran a nursery on Rock Road in Ashington. I've been twiddling berries since I was six years old and I missed doing it. I bought a tent from Camping World and came across the market, and thought 'I'd like to get involved.'
"I make traditional holly wreaths, which you don't see around these days. It's been fun. It's not something I'm looking to make a business from; I just wanted to be involved in it for a year and I'm enjoying the atmosphere."

Will the Rink Return in 2017?

Whether the Horsham Christmas Fantasia experience is part of the town's Christmas future remains to be seen.Differences in opinion between the operators of the site and Horsham District Council could mean that Fantasia will soon be a ghost of Horsham's past.
David said: "The council has not been overly supportive. We wanted to open the ice rink until the end of January but local councillors said we could only stay open until 15 January. We haven't been given a full explanation as to why that is."Whether I open it here or not next year is debatable. There have been problems with the parking and a few of our neighbours have been very vocal in their objection. They seem not to like Christmas and don't want to hear children laughing.
"The Horsham Fantasia has been successful and the public love it. We know that some have written to the council supporting us and even petitioned about keeping the ice rink in Horsham, because it is a good thing for the town.
"That is why I want to keep it here. But Crawley Council have enquired about moving the ice rink there in 2017. I'm going to be meeting with representatives of Horsham and Crawley councils in the New Year, so we'll see how things go."

Horsham Ice Rink is situated at Camping World, Brighton Road, Horsham. It is open until 14 January 2017. For prices and opening times visit the website at https://horshamicerink.co.uk