Giving people a second chance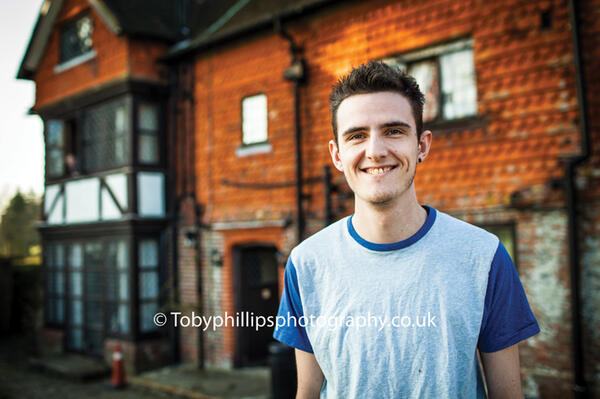 In a small hut set alongside a 17th Century Manor house which overlooks stunning countryside, a former heroin
addict called Tom Stock is browsing the internet looking for jobs.
Sitting across the room freestyle rapping is Connor Hammond, who has recently been released from prison. His sound is enhanced by the more melodic voice of Jasmine Finnerty, a teenager trying to rid herself of a drug habit.
In the kitchen stirring a beef stew is Danny Ireland, a young man who was recently homeless but will soon be heading to college, whilst outside Tom Chapman, a dub-step dancer who was recently sleeping rough in Crawley, isn't having much luck as he fishes for carp on a pleasant spring day.
This is life at the Amber Foundation, which offers people aged 17-30 the chance to transform their lives.
The Foundation has helped over 1,300 young people turn their lives around since it was founded in 1995. Amber now runs three centres, the most recent of which is at Farm Place in Stane Street, Ockley.
Charles Drew, Chief Executive Officer, said: "Farm Place brings the number of potential Amberteers who can stay at Amber at any one time to 100. "Many people see certain counties as wealthy and that don't have problems around homelessness, offenders, drugs and unemployment, but the sad fact is that every county does have problems to a greater or lesser degree."
Currently there are 23 young people at Farm Place, all but one of them men, but all with the same common goal – to improve their lives. Almost all are long-term unemployed, and each has a story of homelessness, drug abuse or a life of crime.The Amber Foundation helps them to develop their skills and self-confidence and eventually guide them to what they hope will be a better future. Not every case has a fairy tale ending, but in 2010 eight out of every ten young people at Amber left having found a job, started a course or achieved a major goal.
Tom Stock is 26 and having been at the foundation for nearly a year is looking to move on soon. There is no set length of commitment for most of the young people, with most moving on having been with Amber for an average of six months although this depends on needs and progression of the individual and sometimes this can be longer. Tom was working as a health care assistant in a hospital, but was heavily into the rave scene and became addicted to drugs.
"You can get swallowed up in it all, and that's what happened to me," he said. "Drugs became a way of life. I started smoking cannabis when I was 11-years-old and it went on from there – cocaine, speed, acid, ecstasy – anything I could get my hands on. Then I became addicted to heroin and you can't lead a normal life when you are off your face all of the time.
"I was clean when I arrived here and have tried to stay clean for the year I've been here. I had one weekend when I slipped, but I don't think I could be swallowed up by the whole clubbing scene now as I have been out
recently and been fine without drink or drugs. Now I'm focused on getting a job, hopefully in retail or customer service. I find it easy to talk to people – I feel I'm a people person.
"The Amber Foundation has really helped me out. It makes you see things for what they really are, and people for who they are. There are people out there who want to drag you down, but here they give you the tools to turn your life around. They don't try and do it for you."
Upon arriving at Farm Place, the first thing you notice is the beautiful location. The house is set within 10 acres of parkland. The centre only opened two years ago, but Farm Place has a history of rehabilitation, having been used as a specialist addiction treatment centre since 1985. Now, as an Amber Foundation centre, it is a place where young people are given a home until they are ready to lead independent lives. During their time at Amber they learn how to present themselves in a positive light, interact with others, and work as a team.
There's a football pitch and tennis court on site and access to the internet, but working in teams the residents cook for each other every day and wash the dishes too. It may be an idyllic location but it's not always an idyllic life. There are times when the young people feel that the rules and regulations are too restrictive. But it's all part of preparing the 'Amberteers' for life outside.
Rachel Bartlett, community fundraiser at Amber, said: "Amberteers have a number of different problems they need to address, which is what makes Amber special because we can deal with them all under one roof, so our programme is tailored to take into account the issues and needs of each individual. Amber becomes a temporary home where young people gain motivation, confidence and skills through the many opportunities Amber provides, realising they can achieve what may have seemed impossible just a few short months before."
Trying to keep the residents busy and focused is certainly a challenge. During the evening, activities such as pool
competitions, quiz nights and art, all help and the residents can also take part in a number of outdoor activities.
Many take part in teamwork and leadership courses, and there a number of accredited courses for 'Amberteers' to enjoy. Recent examples include a canal boat trip on which they gained experience in boat handling and carrying out conservation work.
On other occasions the Amberteers are able to help out with events in the village of Ockley or given the chance to tell their stories as part of Amber's fundraising work in the community. They've also been treated to the
occasional visit by well-known personalities.
Chef and restaurateur Marco Pierre White visited recently to give his support to the work of Amber. He spent three hours talking to residents before judging an 'Amber Bake Off', in which seven residents had created their own bread and butter pudding.
On a day to day basis, the staff and team leaders at Amber help the Amberteers – particularly those in Team 3 (or the 'Move On' team) prepare for an independent life. One such person is 21-year-old Danny Ireland, who is now at Farm Place having moved from Amber's Devon centre earlier this year.
Danny said: "I was homeless in Devon following a family breakdown. I was staying on sofas with friends but was often on the streets. Now I'm hoping to go on an international expedition in Costa Rica this June with Raleigh International, where I will be working on community projects. I want to give something back – people are helping me here and this is a chance to do something similar.
"Eventually I want to become a doctor. I'm going to go back to college to do an Access to Medicine course and then from there hopefully I'll go on to medical college."
Connor Hammond is a 19-year-old rapper who goes under the alias SmallzDeep. Some of his videos have attracted several thousand views on YouTube and The Amber Foundation is helping him to pursue a career in the music industry.
Connor said: "I was in jail for three months and I was told about this place. I had a few options, but came here for a time as part of my licence from prison. "For 90% of the people here it is brilliant. There are people here with drug addictions and it gives them a chance of a normal life.It's put my problems into perspective. For me, it's just been nice to clear my head. It doesn't always feel like they are helping you out but they do!"
Unlike other organisations, The Amber Foundation aims to look at an individual's skills and helps them pursue a path that they actually want to take.
Thami Hlabangana has been a team leader at Amber for seven months, having already had experience working with young people. He said: "In terms of ideology, the Amber Foundation is the perfect place but it needs to be put into practice if the potential of each resident is to be realised. That is down to the individual of course, but all of the elements need to come together, so they need support from the staff and all of the partnering agencies such as the probation service, social services or Jobcentre Plus.
"We run a Dreams and Desires programme here in which we try to tap into who they are, what they want to be and how we can help them reach their goal. The government's mentality is to say, if you're homeless, go and get a job at a supermarket or wherever. But they are not necessarily fit for that work, and after a few months they may have lost their job and are back on the streets. We sit down, find out what their passion is and see if we can help them fulfil an ambition.
"They will treasure a job that they actually desire, and take pride in themselves and their work. So for instance if we have someone with ambitions in music, we can find them some work at a studio, and perhaps in exchange for some work they can receive some studio time.
"It's a long road. It's not about seeking out fifteen minutes of fame - it's about laying out a long term plan and taking small steps to achieve your dreams or desires."
For more information about the Amber foundation please visit https://amberweb.org