Farlington: Blending the Old and the New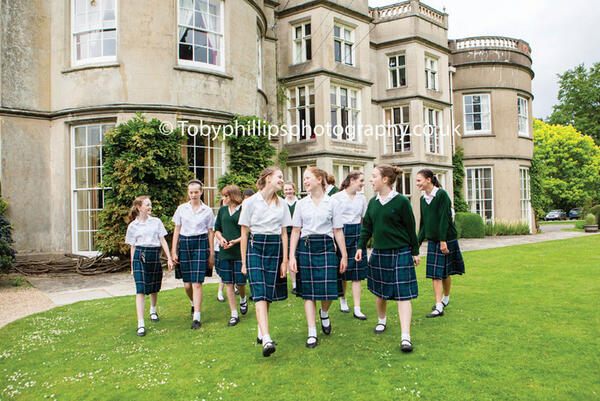 The girls of Farlington apparently enjoy dressing up. The latest edition of 'Farlington Focus' may only have eight pages, but it contains stories on pupils dressing up for a visit to a Roman Palace, a Victorian Day, World Book Day, a Prep School production of A Midsummer Night's Dream, a Senior School production of Guys and Dolls, an Easter Bonnet competition and a charity fundraiser.
And so on our visit, it was no surprise to find Prep School pupils and staff in fancy dress. There was good reason for it – the Diamond Jubilee - but Joy Baggs, Head of the Prep School, confessed that she didn't need much of an excuse to organise a day involving fancy dress!
The Jubilee will be particularly memorable for pupils at Farlington. Not only did they enjoy a tea party and host a musical concert for parents, but they also buried a time capsule containing items including a prospectus, a full uniform, the school magazine and photographs. And at the end of the day, they said goodbye to Headmistress Jonnie Goyer. Jonnie has returned to Ireland having spent six years in charge at the school. Louise Higson, who has been at Farlington since 2005, takes over the reins.
But Jonnie leaves the school in a good position and with its ethos very much intact. During the early years after the school's formation in 1896, there was little attention paid to academic studies, as the focus was very much on how to be ladylike. The aim was to produce 'decorative and charming wives for successful men'.
But as time went on, increasingly the school focused on producing girls who could go on to be successful in their own right. The school's motto Vive ut Vivas emphasises this point – live life to the full. These days there are 350 pupils at the school, including more than 40 boarders, with the vast majority going on to their chosen University after Farlington.
Speaking hours before she left the school, Jonnie said: "Our ethos is that education isn't just about passing exams – it's about far more than that. What happens outside the classroom is part and parcel of your personal
development and it has an impact on a child's development in the classroom. That's why we do what is right for each individual girl. Sometimes a pupil has a talent that is bigger than school and we have to support them. We have an International chess player, Amy Hoare, and national competitors in swimming and horse riding too. If we were to sit back and say 'Oh, I'm sorry, but your child can't have a week off in November to take part in the World
Championships' then that would be madness.
"It's about development – we're not an academic hothouse. Our grades are excellent but we also have great Value Added statistics. Our girls regularly get between one and two grades better than they are predicted. If you come in on an A* and leave with an A* then wonderful, but if you come in on a B and leave on an A or an A* then that's value added. It is this sort of statistic that matters to us – the individual girl's achievement matters and not our position in the league table."
Farlington School may not have the same scale and grandeur as Christ's Hospital, but it is a beautiful campus, set in 33 acres and surrounded by woodland and lakes. There are a number of distinctive features - the arched entrance to the Old Courtyard and stable block, and the curved bay of the main house contributing greatly to the general charm of the grounds.
But Farlington School has not always been located at Strood Park, just outside Broadbridge Heath on the A281 Guildford Road. Edith and Mary Buller founded Farlington in 1896, setting up initially in Haywards Heath which at that time was a burgeoning new town with good rail connections between London and Brighton. The School is named after a village near to Portsmouth where their parents were buried and the emphasis was on Christian teaching for 16 girls.
Within a couple of years Edith became ill, and the school was taken over by two more sisters – Isabel and Charlotte Moberly. It was their skill and inspirational leadership that ensured the school grew and prospered in the first half of the 20th Century, surviving the depression and two world wars. During The Great War of 1914-1918, the girls contributed to the war effort. They formed the Farlington Volunteer Service Corps and knitted socks, mittens and mufflers for soldiers, and grew vegetables for the Navy. Among the students during that time was Sylvia Moberly, who later in life became a story director for Walt Disney.
Whilst numbers continued to increase at the school, there were tough times too. Two girls died in 1919 as Influenza swept across Europe. It may have been that the school relaxed its Victorian principles during the war years, but there was no compromise when it came to keeping boys at a safe distance. Farlington School was close to a boy's school which had its own pool and had offered Farlington the option to share it. But the Headmistress refused as 'masters might see the girls in their swim suits'.
As the bombs fell during World War Two, the girls briefly moved to a building in Wiltshire. The pupils were transported by train but the Headmistress Effie Simpson, who had been recruited by Isabel Moberly in 1938, had to hitch a ride after the van she was travelling in ran out of fuel!
Three years after the end of the war, Farlington became officially recognised as an Independent School after an inspection by the Ministry of Education. Effie realised that in order for the school to prosper it needed larger
facilities, so in 1954 she purchased Strood Park. The last day at the Haywards Heath site was 15th December 1954 and the school opened in its current location at Strood Park on 20th January 1955.
Originally there were five houses, but shortly thereafter the school settled on just three, being Cable, Cavell and Curie with a fourth, Cheshire, being added some years later. These remain to this day for the Senior School with the Prep School having its own similar house system. All the houses were named after women pioneers. Isabel died in 1959, aged 83, having never married. She had devoted much of her life to Farlington School. She told relatives: "The most important things in my life are the three 'F's – Faith, Family and Farlington." As a memorial, a round stained glass window designed by Marguerite Douglas-Thompson was placed on the east wall of the chapel.
As time progressed and women played a more important role in business and society in general, attitudes changed at the school. Sport became increasingly important, as did the arts. A music room was built in 1959 and the school's Christmas performances became increasingly well-acted and produced. Tamara Ustinov, Jill Hyem and Susan Williams were among those that went on to pursue acting careers. In recent times, Gemma Powell has added her name to the acting ranks.
Two more Headmistresses came and went before the school was stabilised in 1977. The early seventies had been turbulent. Pupil numbers had declined but more dramatically a fire had ripped through the school in 1975. Over 65 firemen battled the blaze, using water from the lakes and the swimming pool, but there was extensive damage to the front entrance hall, staff bedrooms and the dormitories. It caused £150,000 worth of damage.
Another blaze hit the school in 1979, but the new Headmistress Olive Peto was among those who prevented more extensive damage. The Bursar Ron Hale recalled: "Olive quite enjoyed the evening, fighting the blaze with dozens of fire extinguishers before the fire engines arrived. We gained a new art room and would have gained much more had she not been such an enthusiastic firefighter!"
Olive was Headmistress for ten years, lasting until 1987, the same year that the school's all-weather pitch was
provided by an amazingly generous and anonymous gift. A few years later, a farm was launched. There have been many residents, including Miss Piggy the Vietnamese Pot Bellied Pig, but sadly the farm is no longer a feature of Farlington School. The Prep School opened in 1994 in the Stable Courtyard for girls aged 4 to 11 under the Headship of Joy Baggs and moved to its current state of the art facilities in 2008 where it continues to prosper. Pupil numbers at the school remain healthy and Farlington continues to attract pupils from all over the world.
Now the school must look to the future under new Headmistress Louise Higson. She said: "Parents want their daughters to flourish rather than be compared to everybody else and that is very much the ethos of Farlington.
"I've been here seven years and it was really that ethos I bought into. It is about knowing each individual girl and helping her realise her potential.
"The girls are more confident and more prepared to take risks when there are no boys around and they leave us very sure of themselves but not arrogantly so. When they do go to university they are ready for the challenges ahead and are successful."
During our visit, there was certainly a relaxed atmosphere, but it was a unique celebration with much going on. Students enjoyed afternoon tea on the lawn, snacking in large groups with their teachers too. Some had recently completed exams, and the Jubilee added to the general jubilation. Some youngsters were busy washing cars – not a punishment that the school hands out in order to maintain the Victorian principles of days gone, but an effort by pupils to raise funds for a trip to Africa. Rather than simply asking their parents to sign a cheque, every pupil wishing to travel is raising funds for the trip, during which they will spend a week working on a community project.
For others, it's a day of sadness – a day that brings their time as a Farlington girl to an end.
Charlotte Colvin, who lives near Billingshurst, has been at the school for 10 years, and leaves as one of the Head Girls. She hopes to become a vet after University. Charlotte said: "I'll miss the atmosphere as everybody knows one another. The teachers know me, the Prep School teachers know me, and I've been to see them and give them all hugs.
"I've told all the teachers I'm coming back - they can't get rid of me. A teacher reminded me this morning of a school trip we went on in Year 5. I was really worried about going and my dad had called the school to say he would pick me up if I became a problem on the trip. But I loved it, and the teacher said it is amazing to see how different I am now, as I used to be the quietest person. I had come from a mixed school where I was one of the
smallest and quietest people in the class. When I came here, it didn't take long to make friends.You can be yourself here, especially as there are no boys! Some of my friends at other schools spend hours having to think about how they come across to the boys."
Chloe Greer is joint Head Girl, and will soon be heading to Falmouth to study dance and choreography. She said: "I don't think I will get used to not being here for a while. Farlington has given me such a good base in such a variety of things, so no matter what I do I'll be well prepared.
"There's a confidence amongst the girls here. I came here at the bottom of the bottom set in everything, but I've been predicted an A*, two As and a B at A' level, so the academic progression has been amazing. The atmosphere is great here. I can't put my finger on it but everyone is happy and gets along. It sounds clichéd but it's true."