HAZEL HIDE AT HEATH FLOWER FARM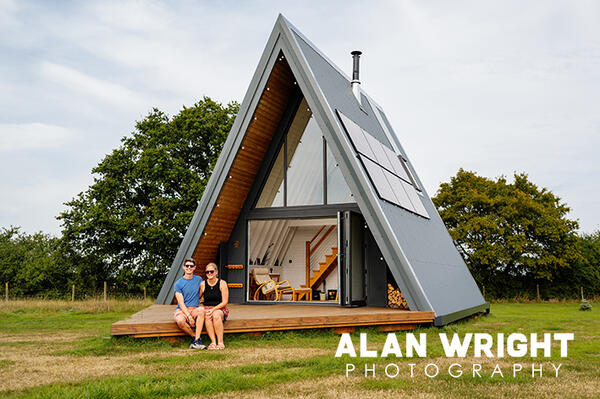 Published on 1st October 2023
Kate and Duncan Heath have built a beautiful timber-framed cabin in an isolated location at Heath Flower Farm, Ashington. The luxury, eco-framed cabin, called Hazel Hide, is proving popular with guests looking for a rural escape. AAH met the couple to find out more about their quirky venture…
Where did the idea come from?
Kate: I was left some money when my grandparents passed away and we decided to use it, along with savings, to do something exciting, perhaps even creating a different way of life for our young family. We found seven acres of land for sale near Ashington and had the idea of planting a vineyard. We even spoke to a consultant who said that the growing conditions were ideal, and visited Coolhurst Vineyards, who gave us some useful advice. However, the costs involved were too great and we also knew we would have to wait several years until our wine would be ready to sell. So, we looked at other options instead.
Why go down the glamping route?
Duncan: In recent years, the glamping scene has exploded. During Covid, people started looking for places to stay in the UK, particular in the countryside, and many sought a novelty factor. There is now an abundance of locations where you can stay in shepherd huts or yurts, and sections of the glamping market have become quite saturated. We wanted to offer an alternative. When we got engaged, we stayed in a place in Devon which was very peaceful and had no distractions like television. It was a fantastic experience and that inspired us when it came to designing Hazel Hide.
Why go for a triangular shape?
Duncan: We tend to associate A-frame buildings with alpine lodges, but the concept has been around for centuries and was used by ancient civilisations. Although geometrical, triangles are abundant in nature too – in everything from beehives to spider webs – and people are drawn to them. In recent years, there has been a resurgence in triangular buildings, especially in America, with concepts that combine the cosy aura of a log cabin with aspects of New England-style colonial architecture. We wanted to capture some of that essence by building something that was rustic yet contemporary. There's a wonderful book called Cabin Porn that provided us with plenty of ideas!
Was it hard to obtain planning permission?
Duncan: Our initial idea was for something more akin to a wooden tent, with a space you could crawl through to access the sleeping area. However, as the site doesn't overlook other properties and the cabin is barely visible from the lane, we submitted a planning application for a larger design and it was approved with little fuss. We have permission to build three cabins, but ran out of money after the first one! It is called The Hazel Hide, both because there are hazel trees around it and it's the name of our youngest daughter.
Were you surprised by the costs involved?
Kate: In recent years, the price of materials has increased dramatically and that impacted our budget. We could have gone down the pre-fabrication route, but we wanted to do things our way and designed the cabin ourselves. Having never done anything like this before, there were things we didn't know. For example, we couldn't find 7m long timber in the UK and had to source them from Germany instead, at considerable expense! Finding contractors was challenging too, due to the high demand for builders and tradespeople since Covid. We began work in March 2022 and hoped to finish the cabin in three months, but it took a year! After committing to a bespoke design, we had to make sure the interior décor and accessories were of an equally high quality. So, we didn't skimp on lighting or comfortable bedding, as we want our guests to enjoy every aspect of the experience.
Does the cabin have water and electricity?
Duncan: There is an eco-element to Hazel Hide and sustainability is important. There's a highly-efficient wood-burning stove to heat the cabin when needed, and solar panels generate enough power for the lights, water pump, fridge and to charge phones or torches through a USB charger. The kitchen has a gas-powered hob and oven, but there is no television, washing machine or dishwasher, and appliances like hairdryers would quickly drain the battery. As for water treatment, we're fortunate in that there's a waste pipe running alongside the field and we've been able to connect the site to that, which is preferable to having a septic tank. We have mains water for drinking and washing, and a pump ensures shower pressure is good.
Who are your target customers?
Kate: We want to appeal to lots of people. There is a double bedroom upstairs, as well as a back bedroom, which is set up as a twin room, but they can be easily linked to make a king-sized bed. So, we can be flexible and welcome families, as well as groups of friends or couples. We have bi-fold doors that open up to a spacious decking, so guests can sit outside on a nice evening and enjoy views of the sun setting over the trees. Sometimes, deer visit the meadow and we've tried to encourage wildlife by planting trees, hedges and a flower garden to attract bees, butterflies and other pollinating insects. There are lovely walks around us too, with The White Lion in Thakeham and The Red Lion in Ashington both serving great food.
What is it about the cabin that attracts people?
Duncan: The remoteness is a factor. People like the solitude and appreciate having an entire field to themselves to play frisbee or football. We have guests from London, but some come from the surrounding area, as they can experience something very different that is still close to home. I have a theory that people actually want to get away from their everyday lives, without distractions such as television. It's strange, because when you look online for somewhere to stay, you often look for things like television and high-speed Wi-Fi, even though you could actually do without them! One couple that stayed at the cabin said they didn't know what to do on their first night, so ended up grabbing a book off the shelf! A family ended up playing board games all night and had the best time, as it was something they rarely did together. When we come to build the two additional cabins, we'll need to be careful as we know isolation is part of the charm of Hazel Hide. However, we have positioned them in a way that ensures they don't intrude on one another and all benefit from good views, so hopefully we can retain the magic of Heath Flower Farm.
INTERVIEWS: Ben Morris / PHOTOS: Alan Wright
Further information: The Hazel Hide can be booked via https://airbnb.com/h/thehazelhide