Cobblestone Walk in Steyning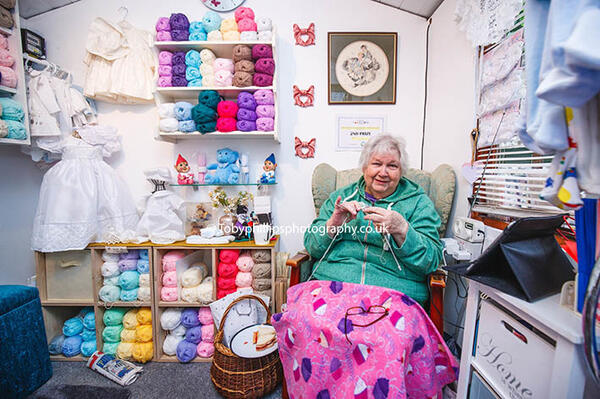 Published on 1st July 2019
Visitors could easily miss the shopping arcade in the heart of Steyning's High Street. But those who do venture inside Cobblestone Walk are treated to fascinating shops full of character. The 16th century tea house ensures steady footfall, but some are guilty of skimming around, not taking the time to appreciate the fine items on display.
You can meet artists, knitters, upholsterers, therapists and much more besides. Men can visit the barbers whilst women enjoy a treatment at Emma's Nails and Beauty. There's hand-made jewellery at Indulgence, stained glass windows at Traditional Glass, environmentally-friendly food and vitamins at Green and Healthy, unique ladies fashion at Bamboo and quirky crafts at Flicker-Rose. There's even someone selling Himalayan singing bowls!
Long ago, the village bakery was on the site. It closed in 1963 and was nearly developed into a supermarket, but Wendy Tipler stepped in and established a Bed and Breakfast business. Over the years, retail elements evolved, with Cobblestone Walk attracting small businesses. Back in 2011, Eddie Woodward was among them, selling bric-a-brac in the Walk. He then seized an opportunity to take on the derelict cottage in the centre and transformed it into an award-winning tea house. Then, in 2015, Eddie took over the running of Cobblestone Walk. It has gone from strength to strength ever since.
Eddie said: "Cobblestone gives people an opportunity to grow their own business. Even if you have the best product in the world, you can't jump straight on to the High Street. We have affordable rents that give people a chance as sadly, very few towns and villages cater for this. If you do well, you can move on. We're extremely proud of shops like Palace of Pooch and Sakala that have progressed from here to Steyning High Street." "We also have shop owners at the other end of the scale, perhaps in retirement, who want to slow down and run a small business in a friendly place. It's a real melting pot of people and businesses!"
AAH went to meet a few of theindependent businesses…
Smiffy Bears (Jackie Smith)

"I've been in Cobblestone for six years, which is a long time in today's climate. Initially I was in a small hut at the back, but three years ago I moved closer to the tea rooms, which has made a big difference!
I restore antique Teddy bears and sell bears by five of the leading brands in the world; Steiff, Hermann and Clemens from Germany, and Merrythought and Charlie Bears from the UK. The modern bears are of great quality and make a perfect gift.
Teddy specialists are very rare now and professional restorers are hard to come by, so I'm always busy. I'm part of a worldwide network of people ensuring that Teddy bear restoration is both available and affordable, otherwise the history of Teddies will be forgotten. Certain types of bears do hold great value. The name 'Teddy' comes from President Roosevelt, who refused to shoot a bear while on a hunt in 1898. Steiff made the first Teddy bear in Germany, although the term was coined in America.
I've seen some rare and wonderful bears over the years. One customer brought in a 1908 white Steiff which was very exciting for me. However, I love them all and there are always Teddies in the bear hospital, waiting to be treated!"
Singing Himalaya (Sophie Latter)

"Whilst travelling, I met a Dutch couple in India. They ran a business in Holland selling Buddha statues and Himalayan singing bowls. We became friends and they kindly passed on the business to me 15 years ago. I sold online before opening the shop in Cobblestone Walk four years ago. Since then, I've taken on a second unit.
I'm careful to buy authentic singing bowls, not one mass-produced for tourists. Each village in the Himalayan mountains makes its own kind of singing bowl and they all bear the maker's mark. Some are hand-hammered using methods dating back 5,000 years. Casted bowls have smooth edges and a different pitch, whilst aluminium bowls create a loud, bold resonance. I also sell modern bowls made or quartz, giving a crisp sound. Each one sounds different and there are countless colours and designs. Some have simple lines and patterns, whilst others depict elephants or even the Buddhist Goddess of Compassion.
The bowls are predominantly used for meditative purposes. People listen to the harmonics and feel the vibrations of the bowl to find one that resonates for them. They focus your mind and can help with many things, from relieving stress to aiding sleep.Prices range from £30, which includes a choice of cushion and beater, to huge bowls shaped by feet. Some involve up to 90 hours of labour!
Children love the shop, of course. I have one bowl that has been sacrificed so that they can try it out. It's been dropped hundreds of times over the years!"
Something Specia (Joyce Pinkus)
"I knit clothes and garments for babies and children up to the age of two. Regulars sometimes ask me to make clothes for older children, ones I used to knit for when they were babies, and I don't mind as it's nice to see them grow!
I'm 79-years-old and long retired, but this is a way of continuing to do what I enjoy. Because we're a small business, I sell clothes at reasonable prices. As well as making them myself, I have a selection of other items, by mainly British designers. But it's the knitted items that sell the quickest.
My husband sells wool and sewing essentials in another shop in Cobblestone Walk. It means we can stay close without seeing each other all the time. There's a nice atmosphere here, although business goes up and down. Not everyone who comes here succeeds, but some have progressed on to the High Street, which proves this can be a stepping stone."
Nana Piglet (Andrea Pigott)

"I make clothes for children, but what I do is different to Joyce at Something Special, so we complement each other well. Whereas Joyce is traditional, I select modern designs, working with all kinds of bright and colourful fabrics.
I'm a big believer in upcycling, which means taking good quality fabric and deconstructing it to create something new. There's a huge amount of waste in the textile industry and that's something I try to address. As well as making clothes for children up to the age of five, I take on upholstery work too. I have commissions for soft furnishings, curtain alterations and anything else that can fit under a sewing machine!
It's lovely being part of the Cobblestone community. There's an eclectic mix of people working here, all looking out for each other. That's what village life is all about."
The Flower Hut (Nikki Frost)

"I've worked at other florists before, but reached a point where I wanted to run my own business. I initially ran the entire operation from my garage, but it was lonely work, so I moved to a small unit in Cobblestone Walk back in March.
As well as flowers, I sell a range of potted plants, from hanging baskets to herb gardens to cacti. I always try to offer plants that people wouldn't normally expect to find in garden centres. On the floristry side, I provide bespoke flowers and arrangements for all kinds of events, using fresh flowers from suppliers both locally and in Holland. For those who can't make it to Steyning, we deliver locally!"
Woody's Attic (Steven Wood)

"I've been here in Cobblestone since February. I previously ran a much bigger business in Lancing, but reached a point when I'd had enough of the stress. I'd be up for work at 5.30am and still be there at 7pm and never truly switched off. I didn't want to continue that way, so I opened a vintage shop in Steyning.
I collect antiques and vintage toys and that's what I sell in the shop. Most items are picked up at antique fairs, car boot sales or auctions and I buy whatever I deem to be interesting. You'll find die-cast toys, motoring memorabilia, unique planters, retro games and all kinds of fascinating items.
"Sometimes, I'll buy a box of old tools or toys at auction, which is exciting, as you never know what you'll find.
I didn't open the shop to make lots of money. I'm here as I needed a lifestyle change. I have time to talk to shoppers or the other business owners and whenever I need a break in the team rooms, someone is around to look after the shop for a few minutes. It's great!"
Sara Abbott Artist

"I specialise in commissioned animal portraits in a range of styles, from small sketches to canvas paintings.
This is my studio as well as gallery, so I can paint during quiet times. There's never a huge amount to exhibit when you work to commissions, so paintings I do hang up are examples of my work.I've been an artist for 20 years and was previously in-house painter at Harrods before the pet department closes. Over the years, I have established a following that brings in enough work.
Being an artist can be a lonely occupation, so I thought it would be fun to join the community at Cobblestone.I've been here since September 2018. For two months, I was in a corner unit, but I moved to gives me the space to display my art.
As well as it being a cosy, sociable place, I hoped I might sell a couple of prints by being here and that is precisely what's happened. I've also had walk-in commissions and have sold several paintings. Being in Steyning also gives me the opportunity to paint local landscapes. Sometimes I like a change, so will capture a scene of the Downs, instead of painting pets. We're fortunate to be in a beautiful place."
www.sara-abbott.com

If you'd like to enquire about taking on a unit at Cobblestone Walk, email Eddie at hello@cobblestonewalk.co.uk or visit www.cobblestonewalk.co.uk