St Mary's House, Bramber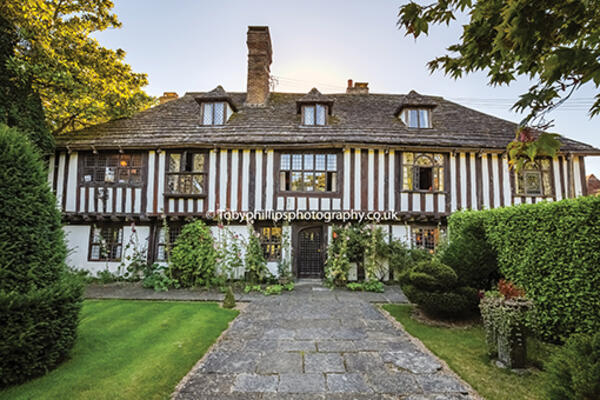 Published on 1st June 2017
When you first look at the house, you may think that there's not much to it. But it opens-up and - like Alice in Wonderland - you go down the tunnel and into another world.
Those are the words of poet, author and composer Peter Thorogood, who since 1984 has been devoted to restoring St Mary's House in Bramber to its former glory. This responsibility has been shared with artist, designer and landscape gardener Roger Linton, the curator at St Mary's for more than 30 years.
Whilst St Mary's captivates passers-by with its simple charm, those entering inside enjoy a tapestry of intriguing features, with every room telling a story. The panels of the library door are from a galleon in the Spanish Armada caught in a storm off Ireland, whilst King Charles II is thought to have evaded capture by escaping through tunnels buried under the garden.
No wonder that it's often referred to a 'hidden gem' of Sussex homes.St Mary's has even attracted the attention of television producers. Doctor Who's Tardis once graced the landing for scenes in The Silver Nemesis, starring Sylvester McCoy. HRH Prince Edward visited in 1998 whilst filming his series, Crown and Country, whilst Eric Knowles filmed at the house for the antiques quiz, Going for a Song.However, the house's origins go back to the days of the Knights Templar…

A Little Bit of History
It was following the death of Philip de Braose in 1125 that his widow, Lady Aanor, gifted the Knights Templar five acres of land at Bramber. The Knights built a Chapter House, which was then passed on to the Monks of Sele. It was the only building in Bramber to have survived a fire in 1286, but still the house fell into decay. In 1470, William of Waynflete, Bishop of Winchester, stepped in to restore the Chapel House, as well as the Chapel and the bridge in Bramber.
At that time, the house was primarily used as an inn by pilgrims on their way to the tomb of St. Thomas of Canterbury.Over the years, the house came to be known as St Mary's and alterations – including a staircase and chimneys –were added. Many distinguished guests visited, perhaps including Queen Elizabeth I.Roger said: "We may never know for sure whether the Queen stayed here or at Wiston.
Legend has it that the wonderful trompe l'oeil style painting of a sea battle between King Henry VIII and the French was created in the upper chamber for the Queen's arrival."Another house legend concerns King Charles II. After losing the Battle of Worcester in 1651, the King descended on Bramber as he evaded parliamentary troops. He may have stayed at St Mary's. The two sons of a 19th century owner of St Mary's were given the middle name Charles, having both been born in The King's Room. Children also played a game called 'The King's Escape' in which they would scramble through a secret door and along a tunnel under the gardens.
Many Wilde Owners
The house was owned by many distinguished individuals. Sir Henry Calthorpe, MP for Bramber, divided St Mary's into two tenements and a tenant farmer kept cattle on the ground floor. The Hon. Algernon Bourke and his beautiful wife Gwendolen were the inspiration for characters in Oscar Wilde's The Importance of Being Earnest. Algernon, owner of a celebrated gentleman's club and Chairman of the Grand Hotel in Monte Carlo, made huge alterations to St Mary's. He added a new wing and landscaped the gardens with lime avenues and circular orchard. He also created the majestic Music Room, which still graces cultural events today.
Early in the 20th century, St. Mary's was sold to the socialite, Alfred Musgrave, the inspiration for Conan Doyle's Sherlock Holmes story, The Musgrave Ritual. Alfred decorated the house with extraordinary furniture and ornaments, including Louis XV carved gilt pieces.After the Great War, the McConnel family allowed St Mary's to be used as a 'finishing school' for wealthy girls. Stories abound of young men flying from Shoreham Airport to drop love letters on to the lawn.
During the Second World War, the house was designated as a base for several regiments. Whilst many Canadians billeted there died in the Normandy landings, several returned to Bramber in later life. After the war, the house was saved from demolition by Dorothy Ellis. She found ivy growing in the Music Room and the panels green with mildew, but spent 35 years at St Mary's preserving it for posterity. It was Dorothy who first opened St Mary's to the public. Finally, in 1984, St Mary's was purchased by Peter and Roger. They embarked on an extensive restoration that would earn them an MBE in the Queen's 80th Birthday Honours.
Floorboards like Trampolines
It was an historic association with St Mary's that inspired the Thorogood and Linton families to buy the listed house, which was close to being purchased by a commercial organisation.Peter said: "Our families were joined in the 19th century through shoemaking. Samuel Thorowgood, my great-great uncle, went into partnership with Thomas Deeble Dutton to form Dutton and Thorowgood, the Royal shoemakers to Queen Victoria and Edward VII. This firm was associated with Edwin Hearsey, Roger's great-great uncle.
"Whilst our families have a business connection, we also had strong links to St Mary's. My family's links date back to when the McConnels owned the house, whilst Roger's mother, Renee, worked here for many years. St Mary's has long felt like a second home.
"When we discovered that it was probably going to be closed to the public, we set about raising the money to buy and restore it."Friends told us it would be very difficult, so we researched and attended courses to gain an understanding of heritage buildings and to find ways in which we could raise funds."
Families Come Together
It was a combination of family support and creative talent that enabled Peter and Roger to restore St Mary's to its former glory.Peter's aunt, Irene Swann, mother of the musician and entertainer Donald Swann, donated the funds for the restoration of Bourke's Victorian Music Room, where she had played the viola as a child. Other relatives funded improvements to the gardens, all to Roger's designs.
In 1996, Peter and Roger founded the Waynflete Heritage Trust, enabling St Mary's to invite financial support through bequests, covenants, donations and grants. St Mary's and its family furniture, archives, special collections and historic memorabilia was placed into Trust by Roger, Peter and Roger's sister Mary Thorogood, securing the house for future generations.
Peter said: "We had to learn the hard way and experienced many ups and downs. It is not an easy thing to have a heritage building. Somebody once said that if you really hate somebody, leave them a heritage property in your will! There's an element of truth to that!"When we bought it, St Mary's had become rundown and dangerous. The floorboards were like trampolines, the ceiling was crumbling, there were broken windows, ivy growing in the rooms and the plumbing and electrics were a mess. Everything you could possibly imagine that could be wrong with an old house was wrong."
But we've been successful because of the different set of skills we possess. I use my experience and contacts to organise events. We've held many concerts and productions here, with performances by the likes of Paul Scofield, the tenor Neil Jenkins, and dancers from the Royal Ballet."
Roger has most of the good ideas and is the person responsible for the look and design of St Mary's, particularly the gardens. It was his experience that gave us the courage to take on the project. He previously restored the Linton family home in Suffolk and the success of that project gave us the confidence to tackle St Mary's."
House of Hidden Charm
Arguably the most visually attractive room is the Octagon, where photos from the Bourke family album complement a fascinating collection of costume dolls. The pretty Octagon room, created and decorated in a pre-Raphaelite style, leads to the Music Room, where Algernon Bourke would take advantage of the fine acoustics to host elegant musical soirees for Victorian London's high society.
Now, the room is a perfect setting for weddings and musical performances.In the Warden's Room, it's the decorative 17th century inglenookfireplace, complete with original pot crane, that captures the eye, whilst in the Drawing Room you'll find a fireplace depicting flint-lock guns, bayonets and cannonballs.You'll be fortunate (or intoxicated) to see manifestations of the 'mysterious monk' or 'lady in grey' reputed to haunt the halls, but in The Painted Room you can certainly see an early example of trompe l'oeil three-dimensional painting.
Another interesting room is the Library, largely devoted to the work of 19th century poet, caricaturist and wood carving artist Thomas Hood. Peter, the leading authority on Hood's work, said: "Thomas Hood is not very well known, but he was a great artist and comic poet and nobody leaves this house without hearing about him!"

The Lost Gardens
If Peter is responsible for the Thomas Hood collection, Roger is responsible for the beautiful gardens. Features of the formal gardens include unusual animal topiary, whilst two red chestnuts complement the hawthorns, with pools, fountains and a shaded stream among the water features. The terrace garden was re-landscaped by Roger after the 1987 hurricane. It includes a fine example of the Ginkgo Biloba, the world's oldest species of tree, and a stunning Magnolia Grandiflora bearing lemon-scented blooms in late summer.
The 'lost' Victorian walled and pleasure gardens lies to the west. This part of the grounds was sold in the 1940s and bought back in 1997. Overgrown and neglected, a Lost Gardens Appeal was established and today they've been transformed.
Roger said: "One of the three glasshouses remained intact, as did a 14ft Victorian fruit wall and a rare circular orchard."As time's gone by, we've brought back Victorian features and created new facets to the garden, including the Jubilee Rose Garden and Terracotta Garden. We've also established an English Poetry Garden with a curved pergola and circular broad walk, which is a peaceful place for us and visitors to enjoy and reflect."

Helpful Volunteers
Whilst St Mary's owes much to the Thorogood and Linton families, a team of 45 volunteers offer a warm welcome to the 5,000 annual visitors. The Friends of St Mary's was formed in 1991, with the purpose of raising funds, and continues as a thriving and enthusiastic group.
Volunteers run the Orchard Tea Rooms and gift shop, which stocks a range of souvenirs, including books and music by Peter. Roger said: "We are fortunate to have the support of fantastic volunteers performing various jobs. Whether it's stewarding, running the ticket kiosk, helping at concerts and weddings, gardening or making tea, they love it here.
They're a very friendly group and we never ask volunteers to do more than they bargained for. We always say that their private life comes first and St Mary's second."Jean Whitaker, a life-long friend of Peter's, has devoted a huge amount of time to St Mary's. "We're also grateful to people who help with our events. We've hosted Shakespeare productions in the garden, opera, musical concerts, comedy and drama. "Previous guests have included Dame Vera Lynn, Dame Thora Hird and Lady Olivier. They've helped raise the profile of St Mary's and make the work we do stimulating and worthwhile."
Nothing Grandiose?
Having recently welcomed a Royal guest (sadly after AAH's press deadline!) St Mary's is preparing for a busy 2017 summer programme which includes The Covent Garden Minuet Company in the Music Room on 1 July and Diva Opera on 15 July.
Tenor Neil Jenkins provides a unique programme of music based on the poems of Thomas Hood on 14 October, before the traditional Christmas Cracker, when regular supporters Susan Jameson and James Bolam are among those scheduled to be involved.It is hoped that 2017 will be another step forward in securing the future of this important part of the South Downs' heritage.
Peter said: "People love St Mary's because there is nothing too grandiose about it, yet there are many aspects that they find interesting. Some visitors like the technical side of the marquetry, some love the paneling on the furniture, some enjoy the stories of Royal escapes and ghostly sightings, some love wandering around the garden whilst others appreciate the wall paintings.
"There are many absolutely magnificent stately homes in this country, but this house offers something different. It is an historic home where people have lived and died for 650 years. It has that aura of people having lived here and continuing to live here, and visitors take comfort from that.
"We feel very conscious of the house belonging to Sussex and that it shouldn't be allowed to get into the wrong hands. This mean we always need to work very hard with fundraising and finding benefactors. You have to fight for every penny. "We're totally committed to doing that. You need to persevere and have plenty of faith to keep going. Not to the bitter end; but hopefully to the happy end!"
St Mary's is open from April through to September. For opening times and a full events programme visit www.stmarysbramber.co.uk
Ben Morris/AAH would like to acknowledge the significant contribution of Peter Thorogood's book, St Mary's Bramber, on his article.
WORDS: BEN MORRIS
PICTURES: TOBY PHILLIPS