Leonardslee Gardens: Five Years On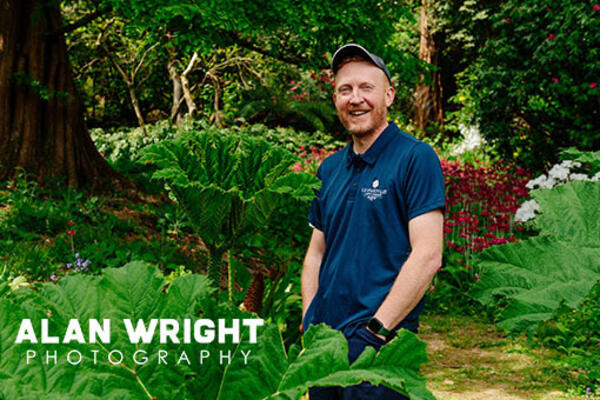 Published 1st June 2022
In July, it will be five years since Penny Streeter OBE bought Leonardslee Lakes & Gardens in Lower Beeding. There was great excitement when it was announced that the 200-acre estate would re-open to the public, having been closed since 2010 when the Loder family moved on after more than 120 years at the famous gardens.
When the Streeters arrived in 2017, the gardens were overgrown, pathways in the heralded rock garden were all but invisible, and the lakes were clogged with weeds and algae. At the time, Adam Streeter, Penny's son and General Manager at Leonardslee, described it as "looking like something out of Jurassic Park."
The gardens welcomed its first paying visitors for a decade in the spring of 2019. So much has changed in the three years since that it's difficult to know where to begin. Restaurant Interlude opened in Leonardslee House and won a Michelin star; Leonardslee Illuminated has seen moons floating over the lakes; Anton Smit's dramatic sculptures have added a new dimension to the gardens; a ten-room hotel has opened above the restaurant; vineyards have been planted and the estate is almost ready to produce its own wine. The list goes on...
With so much success, you'd forgive the Streeters for sitting back and reaping the benefits. But that's not the case, as Adam explains: "We have so much more we'd like to do and are in the process of outlining our plans for the next few years. Of course, everything needs to go through the normal planning process and be approved by local authorities, but we have big ideas."
"The Clock Tower Café is lovely but isn't designed to accommodate the volume of people now coming here. We'd like to expand our offering to include more hot food and introduce a farm shop, working with local producers. By utilising the space we have more efficiently, we could also host horticultural-themed workshops or educational classes for schoolchildren, so we can engage more with the community."
"Perhaps our most ambitious plan is the new Visitor Centre. It's currently in a rickety old glasshouse, which looks better than it did when we first arrived, when there were plants bursting out through broken panels, but falls short of what we'd like to have. Gardens like Wakehurst and Wisley have beautiful welcome centres and that's what we need too."

FORAGING FOOD
Anyone who has visited the gardens recently will have spotted a vineyard near Leonardslee House, where Pinot Noir and Pinotage grapes have been planted across four acres. The Streeters also own nearby Mannings Heath Golf Club (bought in 2016), where 30-acres of Pinot Noir, Chardonnay and Pinot Meunier vines have been planted.
The first harvest took place in 2020, with the first release of English wine set for 2023. The wine is currently being made at the Wiston Estate. However, as owner of the Benguela Cove Wine Estate in South Africa, there are hopes for a new winery in Mannings Heath. The wine produced would be branded as "Leonardslee" and Adam hopes this will lead to more wine tasting events.
Such events would also complement Restaurant Interlude, where South African head chef Jean Delport has created a remarkable menu, which has been lauded by critics. By foraging for wild ingredients, Jean and his team incorporate the gardens into unique dishes, which have helped Interlude win a Michelin star.
The restaurant is based on the ground floor of the House, with ten hotel rooms now available upstairs. Adam said: "Interlude is incredible but we want to make it even better. We'd like to take it out of the House and build something new behind it. Interlude is all about foraging and being immersed in nature, and by moving it closer to the gardens, the dining experience can truly complement Jean's vision. The Dining Room, as it is now, could be anywhere and we want guests to feel part of this special place, surrounded by plants and trees." "If we achieve this, it would free up the House for weddings and special events. At the moment, it's not possible for us to offer such services as the space is occupied by the restaurant for dining and afternoon tea, which is very popular. But we'd love to host all kinds of things here, from weddings to food markets to live music."
"Some of the great events that Horsham hosted pre-COVID, like Piazza Italia, have disappeared and perhaps in future we can host things like that, as it's sad that they're not happening. We are hosting Floral Fringe this year (4 - 5 June) which puts us on the map as a venue where others can bring their own event, if it fits with the feel of Leonardslee."

BITING OFF HEADS
The first question for many visiting for the first time since before 2010 is, "Have the wallabies survived?" They were well looked after while the gardens were closed and now reside in a purpose-built enclosure where the public can see them. The estate's fallow and sika deer are more difficult to contain and herds must be managed to protect the gardens. Recently, deer munched the heads off thousands of daffodils, destroying a picturesque sea of yellow lining the banks of the lakes! The wallabies have been a fixture of the estate for more than a century, having been introduced by Sir Edmund Loder, who also kept beavers and emu! A more recent introduction are sculptures by South African artist Anton Smit, including Faith, a seven-metre figure that looks out over the valley from near the House. Successes such as this ensure that Adam can reflect with pride on his first five years.
"We've surpassed our initial targets in some ways, although it has been a rollercoaster. We had one relatively normal year, although we were on a huge learning curve, and going into our second year, we had big ideas but then COVID hit. Fortunately, we were allowed to re-open quickly as an outdoor space and many people who probably wouldn't have found us otherwise ended up coming here. So, in terms of visitor numbers, things have gone well and we're constantly introducing new things to keep it interesting. We don't rest on our laurels. We want to maximise what is here."

TRANQUIL SCENES
But with so many attractions, is there a danger of Leonardslee losing sight of what makes it special? Adam thinks not. "I live here and look out the window every day to amazing scenes, so I'm always conscious that anything we do cannot be detrimental to the gardens. We're not looking to become a theme park or a family fun zone. Whenever we introduce something new, I think about it a lot, as you don't want to reach a point where you're overshadowing the gardens or disturbing those seeking a peaceful walk around the gardens, which is why the majority of people visit Leonardslee."
"Even when the gardens are busy, you can find tranquillity. We've had days when 2,000 people have come through the gate, yet you can walk down into the valley and easily find a spot where you don't see a soul and can't hear a sound other than those of nature. There are some special places most visitors don't reach, like the top garden (also known as the ancient woodland). It has been opened up and has more of a woodland feel to it now. Our gardeners and tree surgeons have done a remarkable job in opening-up new areas for people to explore."

"We also have a team of volunteers. Some do a couple of hours a week, while others are here most days, fulfilling a range of roles from ferrying visitors around on buggies to planting bulbs. The gardens are a national treasure and volunteers enjoy contributing to maintaining it. Certainly, we appreciate their help as it has allowed us to do more than we ever dreamed possible."
YEAR-ROUND APPEAL
Leonardslee is perceived by some as being a spring garden, owing to its reputation for azaleas and rhododendrons. Late blooming varieties ensure autumn is also a beautiful time to visit, but steps are being taken to make the gardens a year-round attraction.
Jamie Harris, Head Gardener, said: "There's plenty to see in summer, but it could be better, so a lot of our new planting is geared towards summer interest. As part of that, we'll be redesigning borders around the House and Rock Garden and we'd like to introduce a winter walk too. Another area we're working on is the Old Pinetum. Edmund Loder planted a pinetum that was largely lost in the 1987 storm, so his grandson planted a second pinetum in the deer park, creating a new collection of conifers. However, a handful of the original conifers remain and we want to form a pathway through this quiet area too."

PLANT REGISTER
Jamie arrived at Leonardslee in January 2021, having previously worked at Polesden Lacey, Nymans and Chartwell, the family home of Winston Churchill. Jamie said: "This is a completely different type of garden for me, as my background is in herbaceous borders and rose gardens at National Trust properties. To now be in charge of this amazing, wild place with an internationally-renowned plant collection is exciting, as it's a new area of horticulture to explore."
Leonardslee is most famous for Rhododendron Loderi. This hybrid was first raised by Edmund Loder in 1901 and varieties include White Diamond, Sir Joseph Hooker, Pink Coral, King George and Spearmint. All are highly fragrant with large flowers, and in some cases may not exist anywhere else on earth. Jamie and his team are trying to create a register of the Loderi and Leonardslee hybrids.
"There are about 35 Loderi varieties in the collection and Leonardslee is the only place you can see them all in one place. They are huge, almost tree-like plants, and are hard to maintain as if you prune them, they don't come back. That's why cataloguing them is vital, so we know exactly what we've got."
"When I arrived, I thought there would be a library of information on the plants, but there's virtually nothing. We've had to start almost from scratch in terms of identifying and cataloguing plants and that'll take years to complete. We have some handwritten notes and Chris Loder (great-great grandson of Sir Edmund) runs Loder Plants nearby and help us sometimes. But it's a daunting task. In future, we hope to be able to propagate here too, so that if - heaven forbid - there was a big storm or a disease that spread and killed the rarest plants, we could bring them back. That's high on our list of priorities, however, such things cost money!"
Whatever the future holds, the Grade I listed gardens continue to dazzle visitors three years after re-opening. Adam said: "I honestly thought the initial interest would wear off, but people still come up to me every day to say how beautiful the gardens are and how happy they are that Leonardslee is open again. They are always complimentary and grateful, which gives us the feeling that we've done the right thing. It also adds pressure, to ensure we maintain high standards. But that's okay, as I like a challenge!"
WORDS: Ben Morris
PHOTOS: Alan Wright
Further information: www.leonardsleegardens.co.uk