Leonardslee Gardens Returns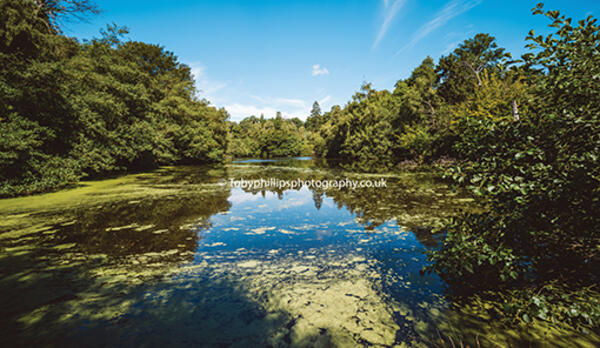 Published 4th October 2017
Horsham Museum has in its vast archives a fascinating account of Sir Edmund Loder's Zoo at Leonardslee in Lower Beeding.
'Lovers of plant and animal life and the highest authorities on flora and fauna from all parts of the habitable globe are unanimously of the opinion that Leonardslee has attractions unsurpassed.'
It may be that the days of world fame are long gone, but there is great excitement and anticipation now that the estate has been bought by entrepreneur Penny Streeter.
It was only last year that Penny and family took over Mannings Heath Golf Club and promptly established a wine estate on site, using their vast experience of operating the Benguela Cove Wine Estate in South Africa. It was quite by chance that she stumbled upon Leonardslee, as son Adam Streeter recalls:
"We were going to look at a house that I was interested in moving to, but everything changed very quickly! On the way back to the golf club, my mum drove by Leonardslee and out of curiosity turned down the drive to look around. She instantly fell in love with the place and returned with a brochure from the estate agents. She told me all about this incredible estate, which even had a house that I could live in with my family! When I went to look at the 'red house,' there were thousands of dead flies inside. But we had a walk around the gardens for two hours and were all blown away. We started discussing ways we could make the project work and felt that - because it's only five minutes from the golf club - it all made perfect sense. We are also trying to push wine tourism locally and here was a ready-made tourist attraction. We felt we could take Leonardslee to another level."
AN AMBITIOUS OPENING DATE
It was only in 2010 that - after 125 years - the Loder family moved on from the estate. In their final year, an estimated 70,000 people visited Leonardslee.
Ever since then, amongst the hustle and bustle of an ever-expanding district, the gardens have largely been left to nature, resulting in a wild, unkempt but still beautiful lost world. The once manicured rock garden became so overgrown that the new gardening team are finding hidden pathways as they trim back hedges. Across the valley, brambles are being cleared from walkways that link a chain of stunning lakes, where huge carp often rise to the surface. It is this natural beauty that has led to the new owners announcing an ambitious opening date of 1 March 2018.
Adam said: "We were tempted to open up the gardens immediately and run guided tours, as we've discovered that people want to see it in its current state."It is like Jurassic Park in that you never know what's around the next corner. You can find yourself in a part of the gardens that are completely overgrown, so it's an adventure. I never saw the garden in its prime, so when I'm walking around the lakes I think it looks amazing. It's only through seeing old photos that I know thatLeonardslee was once manicured within an inch of its life.
"Whilst we considered opening quickly, we need to ensure the grounds are safe and accessible for visitors. So, we have recruited a team of gardeners to prepare Leonardslee. I won't say with certainty that we'll be open on 1 March, but that's the plan as that's when the plants will be starting to bloom."

HUGE PLUMES OF THISTLE SEED
It would have been difficult to open the gardens in their current state. As we walk through a greenhouse which is missing many panels, we're told that there is a dead snake floating on top of the pond. Huge plumes of thistle seed have grown wildly out of control, whilst the multi-tiered rock garden's paths are obscured by bushes.
However, by opening in March, visitors will be able to see the rhododendrons that Leonardslee is famous for. Among the many species is the Loderi hybrid, named in honour of the former owners. Adam said: "Plants are actually growing out of the top of greenhouses, so whilst we need to be careful about what we are chopping down or cutting back, we obviously need to replace and rebuild. The greenhouses are unsafe and need to come down, but we'll certainly be looking to include a nursery where visitors can buy plants."
GREAT PLANS PUT IN PLACE
Currently, the Streeter family are taking stock of the work that needs to be done to bring Leonardslee back up to a high standard after a turbulent era.
Leonardslee House was sold some years before the Loder family waved farewell to the gardens seven years ago. For a while, the house was well maintained by a company that used it for executive offices. The next owner reunited the estate, buying the gardens and the grounds, including the red house, stables, and outbuildings used as nurseries or tea rooms. Sadly, despite ambitious ideas for which planning permission was granted, the businessman was not able to make his dreams a reality and the Streeters bought the estate from the administrative receiver.
"The previous owner had detailed plans drawn up," said Adam. "We have seen these and his ideas were much like ours. He wanted to replace a couple of buildings and build both a casual restaurant and a fine dining restaurant."We were unlucky with timing, as the previous owner invested heavily in the plans but the legal timeframe for his approved plan passed just a few days after we arrived.
"There were conditions imposed by the council, so it was impossible for us to put everything in place before the deadline. We hoped that there would be some leeway regarding the deadline, but whilst the council was supportive, the laws are firmly applied."However, we have put together a gardening team and a building team to carry out the work that is needed, as there's a lot to get through. When everything is completed, this will be a proper destination."With the natural vista of Leonardslee, we have an advantage over anywhere."

HOPES FOR FINE DINING RESTAURANT
When the first visitors arrive next spring, they can expect to see a renovated stable block where they can sit down for refreshments.More grandiose additions are planned over the coming years. Having recently added a beautiful brasserie to Mannings Heath Golf Club (recently reviewed in AAH) there are plans for a small fine dining restaurant at Leonardslee.
This may sit alongside a self-service tearoom and a casual restaurant within the clock house building. The clock mechanism has already been taken away to be repaired. An old water pump building that sits idyllically between two lakes, will be converted to offer food and drink. The stable block could also incorporate 16 bed and breakfast lodgings, allowing visitors to stay overnight and enjoy the 240-acre gardens at a more leisurely pace.
Adam said: "We may bring over a chef from our fantastic restaurant in South Africa, so that we can offer food of the very highest level. The house is more of a long-term project. We hope to be able to host weddings and we will be speaking to businesses that may be interested in hiring office space.
"We've found old pictures of the house in some of the rooms," adds Adam. "There was once a large orangery on the side of the house and we'd like to rebuild that. Such a feature would be perfect for weddings, as it would open out to manicured lawns. We've also discussed building a pagoda and planting vines. If you can imagine this setting with a vineyard and hundreds of deer running around, it could be a quite magical setting"However, at this stage, we're still finding out what the regulations are for owning a Grade 1 listed garden. One person we've spoken to insisted we need to outline a plan for every branch that is cut, which is virtually impossible. Others inform us that it need not be that extreme. What is clear is that we need to produce a clear plan for the entire estate."
MANAGING THE WILD MOBS
Adam is overwhelmed by the number of people who have sent messages of goodwill. More often than not, the first thing they ask about are the wallabies or the extraordinary dolls house exhibition.
Helen Holland's detailed display of life on a country estate was hugely popular with visitors. Having devoted almost a decade on the exhibit, Helen recently visited the estate and was "pleasantly surprised" to find the display in good condition. Even after 10 years, that saucy couple are still rolling around in the hay barn.
A former gardener has taken along plant records for the estate, with a handwritten account of 1,600 plants, whilst the retired maintenance manager revealed the secret passages of the house. Another recent revelation has been the boom in deer numbers, which have swelled across the 70-acre deer park.
Adam said: "The land should sustain a herd of about 70 - 80 deer, but because the park wasn't being managed, numbers have swelled to about 200 fallow and sika deer and they all struggle to survive. "I recently tried to take a photo of the herd and thought the deer would all run off. Instead, they ran towards me, which I've never experienced. They have been used to somebody coming along from DEFRA (Department for Food, Environment and Rural Affairs) and feeding them out of love for the animals."
Leonardslee is also famed for its mob of wallabies. Adam said: "Mary Loder has also been in contact, asking if I want to breed with her wallabies. Now, that's an offer you don't hear every day!"
There is a countdown to the opening on the Mannings Heath Golf Club website at https://www.manningsheath.com/leonardslee-gardens/

WORDS: BEN MORRIS
PICTURES: TOBY PHILLIPS