THE STORY OF ST CATHERINE'S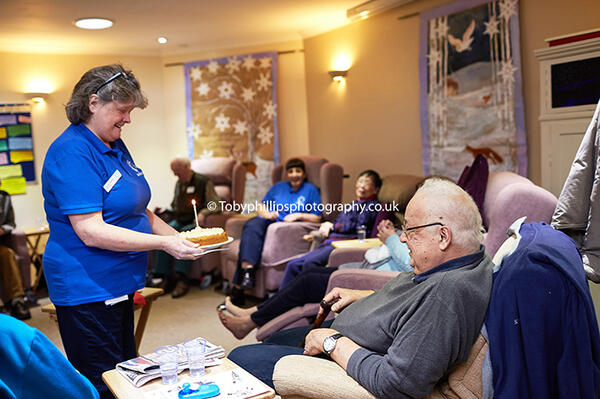 ST CATHERINE'S HOSPICE:
WHERE SMALL THINGS MAKE A BIG DIFFERENCE
"The irony is, Mike didn't drink Champagne at all. Coming from Manchester, he liked a pint of bitter!" These are the memories of Ann Bray from Copthorne, whose husband died at St Catherine's Hospice in 2014.
Ann smiles as she tells me about Mike's request for Champagne in his final days; a time when nothing was too much trouble for the hospice staff.
Soon, I would meet Mary Price, who has worked at the Inpatient unit for more than 30 years. "It is the very small things that make a huge difference to people," she states with conviction.
Feedback on the care people receive at St Catherine's Hospice is overwhelmingly positive; many readers may well have seen it first hand.Last year alone, the hospice - based in Malthouse Road, Southgate, Crawley - cared for over 2,000 people across Horsham, Crawley, Mid Sussex and East Surrey. Of those, 465 were from Horsham.
With just 18 beds at the Inpatient unit, much of the work is carried out by the Community team, caring for people in their home and welcoming them to the Day Hospice once a week.
Even after someone has died, the Step-by-Step programme offers relatives and close friends much-needed advice, whilst a Patient and Family Support Team (PFST) handles matters relating from welfare to spiritual needs.
All of which costs money.
St Catherine's Hospice costs £17,000 to run each day. With only about 15% coming from the government - through NHS funding - the hospice relies on donations, legacies and fundraising to continue. Many readers may have participated in events such as the Midnight Walk or Santa Run in Horsham Park, or the Dragon Boat Races in Tilgate, all held to support the hospice.
Yet such is the gratitude for the service St Catherine's provides, there is real hope that donations will not only allow it to continue, but to move to a new, larger facility in Pease Pottage.
With so much to cover, we visited the hospice to speak to nurses, therapists and bereaved relatives about one of the most valuable and important services we might ever need...
MARY PRICE: NURSE AT INPATIENT UNIT
"I have been at St Catherine's Hospice since we first opened about 31 years ago. It was Dame Cicely Saunders who started the hospice movement at Christopher's Hospice in London, enabling people to live their lives as fully as possible. St Catherine's was born because the local nurses identified a need for palliative care.
Before then, I worked at an acute oncology hospital and had seen patients dying having experienced very aggressive treatments. It made me wonder about holistic care.
When we first opened, all we had was an Inpatient unit. We didn't have the allied healthcare professionals that we have now. There's been a huge evolution in palliative care. When I first started, we only offered care to cancer patients and I think it's really important that we now look after everybody needing end-of-life care.
Another key factor in the development of St Catherine's has been our educational role. We are helping to train the next generation of nurses.
There are people who are scared of what the hospice may represent, which is understandable. It is the fear of the unknown. That is why it is so beneficial to have a team of doctors, physios and occupational therapists who meet people in their homes and talk to them about their individual needs.
It is the small things that count. Everybody has things that are important to them. We have many different requests, and we do what we can to meet them.
Over the years, we've developed very good links between the different departments and we hold regular multi-disciplinary meetings where we can talk about each patient. Families are also very much part of the care and they are always involved if they want to be. We have found this to be very important to people over the years.
There are difficult days, but there is a lot of humour here and people are sometimes surprised by that.
As I live locally, I do occasionally bump into relatives of people who have come to St Catherine's. But I would never go up to them - it's up to them to do that if they wish. One person I remember in particular, as I nursed her husband about 20 years ago. I see her at the bus stop and she still talks to me about her experience at the hospice, which is incredible and means a lot to me.
The experiences people have here are overwhelmingly very positive but if people aren't 100% happy then we have a very open organisation that values feedback from relatives and patients. If they have ideas that could be beneficial to others in the future, then we want to hear them.
Even after 30 years, the service here is still evolving, as you never stop learning. There is always something you can improve on."
ANN BRAY: HUSBAND MIKE DIED IN 2014
"My husband, Mike, was diagnosed with prostate cancer in 2005 and his initial treatments were very successful. It was only in 2013, when the cancer spread to his bones, that he was referred to St Catherine's Hospice.
He attended the Day Hospice once a week and found great comfort, support and friendship for those few hours. But in April 2014 the pain became much worse and he started receiving care from the community care team. Finally, he was admitted to the Inpatient unit in August.
During his time at the hospice, nothing was too much trouble to keep him pain free and comfortable. I remember, in his last days, he asked for Champagne, which was a very special moment. The irony is that Mike was very much a bitter man! If ever we went to weddings and there was Champagne, he would never drink it. So when he requested Champagne, I didn't think he was being himself, but he drank it. I think that was his 'last supper' moment. Mike also requested a quiche, and the next morning the chef prepared him one for lunch!
Mike knew what was happening to him and all he could try and do was relax. He was fortunate in that he had a room with an en suite, and the hospice staff were wonderful. It really was like a bespoke service.
Everybody has to die, but I can't think of a nicer way to go. Even after Mike died, the team helped us with planning the funeral and talked us through the death certification process.
I continue to attend the Step-by-Step programme each week, and also received counselling, which helped me enormously. It provides me with moral support and it's the one place where I feel I can be myself. Something might trigger an emotion or memory and I'll be in floods of tears, but somebody will be there to put an arm around me.
Having seen the care from almost every department, I wanted to give something back to the hospice. I became involved in the Voices of Experience programme, which is made up of carers of the bereaved and others who have benefited from hospice services.
We look at everything – from literature in the rooms to the way calls are handled, to identify any way the hospice can improve. I have nothing but good things to say about the people here, but not everyone has the same experience, and that is what we try to address.
It is very rewarding to know that our difficult experiences may go some way to helping future patients and their carers' experience more bearable, and allow all patients to pass away with dignity."
JACKIE CHIPPS: ADVANCED PALLIATIVE CARE PRACTITIONER
"I head up a team of nurse practitioners. We are specialist nurses who advise on symptom control, liaise with GPs and district nurses about medicinal matters, and help with emotional support with the Patient and Family Support Team (PFST).
My team covers about one third of the entire geographical catchment area of St Catherine's. My specific area includes the towns and villages along the A24, including Horsham.
People are usually referred to St Catherine's by a doctor or a hospital, but we also see referrals from care homes and specialist nurses who look after people with a particular type of cancer.
Initially, a care practitioner, like me, would look at the referral notes before making contact with the patient, to gain an understanding of their needs. Occasionally, people aren't terribly keen to hear from us, which you can understand because a hospice has certain connotations.
Once we have met the person, we decide if they need to come up to our Day Hospice, or if they need a to come up to our Day Hospice, an integrated care clinic, or if they need a home visit. This home care can include nursing, medicine, counselling, therapists, welfare and spiritual needs.
There is a lot of liaison, both internally with the hospice team and externally with our primary care colleagues. We have an 18 bed Inpatient unit and yet we are actually looking after about 600 patients. That shows you that most of our work is Outreach.
In my experience, it is the practical and emotional issues, rather than physical issues, which people require the most help with. They might be self-employed and face financial difficulties, or cannot work with their illness and so struggle to pay their rent. People don't want to deal with their health issues until personal issues are resolved. So we help them by liaising with outside partners through the Patient and Family Support Team (PFST).
When people come in to the hospice, it can be for lots of reasons. Sometimes, they have their symptoms controlled and monitored. Sometimes, it is to give families a bit of a break from caring. And sometimes, it is because they are coming to the end of their life. But we are always honest with people and their families too.
I find that you really get to know someone in their own home. When people come to the Inpatient unit, they can lose a little bit of themselves because they're not in their own environment.
We recently helped a homeless gentleman and that brought certain challenges. But we provide just the same level of care. He was able to find a flat to live in and chose to die there. There is always a choice and most people choose to die at home.
Our care is free at the point of delivery. People do ask 'How much it is going to cost?' It doesn't matter what their individual wealth is; they will get the care they need. If people want to give us a donation then we welcome it, but it is not an obligation.
You do have to have a certain resilience to deal with the emotional side of the work, but we have an external supervisor and we all support each other here, with experience and humour too."
CLAIRE LAWSON: OCCUPATIONAL THERAPIST
"I am based at the hospice most of the time, but we work across different departments including the Day Hospice, the Inpatient unit, our satellite centre in Caterham, and we go to people's homes for Home Visits too. Our aim is to keep people as active and independent as they can be.
When a person is referred to the hospice, we will find out the patient's needs and provide activities that are meaningful for them. For some that might be listening to the radio, knitting, relaxation techniques. It could be chatting or arts and crafts. Over Halloween, we decorated pumpkins and we made poppies for Remembrance Sunday.
We also do Legacy work, which gives people the opportunity to make a memory box that they can leave to their loved ones.
We set patient-identified goals. That might be simply to hang the washing in the garden for somebody who suffers from shortness of breath. In this case, the OT's would teach breathing exercises to reduce their anxieties and increase their mobility. Others here have made their target to attend a wedding or celebration and we plan how to make that possible.
People only have one chance of dying and it is important that everything is right. We find that, if you organise a plan and stick to it, you can achieve a lot more.
We have also set up an exercise group called Movers and Shakers to help people stay fit. Many people here would like to be out running, but because they suffer with fatigue they may no longer be able to, so we provide them with a tailor-made exercise programme.
As well as Occupational Therapists, the hospice has physiotherapists. We also have complementary therapists who specialise in massage, aromatherapy, reflexology and relaxation.
When you work in palliative care, you can use your entire skill set. I enjoy that aspect of working here. It is emotional, as we are human beings at the end of the day. You can detach yourself and understand therapeutic boundaries, but I can't say that I don't sometimes get upset."
However, there is great satisfaction in knowing that you are making a big difference.
NAOMI DAVIES: HUSBAND KEN WAS DIAGNOSED IN 2013
"My husband was diagnosed with terminal cancer in March 2013. He had an Osteosarcoma in his jaw, a very rare form of cancer. With two sons, Jamie and Lucas, it was a terrifying time for us as a young family.
We were referred to St Catherine's after meeting with Ken's oncologist. Soon after, Ken met a nurse at the hospice to discuss what they could offer him and our family in terms of physical and emotional support.
I didn't like the thought of going to St Catherine's as my impression of a hospice was that it'd be a dark, gloomy, depressing place. At first, I refused to visit. It took me a few months to realise that I should go. I couldn't have been more wrong about what a hospice was. I wish I'd gone there sooner.
We were offered counselling sessions and support on how to talk to our sons. The care we received was like nothing I've seen before. Ken made memory boxes for our sons. At a time when so much had been taken away from him, it gave him something to focus on. He even encouraged another patient to make a memory box for his loved ones.
He spent about three weeks as an Inpatient in February 2014 for help with pain relief and medication. One thing that struck me was how much time the nurses and doctors gave to talk to us. Ken said there was always someone to chat to. Having the Octagon Room, a lounge area where patients and families can sit, meant he could go and spend time there. He wasn't confined to one room and four walls.
One memory stands out. We were making paper aeroplanes and a nurse asked the boys if they would like to fly their aeroplanes from the balcony. It was just amazing to see the attention the nurses gave to small details and their care has meant our boys have fond memories of visiting their Dad.
St Catherine's also taught us how to live the best life we possibly could. I remember one of the staff saying to me and Ken: 'You're not dying of cancer, you're living with it.' It was such a strong statement and stuck with us the whole way through his illness.
In the last few days of my husband's life, I received the call that his death would come soon. I became very anxious. However, the minute I walked through the doors at St Catherine's I felt safe, secure and at peace. Ken felt the same. The hospice provided family rooms where I and other family members could stay overnight. It meant I was around for Ken whenever I needed to be.
One thing I appreciated is how, even though we were in the hospice, the nurses still allowed me to look after my husband. With their help, we had really special moments in the last couple of days there.
I'm really passionate about supporting St Catherine's and now volunteer at the hospice on reception and with the fundraising team. Everyone is so friendly and despite everything, I still really enjoy coming here.
Our experience of St Catherine's was just amazing. I'll always be grateful to the hospice for everything they've done for me and my family."
THE PATIENT AND FAMILY SUPPORT TEAM: JACKIE, ZAT & LISA
Jackie: "The PFST covers welfare, counselling and spiritual needs too. As a welfare adviser, my role may involve helping someone with their benefits or to obtain grants. We work closely with therapists and nurses so that we can help as soon as we are called upon.
Recently, we arranged a wedding, which needed to be done quickly. Various documents had to be submitted for a special licence to be granted to conduct a marriage here. We managed it though! We are unlike a hospital in that we are there for a patient's family and close friends too."
Lisa: "My responsibility is to meet a person's spiritual care needs, but I am there for people of all faiths and none at all. When people are faced with a serious illness, it raises all sorts of issues. It may be that they are no longer able to work or undertake the family role they previously had. Conversations are often based on these topics, rather than any religious aspects.
I am an ordained Baptist minister, so can provide blessings when asked to. I also liaise with ministers of other faiths and am working on developing relationships with faith leaders in the community.
Sometimes, I introduce myself and people say 'Thanks, but no thanks.' I don't take it personally. It is important to realise, especially at the Inpatient unit, that people need space and we make sure that we abide by the patient's wishes."
Zat: "As well as full-time members of the PFST, we have many volunteers. Some are trained and may have extensive experience, whilst others may be students who are learning by coming to the hospice. The PSFT volunteers dedicate about 400 hours a month. Across the whole hospice, there are about 800 volunteers, four times as many people as there are actual staff. Volunteers play a huge role.
The work here can be tough sometimes. However, we are all very supportive of each other and there is usually a lot of cake passed around!"
GILES TOMSETT: CHIEF EXECUTIVE OF STCH
"In August 2015, we announced our plans to submit a planning application for a new hospice in Pease Pottage. While our current site at Malthouse Road is invaluable, there is limited room for expansion.
Our mission is to reach more people who need our support in the community and respond to the growing demand for our care; to achieve this we need to expand and plan for the future.
This Pease Pottage project was made possible thanks to incredibly generous donations from our community, including the donations of John Shemeld, who left a legacy of £6 million, and Bill Bridges, who gifted us five acres of a larger 112 acre development, worth about £5m.
The plans have been submitted in conjunction with Thakeham Homes. Recognising the beautiful surroundings that the new hospice would be a part of, we've considered carefully how to design the external space so it remains sensitive to the landscape. The planned building would resemble a Sussex-style barn.
Although we receive some NHS funding, the hospice relies on the local community and there are many ways people can fundraise. We have a weekly hospice lottery that is very well supported, with a weekly top prize of £1,000. Our Big Events are the Dragon Boat Races on Tilgate Lake, the Midnight Walk in Horsham, and the Santa fun runs at Christmas.
We also welcome corporate teams to take part in team building exercises at the hospice site. We had 18 people from a local business recently come here to landscape the hospice garden, whilst others have volunteered at one of our charity shops.
Our Tree of Lights services gives people the opportunity to talk about their experiences at St Catherine's and remember loved ones. We host a central Tree of Light event at K2 in Crawley, and at 14 churches across our area, including two in Horsham.
In addition to these bigger events, we have a community team to support those in the community who put on their own events, be it a cake sale or a barn dance or a quiz night, in aid of St Catherine's. It costs about £17,000 to run the Hospice each day, so every year we need to raise about £6 million in voluntary donations alone."
For more about the hospice, including its proposals for the Pease Pottage site, at www.stch.org.uk
You can join the Lottery at www.stch.org.uk/lottery
This article was published int he March 2016 Edition of AAH Magazine