THE FLORAL FRINGE FAIR IN LOXWOOD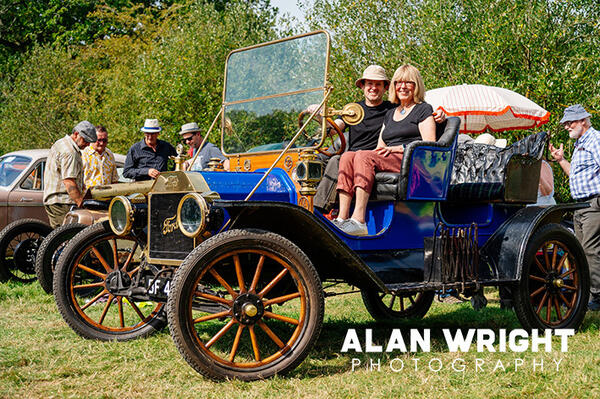 Published: 1st October 2023
The Floral Fringe Fair was held at the Loxwood Meadow on 31 August - 1 September 2023. This year was the 10th staging of the event, founded by Jean and Stephen Jackman in 2012 to celebrate all things quirky and eccentric.
After moving between several venues including Leonardslee, Amberley Museum and the Knepp Estate, the fair was held in Loxwood for the first time. After a successful weekend, the organisers hope that the fair has found a home that complements its ethos.
Jean said: 'We missed two years during Covid and last year's event was difficult, as it was held on the weekend of the Coronation! People loved the fair when we held it at Knepp, but we've not been able to go there in recent years and have struggled to find a suitable alternative. So, when landowner Maurice Bacon invited us to use the meadow, we jumped at the chance. It is ideal, particularly the woodland area, as the sunlight bursts through the canopy to create a beautiful and magical aura. The meadow has a relaxed and mystical feel to it and many stallholders have remarked upon it. Some people endured long and stressful journeys getting here, yet there is something about the meadow that puts people in a positive frame of mind!'
ECLECTIC THEMES
So, what is the floral fringe? Jean calls it an 'eclectic mix of fun, eccentric and quirky things all brought together'. There are classic cars, with a particular focus on Morris Minors this year, with the owners' club celebrating the model's 75th anniversary. There is food and drink, arts and crafts, and live music ranging from folk and Morris dancing to steampunk rap. Dressing up in vintage clothing is actively encouraged, like a small-scale Goodwood Revival. Steampunk is another common theme, with many donning fascinating costumes combining elements of Victorian fashion with science fiction and fantasy.
This year, steampunk's influence was heightened by a performance by musician Professor Elemental, while the Gosport Steampunk Society (GSS) hosted games and invited people to step inside a fancy dress wardrobe. One of the games played was Tea Duelling, hosted by Heather Markham (aka the Tiffin Mistress) and Sue Mulcahy (aka the Pot Master). Heather said: 'Tea duelling is a steampunk sport in which the weapon of choice is a biscuit. Participants dunk a biscuit into their brew and the person who withdraws it last and eats it whole wins. Throughout the duel, they insult each other in a Victorian manner!'
While the GSS was prominent at the fair, many others celebrated their individual creativity with stylish outfits. Several were people that Jean and Steve had spotted at other events or even walking in the street and invited them to come along!
Steve said: 'We have said to people, "We love your outfit, why don't you come to the floral fringe?" More often than not, they're happy to, as they can share their interests with like-minded people. We've also visited themed events and classic car shows and invited people, as we appeal to anyone or anything that's a bit quirky. The way we look at it is, if we find something interesting, there are others who will too.'
'We also promote local produce and crafts. Since the inaugural fair in 2012, we've insisted that everything sold is home-made, home-baked or home-grown, as that way you ensure stallholders are knowledgeable and passionate. We have a few stalls selling interesting, vintage or quirky items too, but most stallholders are selling their own produce, which is wonderful.'
VINTAGE CARAVANS
For the groups and societies present, the floral fringe fair can be one stop on a summer tour. One such group is the Alternative, Classic and Retro (ARC) Caravan Society, whose members own caravans from days gone. These are often towed by classic cars and accessorised with a selection of nostalgic items. Just by relaxing by their caravans, ARC members created one of the more unusual yet fascinating attractions at the fair.
Don and Liz Potter, owners of a 1966 Castleton, said: 'Like any hobby, caravanning gives us something to look forward to after a busy week. This is our eighth event this summer and we enjoy the floral fringe, as there's a friendly feel to it. We usually tow our caravan behind a 1966 Humber Super Snipe, but couldn't this weekend as we've also brought along a replica of a 1908 Indian motorbike. Jean and Steve invited us to be part of the fair, so we can just enjoy ourselves. Last night, we had tables and chairs out and all the caravanners put up fairy lights. The public had all gone home, so we chatted over a few drinks, listened to music and relaxed!'
Most of the accessories we usually have in our caravan are from the 1960s, but for the floral fringe, we exhibited more of a steampunk theme to provide more variation to some of the other club members. Seeing these caravans from the 50s, 60s and 70s always takes people down memory lane, as they see ones their parents or grandparents once owned. One of the classic car owners has a sign on the windscreen that reads, "I don't care if your dad had one of these!" Admittedly, it isn't always easy hearing the same stories all day long, but we don't really mind talking to people about their own memories!'
MODEL T MOTORING
Motoring has become as important to the fair as fashion, and some owners of classic vehicles are gracious enough to combine both elements. Jenny Lucas, sporting a wonderful steampunk outfit complete with fantastical goggles, arrived in her 1971 Bedford TK truck, affectionately named Bertie. The vehicle has been converted from a horsebox into a unique motorhome, complete with plaques from steam shows across the country. Jenny's brother Michael was also present, welcoming people into his 1947 showman's wagon, pulled by a 1966 ERF LV truck called Efel. The generator is a 1942 Lister JP4, once used to power the landing lights at London Airport.
Tony Snow drove a 1912 Ford Model T to the fair. Built a year before Henry Ford launched an assembly line that mass produced the Model T, this rare example transported passengers on rides around the village, raising funds for the MND Association. Tony said: 'I drive the car thousands of miles every year. She can reach 45mph, but happily motors along at 30 – 35mph. It's wonderful to show her off at events such as this, as it's a chance to meet other car enthusiasts and also gives people the chance to enjoy a ride in an extremely rare vehicle.'
LIKE-MINDED FOLKS
It is this kind of experience this keeps people coming back to the Floral Fringe Fair and ensures the organisers that their efforts have been worthwhile! Jean said: 'Every night for two weeks before the event, we go to bed every night and say, "never again!" But even though it's hard work, it is rewarding. We're fortunate to have an amazing team including John Whiteman, Craig Jackman, Josh Payne, and Jack Frost and his daughter Katie, who have helped us for many years.'
'For me, one of the great things about the fair is that you get out what you put in. If you take the time to engage with the music, games and stallholders, enjoy the music with local food and drink, and connect with the aura of the event, you will have a great time with interesting, like-minded folks.'
WORDS: BEN MORRIS / PHOTOS: ALAN WRIGHT
Further information: The Floral Fringe Fair 2024 will be held at Loxwood Meadow on 31 Aug – 1 Sept. For details about stalls and exhibits, email jeanfffjackman@gmail.com or visit www.floralfringefair.co.uk