Changing Times at Great House Farm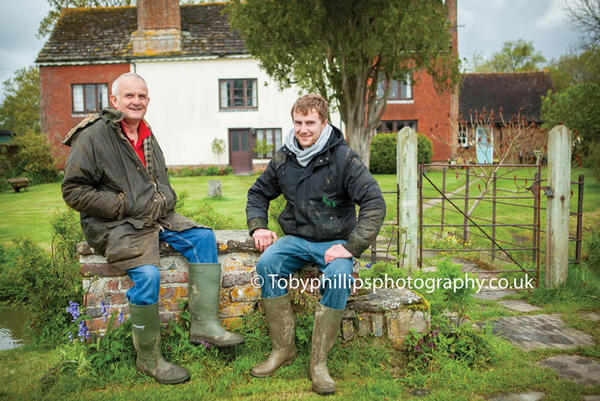 Owen Charman is a young farmer with much to ponder. He is the fifth generation of the Charman family at Great House Farm in Southwater, but few of his ancestors ever had to face the challenges farmers have faced in recent years.
Several years ago, Owen's father Barry decided that it was time to end dairy production at the farm. Dwindling milk prices had hit them hard, as it did many others, and after much deliberation it was decided that Great House Farm would focus on meat.
With Barry beginning to wind down at the farm where his family has lived for about 200 years, it is Owen that will pick up the reins and work to ensure that the Charman family's future remains in farming. Owen must do this with the threat of housing development looming ominously over the farm. The Charmans are – as they have always been – tenants of the land, which is owned by the Fletcher Trust. A well-publicised development proposal by Berkeley's poses a significant risk to the farm.
For now though, they will be working hard to make a success of selling naturally reared beef. It has been four years since dairy farming ended at Great House Farm, but the transition to beef farming does not happen overnight.
Owen said: "I was in my last year of agricultural college at Plumpton when dad decided to call it a day with dairy farming. The milk of price had gone down to 16p per pint and stayed there for ages. We kept holding on and holding on, hoping that something would happen but it never did. I was pretty annoyed at the time, but in hindsight it has worked out okay. I would have started at the farm straight from college but because there was so little to do after we stopped dairy farming I went out to Australia and to Kent for a couple of years and learnt a lot about farming.
"I feel like I'm twice as skilled as I would have been because of those experiences and I can use what I've picked up to help the family farm. After dad had made the decision to stop dairy farming, we had to spend the next few years preparing to be a beef farm. We sold the dairy cows, but had to keep all the calves back to breed and
maintain numbers, so we haven't had anything to sell.
"With dairy farming you get a cheque at the end of every month, where as we've had to wait for two years to be in a position where we are able to sell anything. It's been a hard period, as we've not had anything coming in except bills."
It was Aubrey Charman that started dairy farming, initially with only a handful of cows. Barry, one of Aubrey's four sons, took over the farm eventually and grew the dairy side until there were one hundred cows. Aubrey died in 2011 at the ripe old age of 101, having spent nearly all of his life at Great House Farm. He was a successful farmer despite losing his left arm at the elbow, due to an accident with a 12 Bore Shotgun when he was only fourteen years old. He could drive a tractor, but was not able to milk cows. Fortunately, he was able to rely on his boys and workers to do the jobs that he could not.
The tradition of farming in the Charman family lives on. As a schoolboy, Owen and his brothers would help Grandfather Aubrey feed the calves, whilst their father carried out the more physical jobs on the farm. One of Owen's brothers, Adam, is in New Zealand, but he would like to return in the future and work on the 200 acre family farm. However, at the moment there is simply not enough work to go around.
As the beef farming is still developing, Owen gets up for work at 4.30am to milks cows at a nearby farm before he starts to feed the cows at the family farm. "Dairy farming is like a military operation," said Owen. "But I prefer it as it's more intense and skilled. With beef farming the cows do not need as much looking after. They effectively live their normal life.
"I do though enjoy raising a cow and seeing it grow until they're a few years old and then taking it to slaughter. With dairy farming all the beef goes off the farm when it's a week old and you never see it again. So it's nice to see the animals from start to finish.
"We sold the first cow in February, so it's all new to us. We take the cows to a slaughter house in Henfield and from there the meat goes to a butcher in Warnham to be sliced. It costs a couple of million pounds to set up a slaughterhouse, and the price of us taking them to slaughter is very fair, so we've not considered doing it here. However, on the butchering side, that is something we may look at in the future – setting up our own cutting room at the farm.
"All of our prices are matched to Waitrose, and the quality is at least as good, with the added bonus that you're getting meat delivered to your door for free by a local farmer. I hope that the community of Southwater feel an attachment to us, rather than just seeing the fields as some bit of land that might get built on. We sell our meat privately, and also supply The Bax Castle pub, and hope that we can make enough money that Adam can work with us one day."
Barry too hopes that the farm is around long enough for his son to make a success of beef farming. He grew up on the farm with his three brothers – Clive, Howard and twin brother Roger – but over the years has seen Southwater change beyond recognition. Whilst there's been little change on the west side of the Worthing Road, thousands of new homes have been built on the other side of the village. There has always been talk of housing on the farming land, but Barry admits the latest threat is more serious.
It was only the historical importance of the farmhouse itself that prevented (at the eleventh hour) an application for 550 homes being heard by Horsham District Council earlier this year. Barry said: "The house had been grade II listed for some time, but English Heritage looked into the history and found that several hundred years ago it was a monastery. There was a moat here as well as the two ponds, and the monks used to keep it stocked with fish for food.
"English Heritage upgraded the status of the farm which essentially means they can't just plonk houses where it might impact on its setting. I was told by my father that the farm house was made out of second-hand ship timbers. He told me they were shipped along the River Arun and then brought here by horse and cart. The kitchen was a later addition, but we have a loft here where the maid used to sleep. It's pretty unspoilt around here. It's the same as it was 300 years ago - we haven't ripped hedges up or anything. We are the unspoilt centre of Southwater and it would be a shame if the housing came here as once it's gone, it's gone. It'll never come back.
"Also, I'm in semi-retirement now and I'd like Owen to take over from me, just like I took over from my father.
"I guess we'll cross that bridge when we come to it."
Owen hopes that this is not the final chapter in the Charman story at Great House Farm. He said: "We didn't expect such a good response to the beef farm, and we have a second animal ready to go off to slaughter next week, so it's going well. But we do feel threatened here. I hope that they wouldn't come in and move us on at a moment's notice, but they're talking about housing for 2014. That doesn't give us a lot of time."
For more details or to order a range of meat boxes, visit www.southwatermeats.com or call 07592 505187.