Storror set their sights high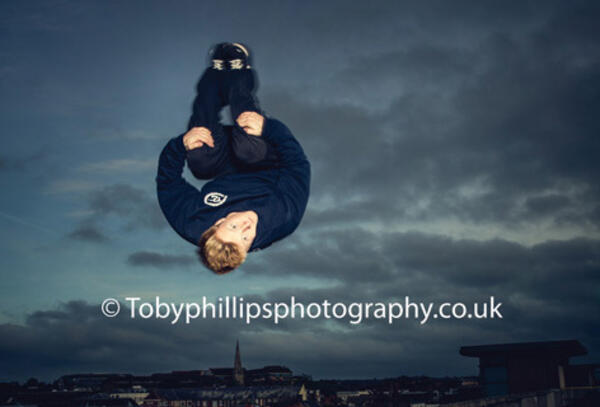 When we last met with a team of Horsham free runners, they were being moved on by a policeman responding to a report of youths leaping across the wall of an alleyway.
It seemed that, whilst their acrobatic abilities were impressive, the Horsham Movement were viewed as an anti-social menace, posing a constant threat of chipping brickwork or, even worse, creating scuff marks on roof felt.
"People seem to think that shop roofs are made of cardboard around here and that we'll fall through," said Ben Cave. "Honestly, an elephant could walk across them.
"Horsham is like that so we very rarely come here (for free running). We get so much grief from police and community wardens who see it as being anti-social. When you do this in Brighton and London, or anywhere else,
nobody bats an eyelid."
"But here, old people in particular are so worried about it. They come over and say 'what are you doing? You will hurt yourself! We've not hurt ourselves in seven years."
Tired of the hassle, they set off on tour and their world has (literally at times) been turned upside down.Four of the founder members of Horsham Movement - Ben and Max Cave, Steven Whitley and Drew Taylor – have gradually welcomed new members, ditched the parochial name and became Storror.
They decided to test their skills on the road, and armed with video cameras set off on a tour across Europe, visiting Germany, Spain, Austria, Switzerland, Italy, France and Monaco. They found people far more receptive to free running, drawing large crowds with their astonishing and, yes, sometimes mischievous adventures.
When Drew Taylor sent AAH an edited 15-minute video of their European tour, we were not only impressed by the standard of free-running, but also by their film-making techniques. We are not the only ones; Channel 4 contacted Storror and their videos have now been broadcast four times as part of the channel's Random Acts.
Max said: "We all love filming. We have five cameras between us, so the tape is always running. A few of the group have studied TV and Film and Steve works as a freelance video editor as well. But most of us are self-taught and we find that the more we film the better the videos are.
"We just travel around and see what happens. There's never a script; we just press record and see what happens. When you see our early videos, it seems like a whole different group. That's why it's so good that we document everything, as you see the progress we've made in the seven years since we started."
Storror is now an eight-strong free running team, with friends from Brighton, Redhill and Guildford adding to the ranks. Through their YouTube channel they have become one of the world's most renowned free running outfits.
Several videos have attracted over 100,000 views, with 'Lisbon Has Us Now' being viewed over 300,000 times and their 'Malta Cliff Diving Trip 2012' nearly half a million views.
The videos have helped them attract attention the world over. Steve Whitley said: Some of the footage was from our own travels but sometimes people have wanted Storror at an event. They fly us out to places and pay for our food and accommodation.
"We filmed some stunts for a music video with former Doctor Who Sylvester McCoy as part of Geek Week on YouTube, and we went to an aeroplane graveyard in America with several other free running teams to film a
commercial. We are one of the biggest teams in the world now. Last year, there was an event in LA and the organisers invited leading teams from around the world, and we were one of them.
"The Red Bull event in Santorini is perhaps the biggest parkour competition but we couldn't afford to go this year. But we'd like to give it a go next time around."
Storror has even created its own clothing line and it's been a surprising success. The clothing side of the operation is led by Drew Taylor, who creates the designs. Drew said: "We started with one T-shirt after borrowing £300 and now we have 16 different designs. At Max and Ben's house the entire hallway is full of stock and we're sending parcels all of the time. You think of a country and we've probably sent clothing there!
"The clothing side is turning over several thousand pounds every month, and that all stems from the videos that we make. They see us wearing the clothes in the videos and they want them too."
The Storror boys are also 'marshals' at free running sessions held at Horsham Gymnastics Club, based at the Pavilions in the Park. The sessions started several years ago and were an immediate success. Now the gym club is paying for four of the Storror boys to qualify as assistant coaches in freestyle gymnastics.
Steve Barritt of Horsham Gymnastics Club said: "Last year, British Gymnastics asked us to trial freestyle
gymnastics as they are trying to bring the sport in from the streets. The scheme was a success and there was huge demand for places.
"Then, in July this year, British Gymnastics officially made 3G, or freestyle, a distinct discipline. We have a session for 11-14-year-olds on Tuesday nights and for over 15s on Thursdays. We limit numbers to 50 for safety reasons and have to turn youngsters away on Tuesdays, which is a big shame.
"The Storror boys helped us to trial 3G and now we're putting them through a training course so that they can become qualified coaches. "A lot of them are at college, and just the first level of the coaching course costs £1000 and they can't afford it.We are hoping to open a purpose built freestyle centre in Horsham.
We've put a proposal to the council for the centre, which would have a centre floor, a 3G circuit and a social area that could potentially be a youth club too. We've modelled it on a successful centre in California. Such a site could also be used for Sports Acrobatics, allowing us to concentrate solely on Women's Artistic Gymnastics at the Pavilions."
Steve and the Parkour boys share a similar dream. Steve Whitley said: "We want to have our own facility; that's the ultimate goal. There's a team in Basingstoke and they received some lottery funding for their own place, but it's too small and not really what is needed.
"Steve from the Gymnastics Club  has ambitions to create one of the biggest in the world as he has seen the potential of free running."
For more on Storror visit https://storrorparkour.com or visit the StorrorBlog channel on YouTube