The Monks of St Hugh's Charterhouse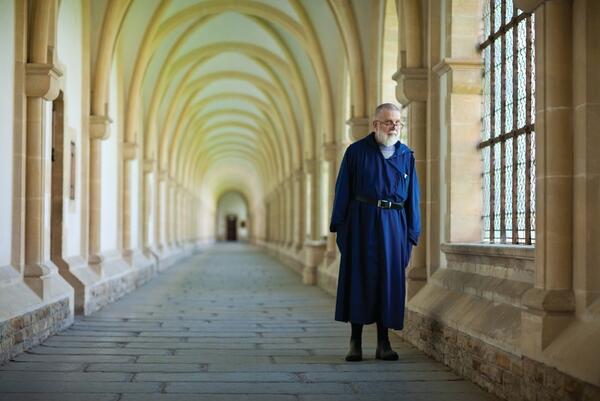 In the Distance St Hugh's Charterhouse is one of the most majestic buildings in all of Sussex. Yet it's highly unlikely that you've ever seen it, certainly up close.
If you look south whilst travelling on the A272 between Cowfold and West Grinstead on a clear day, you can see in the distance a magnificent 203 foot spire in striking contrast to the otherwise untouched countryside. But you could drive right by the entrance to St Hugh's Charterhouse, between Cowfold and Partridge Green off the A281, every day and yet be completely unaware of its presence.
Even driving up to the front entrance, it's hard to envisage what is hiding behind those giant oak doors, with a statue of the Virgin Mary above, and Saint Hugh of Lincoln and Saint Bruno (founder of the Carthusian Order) on either side. It is said that the only way to appreciate the full scale of Parkminster (it is a 240 acre site) is by taking to the air.
Unfortunately both AAH helicopters are currently grounded, whilst the company jet is being refitted, so we had to make do with our view from the ground. That was quite enough of a spectacle.
The monks do not need Toby and I to be there, neither do they specifically want us to be there. Silence is greatly desired by the brothers at Parkminster, but propaganda is not. Later on, a Parkminster brother will tell us that the location is not ideal as it is not isolated enough. Most monks would prefer the solitude still available in parts of rural Wales or Ireland. Parkminster may not be visible to passers-by, but you can still hear motorbikes as they speed along the A281. A magazine editor could knock on the door at any time with a feature idea! For people that have given up all worldly goods, these are distractions they could certainly live without.
But despite there being really nothing that AAH could offer the monks, other than perhaps a little publicity for an apple wine sold at one small farm shop for £3.80 a bottle, the Parkminster brother who we met was kind and answered all of our questions. He took us to his home, allowed us to sit and observe Saturday vespers (an evening prayer service that is seldom seen by people from outside the monastery) and even talked about the issues that a priest must confront during his early years as a monk, before he must decide if he will devote his entire life to prayer and to God.
The Parkminster brother, who was originally from Holland but has been at the monastery for 30 years and - like all the other monks - speaks English, had simple answers to our simple questions. "Why are you wearing that ring?" said the brother, after I asked why he had become a monk. "You chose your wife because you love her, and that is the same for me. "I am here because I love my Lord, and for that I am married, or vowed, to God for life, as you have committed to your wife for life."
He had become a monk aged 42, a fairly typical age. The Parkminster brother said: "Many years ago I was a missionary in South Africa for 13 years, and all those years, deep down there was a hunger for a life of prayer, more silence. During prayer time it became clear to me that I should leave South Africa and join the Carthusians, so I came here in 1980. I had a probation period of two months then I said 'all right, I will try it out'. There is a seven year period before you make your final commitment. I found what I had been searching for in this place and I made my final vow in 1985.
"The best years to become a brother are when you are aged between 30 and 40 as you have experience of life and are more mature. That is important as you have to stay within these four walls and you have to be prepared and ready for that."
The monastery was founded in 1873, when the property was bought to accommodate two houses of continental Carthusians in exile. It took some 600 workers six years to build, to designs by a French architect, Norman Clovis. The stone was quarried locally at Slinfold.
Rooms include a library with a collection of rare books and manuscripts, and also a kitchen, pantry, tailor shop, laundry, infirmary, bindery, carpenter's shop, and forge. As far as possible the monks work alone, each in his own obedience.
Aside from the chapel, perhaps the most visually impressive room at St Hugh's is the Chapter house, decorated with images of the martyrdom of the monks' predecessors. The Great Cloister (the square courtyard with a covered walkway around the outside - seen above) is more than a kilometre long. It is one of the largest in the world, and many of the monks have bicycles simply to move around it.
The cloister includes four acres of orchard, the monastery burial ground, and it connects to the 34 hermitages (religious retreats) as well as the church. Whilst there are 36 cells for the brothers and about 100 other rooms, only 27 monks currently reside at Parkminster. The number was as high as 70 in 1928, but had dropped to 22 in 1984. The brothers come from all over the world, and currently there are monks from India, Vietnam, Japan, Australia, America, Spain, Hungary, Italy, France, Ireland, Holland, Poland, England and other countries in Europe and further afield.
A Parkminster brother said: "At the beginning of last century there were about 90 monks. You must not forget this house was built as a house of refuge, housing monks from different countries in war time. "They had to leave France, Germany, Italy or Spain and this house was full. So the house was built to be big. We will get some (more brothers) but I think if it goes over 40 it will be too much, because we require solitude.
"We would prefer a more isolated location, where there is no interference. Every new monastery is built in the mountains in the most silent surroundings. There are places in Wales and Ireland where this could happen and that is what we would love. We had been thinking to sell the whole property at one time, but then who will buy this
property? It's a big problem. And all the dead monks in the graveyard, what must we do with them? But after the renovation, we decided we should stay here."
Back in 1990, the English Heritage supported the monks in a costly renovation of St Hugh's Charterhouse. Having considered selling the Charterhouse to buy a village in the West of Ireland, the monks decided to refurbish St Hugh's having received several new vocations. An architect, Mr J Warren of Horsham, presented the monks' case to English Heritage and they provided 33% of the budget.
As the monastery is listed, the monks are obliged to keep the whole building wind and waterproof so that was a priority. The cells (the name given to a monk's home) were then refurbished to make them liveable for modern men. English Heritage does not help with windows or underground works but they do contribute to most other major rebuilding costs. There were seven phases lasting about ten years involving five or six tradesmen.
They didn't need to call in an interior designer though. One Parkminster brother said: "The Order has no scheme for colours but is simply opposed to any form of luxury in our buildings."
This lack of luxury is best demonstrated with a tour of the cells. On the previous page, in the picture of the orchard, you'll see 14 of these cells, each attaching to the corridor of The Grand Cloister. They are every bit as big as they look, but a monk's home is a simple affair. We enter through a small lobby area, where there is little of note, before heading on to what might be your lounge. Here though, it is a wood cutting room. There are no pictures on the walls, no carpet (only stone floors here). Just wood and an axe, as each monk must chop his own wood for the stove.
The next room, which might make a lovely kitchen, is a home for the monk's gardening tools. Each cell has its own garden, and many choose to grow vegetables here, although the monastery does have its own allotments and a large nursery too. One of the monks is a highly qualified gardener from Australia (there are many skills among the monks - one brother from Spain is a renowned artist and has created many paintings of
Parkminster) Upstairs there is a prayer room, with little else other than a prayer kneeler and a statue of the Virgin Mary.
The main living area is upstairs and incorporates a bed, a stove, a table for study, a small eating area where a monk eats by himself three times a day, a bookshelf with a handful of religious readings (the bible being one, naturally) and since the renovation each monk has a toilet, shower and basin. Previously, the monks had always needed to carry the water inside. This main room does at least have wooden flooring. A Parkminster brother said: "The stove keeps the room nice and warm and it the only place in the house with heating. All that you need is here. The most important book is the bible. If you're inspired during a service then you look up in the bible where it is written and then you read it again or meditate about it.
"We get one weekly newspaper from the Vatican, the Catholic Herald in England, and also The Tablet (an International Catholic magazine). It gives us an overall picture of what is going on in the church and in politics."
Contrary to what you may have heard, the monks do not only eat bread and water. The monks at Parkminster eat fish three times a week, eggs twice a week, enjoy dairy products and just once a week there is a fast of just bread and water. During the great monastic fast, which lasts from 14th September to Ash Wednesday, except for Sundays and feast days, dinner is an hour later, and supper consists of a glass of wine and a crust of bread. Meat is never allowed on any account, though, in a case of life and death, the monk may, if not solemnly professed, be
dispensed.
So many apples, pears, plums and other fruit are grown that much is given away to family and friends and visitors to the outside chapel. Once a year, a monk can invite his family to stay outside of the monastery at St Hugh's. The Carthusian Monks can speak to men and women, although women are not allowed into the monastery.
"Prayer is our main task", says the Parkminster brother. "You get up at about midnight every day, and at 12.30am we go to church until about 3.30am. We pray for the world, as that is our task. That is the reason why we live here together, brothers from all over the world. It is the essence of our life and if you are not here for that purpose you will not last.There are testing times along the way. That's why it takes seven years before you decide if you are ready. Only about one in forty, I would say, makes the final promise."
Once admitted, a candidate becomes a Postulant for a period of up to a year, before he decides to become a Novice and full member of the community. After two years he takes vows of obedience and conversion of his ways for three years. This Profession or Donation is then renewed for a period of two more years. At the end of this period, if all concerned are satisfied that he is able to live the Carthusian life and is genuinely called to it, he makes his final and solemn Profession or Perpetual Donation. This includes disposing of all his worldly possessions, inside or outside the monastery.
Many monks go on to live to a ripe old age. Once they have died they are buried in a graveyard in the monastery.
A Parkminster brother said: "A burial is a special event. The brother has reached his end and we are hopeful we will meet him one day in heaven. It is not sadness but a celebration."
The monks normally go to bed at about 7.30pm, and go back to bed after their early morning prayer. They all come together for further prayer after breakfast - with monks keeping abreast of the time through the bells of course - and in the afternoon, when hymns are sung or 'chanted', in English and Latin during vespers.
A CD of hymns was produced by the Carthusian monks at Parkminster and CDs from other Charterhouses from all over the world are available on the Parkminster website.
Yes, the Carthusian Monks at Parkminster have a website - and a very good one too. Monks are not allowed their own computers, but there are 'computers of the house' which some of the younger monks use for homework and writing letters. You might also be surprised to know that the monks even leave the grounds of Parkminster. A Parkminster brother said: "We go outside of the walls, even outside of the Parkminster land, one afternoon a week, for a walk. It is usually on a Monday.
"There are monks who hardly speak during the day as they are mostly in the cell, so on Monday they come together and talk. We walk in pairs and exchange walking partners occasionally. All of the monks are happy to talk."
Toby and I said goodbye to the brother who had been so kind with his time and information, and left in our cars, with a bottle of apple wine in the side of the door. Later that evening, I enjoyed a glass with my wife after putting the children to bed, and we spoke about the monks and how a person can come to make such a commitment.
And I was left to ponder the words of the Parkminster brother I had spoken to in the day. "It can be very difficult for others to understand and accept, but every one of us has a vocation in life, and we are all free to choose."
For more information visit the website at https://www.parkminster.org.uk/