The Monks of St Hugh's Charterhouse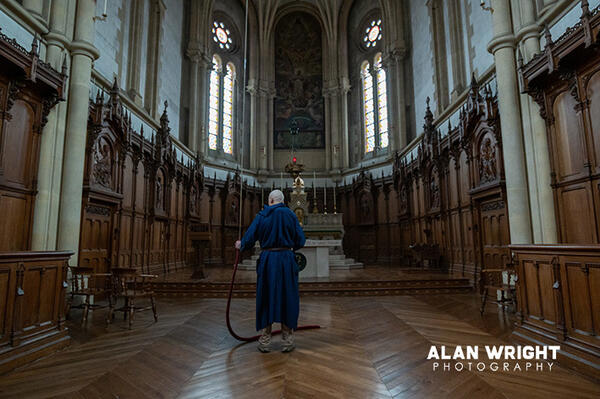 In 2011, AAH visited St Hugh's Charterhouse, Parkminster. Readers have asked us about it ever since, fascinated by the lives of the men inside the only Carthusian Monastery in the UK. Here, we return for the first time in ten years...

One of the monks greets us before we even reach the front door of St Hugh's. Almost immediately, Brother Patrick quashes some of our preconceptions. He's wearing a stiped apron over a blue habit, the name given to a monk's long, flowing garment. The hood is lowered and he's wearing a woolly hat to keep warm.
He's a surprisingly good conversationalist too. By the time we've walked the slightly arched bricked pathway to the church, we've already discussed the challenges of pressure washing a listed building, and why the statue of Saint Hugh depicts him with a swan at his side. In transpires that while at Lincoln, the swan was St Hugh's constant companion, even guarding him as he slept.
The 203ft spire at the heart of the 240-acre monastery (also known as Parkminster) can be seen from several miles away, nestled amongst farmland between Cowfold, Shermanbury and the hamlet of Littleworth to the west. In the first half of the 20th century, the monks would often by seen walking in Cowfold village, but now tend to stick to rural footpaths during their weekly walk outside the grounds.
Inside the Chapel, at 12:30am every night, the monks come together for Night Office, where there is silent prayer, readings and Gregorian chanting over the course of two to three hours, depending on the day. Each monk has a Book of Psalms, with scripture from the Old Testament. Small electric lights dimly illuminate the Latin text, while the Church itself remains in darkness. "It's best to go to bed about 7:30pm," says Brother Patrick. "That gives you four hours' sleep and then you can go back to bed for a few more afterwards."
Mass is held in the morning (there's no breakfast for the monks) with Vespers in the afternoon, where the monks chant from religious scripture. A source of continued intrigue to the outside world, recordings of Carthusian chants are available from the 'Shop' section of the Parkminster website. And we've not even made that up!
At St Hugh's, there are Fathers (sometimes referred to as hermits, choir monks or priests) and Brothers (monks converse). The Fathers spend most of their day in solitude in their individual houses, called cells. They occupy their time with prayer and reading, and it is the Fathers who are associated with chanting. The Brothers also commit to a life of solitude, but their prayer routine is perhaps less stringent. They are more likely to be seen in blue habits – rather than the white habits used for prayer - as they're involved in occupational aspects of the monastery, as cooks, gardeners, librarians and janitors. There's also a tailor who shapes and sews the habits from fabric.
The Chapter House features incredible (if grisly) paintings of the Carthusian martyrs of London Charterhouse. Eighteen Carthusians were martyred for refusing to accept Henry VIII as the Head of the Church in England. Paintings show the monks being hanged, drawn and quartered, with one forgiving his executioner. During Reformation, the Church of England broke away from the rule of the Pope and the Roman Catholic Church. All of England's nine Carthusian monasteries (including London) were dissolved between 1538 -39. St Hugh's wasn't founded until 1873, bought to house Carthusians exiled from the continent. It was designed by French architect Norman Clovis and took 600 workers about six years to complete.
The Chapter House is where each monk is first introduced to the St Hugh's community. Brother Patrick said: "Initially, you attend a retreat. If you're happy and want to stay longer, you become a Postulant for several months. The monks then vote on whether that person can stay as a Novice for two years, during which time they can walk out at any time or can be asked to leave. After this period, they take the vows of obedience and conversion and commit to three more years. The Profession is then renewed for two more years. If everyone is satisfied that he can live the Carthusian life after seven years, he can make his final and solemn Profession, which includes disposing of all worldly possessions."
"The Carthusian vocation is an extreme way of life. There's a lot of solitude as you're cutting yourself off from the world. You can see how some would benefit from spending a couple of years here, but few can devote their entire life. So, the process allows people to gain an understanding of what they want from life. There are different Catholic orders, including Benedictines, Cistercians and Trappists, that some may be better suited to. It depends on the life you wish to lead."
There are currently 26 monks, meaning some of the cells are unoccupied. A century ago there was closer to 100, as Parkminster housed exiled monks from across Europe. Today, Brother Patrick is the only Englishman among them.
There have been no new arrivals yet in 2022, but two joined last year, both Americans. That might not sound a lot, but it's an influx compared to the latter part of the 20th century. Brother Patrick arrived in 1994, a year after another man, but before that there had only been one new Carthusian in the UK in about 20 years, resulting in a much older community.

When a monk dies, they're buried in the cemetery. There are no administrative hassles, as they've given up all worldly possessions. Brother Patrick said: "Monks are carried out on a wooden plank, wearing their best habits. It's a nice and very simple ceremony."
The cemetery is surrounded by four acres of orchards, which in turn are bordered by The Great Cloister. A kilometre long all the way around, it's one of the largest of its kind in the world and monks sometimes use bicycles to relay messages. Behind the cloisters are the cells where monks live. The Fathers usually only leave their cell three times a day (for Night Office, Mass and Vespers) with their meals left outside of their door. Each cell is the size of a detached house, but without the luxuries. Downstairs, there's a wood-cutting room with an axe and small pile of wood for the stove, with a second room used for indoor work or storing gardening tools. Upstairs is a prayer room with a statue of the Virgin Mary. The main living area, the Cubiculum, has a wooden bed with a blanket and pillow, a stove, study table, small eating area, bookshelf and a toilet, shower and basin.
In 1990, there was a costly renovation, partly funded by English Heritage. The Carthusians considered selling the site and moving to a more isolated, less ornate building. For many reasons, this idea was dismissed and essential repairs were made instead.
The monastery has its own allotment where potatoes, leeks and onions are grown. However, most food comes from the shops. Brother Patrick has been the chef for more than a decade and lives above the kitchen for convenience. Meals are simple affairs, including tuna fish, curry and rice, omelettes and soup, but no meat. During the great monastic fast, supper usually consists of a glass of wine and a crust of bread.
There's no shortage of fruit with apples, pears and plums grown in the grounds, but there's not enough hands for the monks to be self-sufficient. "Growing food is labour intensive and there's not enough of us to do it," says Brother Patrick. "Certainly, it there were 10 more brothers, we could easily find work for them."
As we walk the cold and draughty Great Cloisters, brightened intermittently by bursts of sunlight reflecting through the windows, we talk to the Brother about his own life and how he came to be at St Hugh's. He grew up in Norfolk and arrived at the monastery aged 39. Having previously worked in computing, he calls himself "a white collar monk" who lacks some of the skills of previous generations, who would often use the monastery's forge.

He said: "I was a single man who was rushing around, working hard. I had a nice detached house with a third of an acre, but was constantly toying with issues surrounding my life. How badly did I need all these things? What should I do next? People talk about travelling and seeing new places, but I found I just took my troubles with me. It's nice sitting on a beach, but I would still ask myself, "What am I doing here?" If you look at your life as a work of art, I didn't know what I wanted the result of my life to be."
"I was always impressed by Mother Teresa and although I couldn't serve people in the way she could, she inspired me to take a different path. When I arrived here, I immediately felt I was in the right place. I was Baptised a Catholic, but didn't take to it particularly well so people who knew me long ago would be surprised that I became a Carthusian monk."
The monks can invite family to stay in guest houses once a year. Brother Patrick has three brothers and the closest to him in age has visited many times. "My family were supportive when I first came here, but my decision was hard for them to understand and I'm not always able to articulate exactly why I'm here. My parents, when they were still alive, visited regularly. When they saw I was happy, they were accepting. I have changed a lot since and my communication with my family has improved since I have been here."
"When it comes to other guests, there needs to be a balance though. We want to be open and approachable, but monks have chosen a life of solitude. If you show people around, it changes the atmosphere. We just walked by a brother pulling a trolley full of firewood, and it's very unusual for him to see visitors in the Cloisters. If that happened daily, it would change things, because there isn't solitude."
St Hugh's has a beautiful library where a statue of Our Blessed Lady looks out across a collection of rare books and manuscripts. One book in the cabinet is a handwritten copy of The Cloud of Unknowing, a spiritual guide to contemplative prayer written in the late Middle Ages. The copy was written by one of the Carthusian martyrs depicted in the Chapter House paintings and remains in excellent condition after almost 500 years.
Brother Patrick said: "Many of the books don't have much practical use, but are part of Carthusian heritage. Much of it is scripture, liturgical works, moral theology, or Books of Psalms. We also have countless documents, as the Vatican never stops creating new ones. I believe some books were donated by the King of Naples and we have the complete works of Italian philosopher St Bonaventure. While they have their place, they're out of date and not much use to scholars."
The books have acclimatised to the chilly temperature and maintained a remarkably good condition. However, the monks are gradually creating a new library downstairs and transferring important works on to computer. As well as modern books on Catholic philosophy, theology and scripture, there's a selection of classic fiction too by the likes of Dickins and Tolkien. The monks also receive a weekly newspaper from the Vatican, a Catholic magazine called The Tablet and National Geographic, which provides some information on world events for those who wish to know.
The final part of our tour took us to the cellars, where the monks make apple wine. The Carthusians have a long and illustrious association with alcohol, having made Chartreuse, a French herbal liqueur, since 1737. It is named after the Grande Chartreuse monastery in the Chartreuse mountains of Grenoble. The liqueur is still made today, with only two monks knowing the secret recipe. Chartreuse still provides a source of income, but doesn't sell in the volumes it once did.
At Parkminster, the monks have made apple wine for more than 30 years and have previously sold it at nearby farm shop, Jeremy's Two. Sadly, it's not currently being made, although some wine still remains in the barrels. Production has been overseen by one of the Brothers, but he is now among the older monks and isn't strong enough to make it alone.
Brother Patrick said: "Last year, the cold April meant we had a poor crop and we didn't make any apple wine. If we get a good crop this year, perhaps the Brother will supervise production, otherwise we will lose that knowledge. When that happens, it can be difficult to get it back. But us younger monks don't drink the wine in the quantities that the monks used to. To be honest, we prefer a nice cup of tea!"
Further information: For more on the Carthusian Order and to buy books, postcards and music of Carthusian chants, visit www.parkminster.org.uk

This article was updated on 1st March 2022
WORDS: BEN MORRIS / PHOTOS: ALAN WRIGHT