Habitat Restoration at Chesworth Farm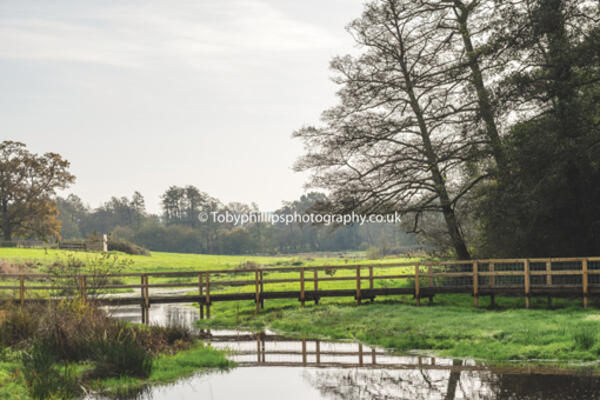 Whilst the countryside wardens were desperately trying to save a handful of fish after a calamitous error at Warnham, there was better news for wildlife at the other end of town. A large scale habitat restoration project was nearing completion at Chesworth Farm.
It is hoped that extensive work, completed at the end of October, will transform the dry meadow into a wetland habitat, benefitting a wide variety of wildlife species. We'll benefit too, as much of the 90-acre Chesworth Farm site is accessible to the public. The land is owned by Horsham District Council, and is managed as a countryside site for 'informal recreation and nature conservation.'
It seems incredible that Chesworth Farm is still, quite accurately, referred to as 'a hidden gem of Horsham' as a large percentage of residents know very little about it. Yet it's an area steeped in history – one of Henry VIII's wives, Catherine Howard, lived at neighbouring (and still privately owned) Chesworth House. The farm is used by many people as it offers rural tranquillity on the fringes of Horsham town centre.
Tim Thomas is a member of the Friends of Chesworth Farm, a group formed in August 2011 to 'foster and promote the preservation, enhancement, improvement and appreciation of Chesworth Farm.'
He said: "We don't get hordes up here, but on a nice day you will see about 30 people, primarily dog walkers, in the fields. There is certainly an increase in the number of people coming to have a look at the farm, especially since we've had llamas, pygmy goats and most recently five British white cattle here at Chesworth."
Funding for the farm
The restoration project has been partly funded by a grant from the Arun and Rother Connections Project (ARC). Money has also come from housing developers, which often contribute towards community projects to help their planning applications.
Every step along the way, the council has had to seek advice from experts at organisations such as from Sussex Wildlife Trust, RSPB, and even fungi specialists!
David Moore, also a member of the Friends, said: "When you start a project like this on a natural habitat, you have to know what is there already. It takes a while just to build up a picture of what flora and fauna is there, before you even start thinking about what will or might be there eventually. It required a massive amount of information from various people, and we've constantly surveyed and recorded relevant information. We've even had an archaeological society visit the site."
Official Opening
An official opening event was held on Saturday 1 November, and Horsham District Council hopes that the new look are will entice more people to visit the farm, as well as providing a better habitat for wildlife.
The work has been carried out in the Riverside Field (obviously the field closest to the River Arun). Heavy machinery was brought in to excavate part of the river bed, and lower the level of the bank.
A narrow drainage channel has been created too, to reconnect the river with a low lying wet flush running through the field. This means the river flow can spill over into the field, as it would have originally done. To protect the area, fencing has been erected to limit disturbance to sensitive areas.
However, an all-weather path has been put down, and a boardwalk, bird hide, and information boards means that the public can enjoy the habitat at close quarters without jeopardising its recovery.
The idea to revitalise the area was partly triggered by a need to do something about the erosion of the riverbank. The bank had eroded to such a degree that it was beginning to make parts of the riverside path potentially dangerous for members of the public.
Diane Sumpter, Honorary Chairman of the Friends, said: "The river erosion is such that Horsham District Council may have closed the footpath because of safety fears. We were discussing the erosion and our ideas developed from various conversations with individuals.
" As the project has finally neared its completion, we have found that the feedback from visitors has been very encouraging. Somebody even said well the transformation is 'incredible.' We thought that, during the building process, people would complain about how messy the site was, but it already looks really good.
"It will look better as time goes by, as a habitat will take about five-years to reach its full potential. But it already has some colour to it."
Nurturing the habitat
The Friends hope that they can nurture more variation in the flora and fauna across the whole Chesworth site.
In recent years, they have managed to raise the number of skylarks on the farm from one pair to three pairs, and they hope that the wetland habitat could soon encourage the likes of the Emperor dragonfly, grey heron and perhaps even water voles and otters.
Tim Thomas, of The Friends of Chesworth Farm, said: "We have an extremely unique habitat, made even more unique by a couple of rare plants which have only been found in Sussex, and even then only at five sites along the Arun.
"With this type of wetland habitat, you are looking at the ground layer in terms of the food web. By
providing different types of plant, you attract different types of insect which in turn attracts different types of birds, mammals and so on.
"We hope that by restoring the habitat, we can increase the number of waders. We already see Snipe come through and we hope to attract birds such as the common sandpiper, and perhaps the green or wood sandpiper too. "But it's so difficult to know. You can't just say, 'we've built this, now we're going to see lapwings and
redshanks.' It doesn't happen that way. It requires a whole host of interrelated links to a food web.
"But we can try to encourage a food web through habitat management and creating wetlands, and that is very much what we hope to achieve here."
If you'd like to know more about Chesworth Farm, visit www.friendsofchesworthfarm.com