Muntham House School in Barns Green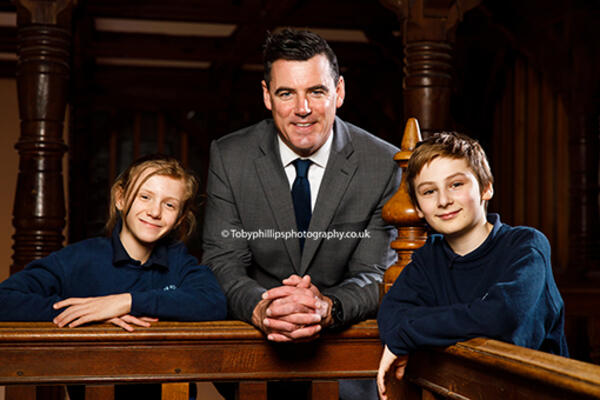 Published on 1 December 2019
Muntham House School is a special school in Barns Green. Set in 23 acres of countryside, Muntham House provides boarding and day provision for boys. Because of the nature of the school, every day brings new challenges. However, the school received an 'Outstanding' rating from Ofsted and is now expanded its programme, says Principal Harry Anderson.
What age children does Muntham cater for?
We have five-year-olds through to 18-year-olds. While they're on one site, it's structured so that children don't crossover between pre-primary, primary, secondary and the Extended Education Unit (EEU). In Year 6, pupils attend classes in practical subjects including D&T, Science and P.E to make the transition to secondary education easier.
How does a pupil come to be at Muntham?
Often, they have been permanently excluded elsewhere, sometimes several other schools. In some cases, Local Government authorities work with families and schools and arrange a "managed move" for a pupil. That's when they have recognised that a boy has a serious Special Educational Need (SEN), often related to autism, which mainstream schools are not equipped to deal with.
Muntham has a reputation as a school for naughty boys…
There's really no such thing, as behavioural issues are normally unpinned by Special Educational Needs. Fortunately, mainstream schools are getting better at organising managed moves, which is a good thing, as it prevents a permanent exclusion being on a child's record.
Can a child be permanently excluded from Muntham?
We do everything to avoid it. We have very committed staff and there is a feeling of us having failed a child when it happens. But we need to protect our cohort and wouldn't ever place pupils at risk. We have a strict anti-drugs policy, and a pupil caught with drugs earns an automatic exclusion. We don't budge on that. However, permanently exclusions are very rare.
How many pupils do you have?
We currently have 73. In a mainstream school, there may be over 30 children in a class, but our maximum is eight. Typically, we have six pupils with two adults, with a maximum staff ratio of three to one. That means the boys' education is accelerated, as is their social and emotional development.
Is it hard for pupils to settle in?
It can be. Some give kudos to being excluded from school and may arrive with a reputation. So, it's a process of stabilisation as a pupil learns the boundaries and the school's ethos. No matter how hard things might have been for them previously, they get a clean slate when they arrive. Everyone is equal and is treated with the utmost care and attention by the staff. Children can come here after a string of negative experiences, but from day one we try to make them feel safe.
How do you maintain discipline?
It involves the effort of everybody who works here and pupils too. Everyone must line-up for morning assembly, which is formal and old-fashioned, but it works. We do the same before lessons and teaching doesn't begin until the school is silent. This policy creates mutual respect between the pupils and staff and now happens quickly.
How long have you been the Principal?
This is my seventh year. I was previously Deputy Head at Mount Tamar, a special school in Plymouth. Prior to that I was Assistant Head at a tough school in Croydon. But Muntham is well-established as a leading residential special school and I relished the opportunity to come here.
What improvements have you introduced?
My vision over the last couple of years has been to create the pre-primary facility. I knew there was a need as families have contacted us requesting help with Key Stage 1 children, but there wasn't anything for them. It took a huge fundraising effort and meant us gaining approval to teach Key Stage 1. However, we were successful and the facility opened in September 2019. It's among the best of its kind in the country and we have five children with autistic or other SENs using it, alongside specialist staff.
Presumably those children haven't been excluded elsewhere?
At that age, they will not have been officially excluded. However, in some cases pre-schools have refused to take a child back and they've been threatened with permanent exclusion, which is sad and shocking. That's where we can step in and be a positive influence on a young person.
Is the aim to get them back into mainstream schools?
Absolutely. Through early intervention, we can hopefully integrate boys from the pre-primary classroom back into mainstream education.
How does Muntham create a comfortable learning environment for pupils with SENs?
We've worked hard to create an autistic friendly environment. For example, our primary and secondary classrooms are identical in terms of layout, furniture, décor and carpets, with only the subject displays changing. We also have "wiggle seats" so boys with ADHD don't become unsettled, and we use touch-screen technology to engage them in learning. Those extra details make it easier for autistic children to step up to secondary school. Consequently, there's less stress and anxiety.
Do you hope to reach more young children?
Our numbers are about right, but there are pre-primary children with SENs that may not have been diagnosed. Mainstream schools are struggling to support them and can't offer what we can, so I'd like to reach those pupils in West Sussex and Surrey.
Are classes run differently to what you'd normally see?
It's important that pupils like going to lessons and stay there, so they must be engaged in learning. We have excellent facilities and use music, art and technology to increase their learning. In many special schools, just getting children to the end is an achievement, but we do more than that. We prepare them properly for adulthood and employment.
In what ways do you do that?
We have mandatory work experience, as it's difficult to get a job and even harder for those with Special Educational Needs. We do everything in our power to provide the best route to qualifications and to ensuring they have life skills. We adopt the 'Work Life Ready' scheme for 16-18 years-olds, which covers topics like setting up a bank account. It's all about preparing them for the next step.
You take pupils through to A' levels then?
Pupils can leave Muntham after GCSEs or continue for another two years. For those that do continue to Sixth Form, we often work in partnership with local colleges. One pupil is studying for three A' levels, attending Collyer's three days a week, where he socialises and interacts with students who have gone through mainstream education. He attended a residential trip with them, staying in London and watching West End shows. For him, that's a huge step forward.
What does the Extended Education Unit (EEU) provide?
We're very proud of the EEU. It's becoming increasingly important to offer boys a curriculum based on their vocational preferences when they turn 16. That's what the EEU offers, with support from a personal keyworker. At that age, the boys have their own studio flat and develop more independence. We also work with the Outward Bound Trust, with pupils attending an activities-based residential in the Brecon Beacons or Lake District, where they're pushed to their limits. The focus is on developing confidence and making them well-rounded young people.
Do many go on to University?
Even during my time here, we've had eight pupils go on to university and one has achieved a Masters. Junayd, a current Year 11 pupil, has been a true success story. He joined in Year 4 and it's been a rocky road for him at times. However, there's been a dramatic turnaround and he's now one of our most committed students. He attends every lesson and revises most evenings. Junayd received a fantastic report after work experience with Sussex Police and will sit eight GCSEs. When he arrived, he'd been deemed unteachable.
He was featured on the Channel 4 documentary?
That's right. The documentary was called The Last Chance School and aired five years ago. Junayd was one of three boys who became key characters as they filmed here over the course of a year.
It was brave to invite cameras in…
I first arrived at the school halfway through filming and was sceptical, as documentaries can sometimes have a set agenda. Overall, the programme offered a good reflection of the school, even there was a little too much focus on negative behaviour. It was still clear to see the love and care that the staff have for the pupils.
Does boarding enhance the learning experience?
We try to create a home from home for pupils and boarding facilities have been improved in recent years. The kitchen space is a great communal area, so our pupils can get involved in cooking, washing up and other chores, much as they might at home. Then there's quiet time when they can play games or watch a film, before reading time. The idea is to maximise the learning experience and create an environment where children are happy.
Do boys go home at weekends?
Yes. I think it's beneficial for children to see their families at weekends. However, we do offer a fun respite weekend, which is a good way of building relationships between the pupils and staff away from the classroom.
Is there an equivalent school for girls?
Not locally. We have discussed the possibility of a co-educational school, but I think it would be too much of a culture shift for our current pupils.
What does the future hold for Muntham House School?
I'd simply like us to carry on providing an outstanding service and do all we can to turn lives around and ensure our pupils have a chance to become successful young adults. Working here can be a challenge and every day is different. However, I'm very fortunate to have an incredible team around me, as well as an experienced and committed team of governors, and we're all committed to making the education and care provision is as good as it can be.
For more details about Muntham House School, visit: www.muntham.org.uk