KNEPP SAFARI: STEP BACK IN TIME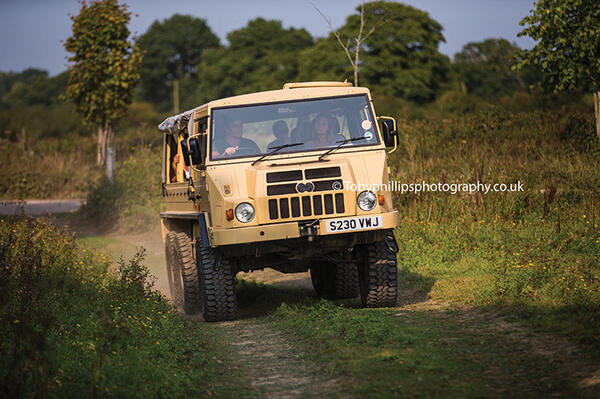 Published on 4th October 2016
There was a time when a privately-owned 3,500-acre estate stretched across land to the south of Horsham.
There was a scattering of dwellings, along with the ruins of a 12th century castle, but the land was not farmed. Instead, wild animals including Tamworth pigs, Exmoor ponies, fallow deer and Longhorn cattle grazed the land, whilst birds of prey nested along the River Arun, which meandered through the estate.
Red deer would engage in ruts to command power over the herd; turtle doves would breed on the land and, during spring, a handful of inhabitants staying in tipis or tents would be woken by the Nightingale.
If such an idyllic setting makes you pine for the simpler life of days long gone, then fear not; this is precisely what is happening today on the Knepp Estate.
Knepp has been owned by the Burrell family for over two hundred years, and today Sir Charles Burrell lives at the castle with his wife, Isabella, and their family.
The John Nash-designed castle, which looks out over the stunning Knepp Lake, is one of the most historic and beautiful homes in the county. But it is the unique conservation project in place across vast tracts of the estate that is proving more interesting to the wider world.
For generations, land on Knepp estate was used for farming, both arable and dairy. However, on land that was not suited to productive and versatile farming, Charles consistently struggled to turn a profit.
Faced with diminishing dairy quotas and with facilities in need of expensive modernisation, he began to look at alternative income options for the land.
It was only after Charles and Isabella visited a site in The Netherlands, where land had been successfully reclaimed by nature, that they made a very bold decision; albeit one that was not well received by all.
Speaking to AAH in 2011, Sir Charles said: "We decided that the time had come to abandon the way we had farmed the land. Instead, we opened up the estate to land regeneration, to explore ways that unproductive former agricultural land can be used to benefit British wildlife."
The regeneration process began in 2001 with the introduction of fallow deer, Exmoor ponies, old English longhorn cattle and Tamworth pigs on 750 acres of the estate. Early success saw the grazing area extended by 750 acres in 2005, then a further 1,000 acres in 2009.
The project has created an income source for the estate, with some of the animals - including the longhorn cattle - harvested for meat.
NATURE FIGHTS BACK
Fifteen years since the start of the re-wilding project, the transformation of the estate from arable farmland to natural habitat is more evident. With only gentle land management, brambles and bushes have taken hold in some corners of the estate, providing habitat for many bird species, whilst wild-flower meadows have helped insects, particularly bees and butterflies, flourish.
Ecologist Penny Green, who formerly worked for Sussex Wildlife Trust, co-ordinates biological monitoring of the re-wilding project.
"We have no management plan, as this is not a nature reserve," said Penny. "We have watched what has happened and monitor progress. In the southern block of Knepp, which we've allowed to naturally regenerate, we've seen scrub-land develop, providing an important staging post for migrant birds.
"Warblers and nightingales feed in the scrub, which is an increasingly rare habitat. Knepp has incredible habitat variation. We're seeing a huge transformation of farming land, with oak saplings starting to come up. In only five years, we are seeing the early days of a wood pasture system; a grazed meadow area with oak trees.
"There's also been an extensive river restoration project, for which we received grant funding, to restore the canalised river back to a meandering river. This was a time-consuming job, but it's meant that we've slowed down the flow of the river, encouraging birds like lapwings to breed here, and dragonflies too.
"We 've seen some amazing things during the course of this project. Nobody could have predicted what was going to happen and what species would turn up; but honestly, you couldn't have planned it better."
POPULAR SAFARI TOURS
Rachel also acts as a guide on the increasingly popular Knepp Safari tours, run alongside a fascinating camping experience (see separate article) at New Barn Farm, Dial Post.
Half day safaris are available throughout the season, with occasional safari specials focusing on nightingales, bats, deer ruts or the purple emperor butterfly.
Penny said: "It is like stepping back in time. Centuries ago, horned cattle called Aurochs would have grazed here, so we now have a herd of longhorn cattle. We can't have wild boar as we did not want to build fencing, which would have been necessary as public footpaths cross the Knepp estate. So instead, we introduced Tamworth pigs.
"Exmoor ponies roam the estate, as well as red deer and a healthy herd of fallow deer. Last year, we briefly had record-breaking antlers for a fallow,which is a sign that we have good genetics.
"However, Knepp has become just as important for rare species of bird. There has been a massive decline in cuckoo numbers in the last decade, but we are helping this species with our natural scrub-land. We've recorded 13 of the 18 species of bat found in the UK on the estate, including Bechstein's and Barbastelle, which we're very excited about. They are using the hedges, tree lines and streams.
"Because there are no pesticides in the ground, insect feeders like the lesser spotted woodpecker and the little owl are nesting here too. In a single cow-pat, we found 26 different species of beetle. It's not pleasant work, but the results were very encouraging!
"Finally, we have our Holy trinity; the turtle dove, the nightingale and the purple emperor butterfly. The turtle dove is close to extinction, so we are very pleased we had singing males here last year. We recorded several breeding pairs here, so what is happening here is something truly special."
The Knepp campsite is open until the end of October, during which visitors can enjoy deer rut safaris, before closing over winter. For details on the campsite and safaris, call 01403 713230 or visit www.kneppsafaris.co.uk
REPORT: BEN MORRIS
PICTURES: TOBY PHILLIPS
Booking details for the safari
are outlined at the end of our Knepp camping feature on
Page 40.