Lifespring: A New Church for Horsham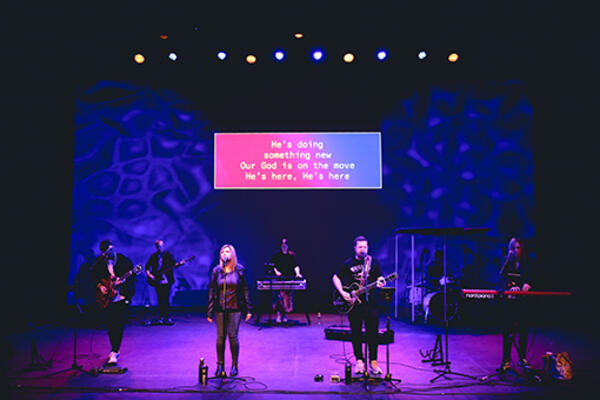 Published: 1st January 2019
A new church launched in January with the aim of making Horsham a better place to live. Lifespring is a reincarnation of King's Church, part of the Newfrontiers network of evangelical churches around the world. King's has congregated at Tanbridge School for 21 years, but after a trial run in November, Lifespring will meet at The Capitol every Sunday morning from 6 January.
Lead Elder Andy Robinson said: "King's Church was formed 24 years ago and we've been at Tanbridge for all but three of those. Tanbridge has been a wonderful venue, but for a long time we've wanted to be based centrally. We felt that God had spoken to us about how we could better serve the town as a church and so, for the past year, we've been working towards this new adventure."
"This is a new beginning for us. We believe in the name being significant and we want to be a spring of life and a blessing to Horsham. We want to help the town flourish and be a better place for everyone."
To coincide with its launch, Lifespring is distributing thousands of 'Love Horsham' cardboard discs, or tokens. More than 10,000 will be circulated, from the church as well as cafes and local businesses. "Horsham is a great town, but it could still be that little bit better if we just loved each other a little more," says Andy.
"This initiative encourages people to be more considerate of those around them or even perform random acts of kindness. By leaving a 'Love Horsham' token, hopefully one good deed will lead to another. A similar idea worked very well in Bedford and there's been social projects like 'Do Something for Nothing' in London, so it's not a new idea. It's just one that we'd like to spread in Horsham. Whilst it is something we'll promote throughout Lifespring, we hope all residents will view this as a way of making a positive contribution in the community."
A website (www.letslovehorsham.org) suggests different ways in which people can be involved, from anonymous acts of kindness to volunteering at a night shelter.
Elder Jos Wintermeyer said: "The idea is that the discs will help people widen their perspective and look at situations around them. When you mow your lawn, could you spend a few extra minutes mowing your neighbour's lawn too? There are also people of all ages, particularly the elderly, who are lonely and would benefit hugely from the company of those living around them, if only we'd allow for that time."
"Horsham is a great place to live, but let's not get complacent. Let's try to make it even better."
Another way in which Lifespring hopes to change Horsham for the better is through its involvement with the Christians Against Poverty (CAP) campaign. This national initiative helps families in poverty by equipping and empowering local churches.
Andy said: "CAP was created by a Christian who sacrificed a career in finance to help people manage their debt. Over the years, it's become increasing important, reaching thousands of families across the country."
"CAP identified the five main causes of poverty (debt, addiction, breakdown of education, employment or family) and tackles these causes. Martin Lewis, the money saving expert, has even highlighted CAP as one of the few schemes that considers the emotional toll of poverty and debt, as he is a big supporter."
"So, we'll be involved in CAP and as part of that will organise life skill courses. We'll teach people how they can better manage their finances or cook healthy meals on a tight budget. Skills that are vital and yet not always taught in schools."
"We asked ourselves the question: 'Would Horsham miss us as a church if we disappeared?' We contemplated if the church was serving itself more than anything else. This is a way to change that. We want to be a blessing and spread love in the community."
The new name of the church came to Lead Elder Andy as he slept, and he couldn't shake it. Whilst others in the church were initially sceptical of the name, a sermon delivered by guests at the church married nicely with Lifespring and convinced everybody of its new direction. Now, the church hopes it can have a positive impact on people, as well as on one of the town centre's most popular venues.
Elder Dan Young said: "New developments in Horsham, including a cinema, are going to have an impact on The Capitol, so it's good to be supporting such a wonderful venue. We'll be hiring the entire building on Sunday mornings, with the youth group in one cinema, school children in the studio and the main congregation in the theatre.
"From my perspective, it's great to have a venue with superb sound facilities. We have some excellent musicians, as we like everything to be as good as it can be."
"We are a family-focused church with events and activities for people of all ages throughout the week. We have parents and toddler groups, activities for the elderly and our Sunday meetings are interpreted into sign language too."
"A key focus area is teenagers, as they can be difficult, lonely years for some. We want to create an environment where young people can talk to others and develop healthy, lasting friendships."
For more about Love Horsham please visit https://letslovehorsham.org
Pictures courtesy of Lifespring/Artography Creative Services