Horsham's Gingerbread Revival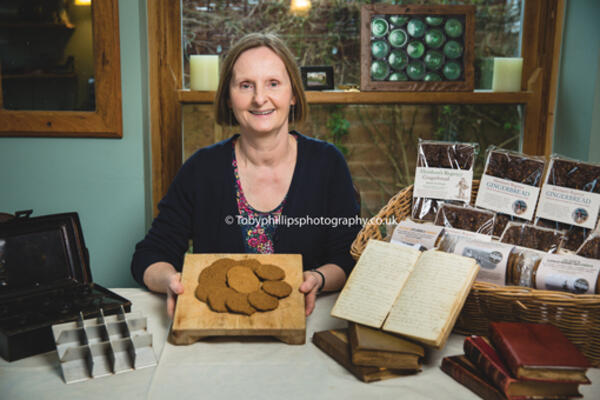 Published on 3 March 2015
Did you know that Horsham was once famous for its gingerbread?
Not quite to the extent that the town became synonymous with gingerbread, like Eccles to cake, Chelsea to bun, Mississippi to mud pie, Brussels to sprout, or Black Forest to coniferous trees. And gateau. Nonetheless, Horsham was indeed noted for its gingerbread, that ever popular treat, particularly during the 19th century.
In 1917, Horsham's last gingerbread maker died aged 83 and his recipe died with him. Horsham had lost its one noted local food. All the town had left was sweet memories and some gingerbread moulds, although even these were initially given to Brighton Museum.
Horsham's gingerbread was all but forgotten about...until 2009. Now, Horsham's traditional gingerbread is back on the shelves, thanks to Lesley Ward. You may recognise Lesley, as she ran Horsham Cheese Shop for about 20 years.Here, she tells us what's so great about a 200-year recipe...
Hit 'n' Miss
Lesley: 'When I ran the cheese shop many years ago, I used to make a lot of cakes and we would also make gingerbread, but it was a modern type of ginger cake. At that time, I didn't know about Horsham's gingerbread history. Some years later, I attended a workshop and spoke to a man who was working at Cowdray House in Midhurst. He was making Tudor gingerbread, which is very different in that it is soaked bread, spiced and dried by the fire. We were talking about gingerbread recipes when he told me that Horsham was once famous for it. I thought I would find out if there was an old local recipe.'
Lesley went to meet Jeremy Knight at Horsham Museum, who as it transpired had long harboured a wish to revive Horsham's old gingerbread recipe. Sadly though, such a recipe no longer exists, or if it does, remains hidden.However, the museum did have a cookbook owned by the Shelley family (Percy, of course, regularly pops up in our historic features for his poetry or questionable parenting skills) who lived in Broadbridge Heath. This cookbook contained a recipe for gingerbread from the same period. Both wanted to see the recipe revived, so Lesley took the book away and started baking.
Lesley: 'It is a very simple recipe and I just played around with it. Initially it was a little hit 'n' miss, in terms of
texture. The main quality of our old gingerbread is its amazing flavour - you can feel and taste the flavours coming through. You have a combination of muscovado sugar, black treacle and butter, and if you substitute any of those ingredients with margarine, cheap oil or white sugar, you lost the flavour. Muscovado sugar, in particular, has immense flavour. In the 1800's, they didn't have the raising agents that we have now so they would whip air into egg whites. As a result, gingerbread was not ginger cake as we know it now. It was more solid.
Horsham Regency Gingerbread was launched at the Weald and Downland Museum two years ago, where there is a medieval shop front taken from Middle Street in Horsham and reconstructed.
Jeremy took several artefacts from Horsham Museum, which had been found under the floorboards of that very same building in Horsham, to enhance the look of the 'shop' at the launch event.
As the gingerbread started to sell in greater numbers, Lesley decided to make the gingerbread at a local bakery rather than at her kitchen table. But still, the recipe was not universally adored.
Lesley: 'Some people don't like the treacly taste to it. The look and colour can put people off too because it is quite dark. However, it is certainly unique. There isn't anything that looks quite like it on the market. Since the first batch, we have tweaked the flavour a little to stabilise the recipe, slightly changing the ratio of oats to flour, which is wholemeal flour from the Lurgashall Mill, a working mill at the Weald and Downland Open Air Museum in Chichester. We wanted the recipe to be just right and loyal to how it would have been made in the 1800's though, as the long-term intention was to make Horsham famous for its gingerbread once again. Like when people think Bath buns or Shrewsbury biscuits, I want them to think Horsham gingerbread!'
Square Meal
Recently, the gingerbread was repackaged, initially for Christmas, with an image from an 1804 children's book. The picture comes from a book of London trades and shows a known London seller.
The picture shows a seller holding up a chunk of gingerbread cut into squares, much in the same way Regency Horsham Gingerbread is cut. There is now also a range of Regency Gingerbread Cookies too, packaged with images from Lesley's youth.
The packet of one flavour depicts a young Lesley running along a Sussex beach whilst another shows her sister resting on the South Downs.
Lesley: 'The biscuit idea really took shape when I met Derwin Banks from The Linseed Farm in Barns Green, at The Big Nibble in the Carfax. We were talking about his linseed oils and I thought I could use it as a local
ingredient and make the biscuits gluten free too. We started with the Gingerbread Thins and then created the Sweet Sussex last summer. With my cheese background, I had wanted to make a biscuit that was a good match for Sussex-made cheese.Our third biscuit is the Sussex Pond Thins, which is a traditional Sussex pudding recipe that gives you a lake of lemon, buttery, brown sugar taste when you break it open. I wanted to take that taste and put it into the biscuit. Not everybody likes ginger, so these other recipes are proving popular.'
New Old Recipes
The next addition to the range is likely to be Sussex Puddle Cake. Lesley is currently at the experimental stage but the cake is nearly ready for the bakery. She is also making new biscuits using an old recipe from the Fullers, a wealthy and influential family in Chichester during the 18th century.
These new recipes will soon be added to the range at Horsham Museum as well as farm shops across the region. The most local to us in the Horsham District include Weston's Farm Shop in Itchingfield, Village Greens Farm Shop in Ockley, Rushfields Farm Shop in Poynings, The Natural Life Shop in Cranleigh, Crates Local
Produce in Carfax, Loxwood Post Office, Kirdford Village Stores, The Village Store in Mannings Heath, The Village Larder in Washington, Union Jack Farm Shop in Cowfold and Wiston Granary.
Lesley: 'Horsham Museum and the Weald and Downland Museum are always the first to have new products, although we now sell right across the south east. I'm always on the hunt from more old Sussex recipes, as I find it fascinating. But it would be nice for people to talk about Horsham gingerbread again. On our website we have a section about gingerbread makers in the town and we have listed their names. There were makers in every part of the town centre, and Brighton Museum had no less than 43 moulds for making Gingerbread from Horsham alone.I hope that somebody somewhere might have links to a Horsham gingerbread family and have some kind of record or artefact - perhaps even a recipe book.'
If you would like to know more about Horsham Gingerbread, visit the website at www.horshamgingerbread.co.uk