ABC Animal Sanctuary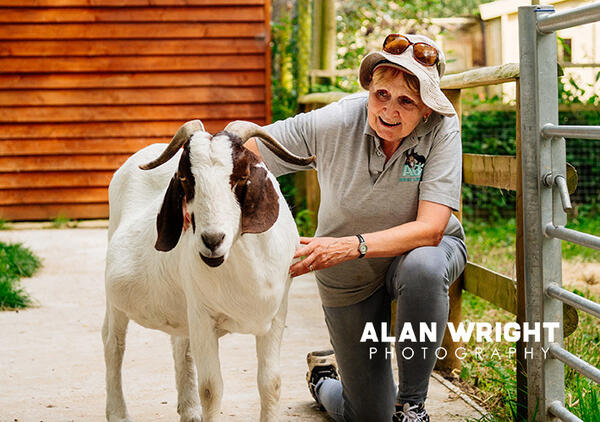 Published on 1st October 2023
West Chiltington-based charity ABC Animal Sanctuary cares for a wide range of animals including pigs, goats, cats, birds and horses. September's Open Weekend gave visitors a chance to groom Shetland ponies Buddy and Raffles, and revel in the mischievous antics of Paddy, one of three Boer goats. For the trustees and volunteers, it also provided an opportunity to recieve donations that could help pay for food and shelter for the animals.
Cheryl Tofield-Cook, Trustee, said: 'We have all kinds of animals, ranging from ducks and chickens to horses and pigs. Some have come to us as they've been mistreated elsewhere, but more often than not it's the case that people are unable to care for them, perhaps because of health problems or a change in their personal circumstances.'
'We try to rehome them where possible. Others become permanent residents here, such as Bluebell, one of our horses, who couldn't do the work that her previous owner required of her, and our cheeky donkeys Starsky and Hutch, who proved too boisterous for their last owner. Puck was one of three pigs who came to us when his owner moved to New Zealand, and has become a permanent resident. He is a friendly boy and enjoys a belly rub from the volunteers. We also have a cattery and there are several animals there in need of a loving new home.'
'All the animals are cared for by a wonderful team. We have more than 75 volunteers, with some able to commit a few hours a month while others are here most days, feeding animals, mucking out, carrying out essential maintenance and repairs, or taking on administrative roles. They're all important as we have no corporate funding. We are also grateful for the support of local companies such as Metricell, who named us as one of their charities for the year. Anyone who makes a donation ensures we can continue to run the sanctuary.'
CHAMPION'S LEGACY
The ABC Animal Sanctuary takes its name from the late Alexandra Bastedo and is located in the grounds of her former home. Alex was best known for her role as secret agent Sharron Macready in The Champions, which aired from 1968 – 69. She was also president of a local branch of the RSPCA before focusing all her efforts on the ABC Animal Sanctuary, sometimes asking famous friends from the world of showbiz to help promote its fundraising events. Alexandra lost her battle with cancer in 2014, but ensured the sanctuary would continue. Although it was her drive that kept it going for so long, others have since been equally devoted to the animals and now, ten years on, ABC is as healthy as ever.
Cheryl said: 'Alex devoted her life to animals and left money to the sanctuary in her will, as this was her legacy. That helped secure its immediate future. However, with costs for food, supplies and medical bills rising, it is not enough to run the sanctuary indefinitely. We get through about 40 bales of hay a week and there are always bills to pay. So, we need the additional support of fundraisers, donations, merchandise and sponsoring schemes.'
'We all miss Alex greatly, but I know she'd be delighted to see the sanctuary today. We have a strong board of five Trustees, as well as a team of fantastic volunteers. This year, we've invested in several projects, most notably our new aviary. Previously, we had a bird enclosure covered with netting which often required
repairs, especially after a storm. This year, due to bird flu restrictions, we built a new facility. We have several ducks and chickens, as well as Boris the cockerel, who came to us as he was disturbing the neighbours at his old home, and they're delighted with their new home. I'm happy to report that the sanctuary remains a happy and healthy place for all!'
WORDS: BEN MORRIS / PHOTOS: ALAN WRIGHT
Further information: www.abcanimalsanctuary.co.uk