ABC Begins Life Without Alex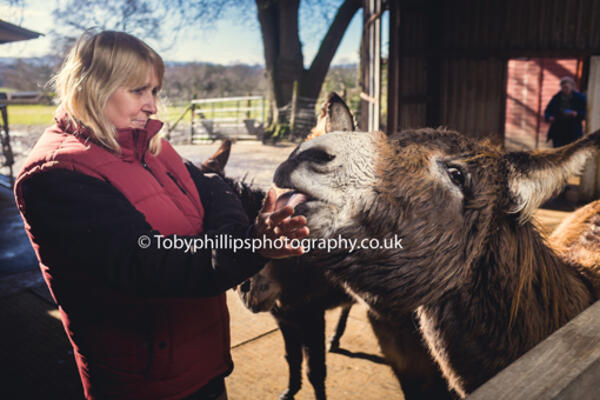 Published on April 4th 2014 in AAH Magazine. Words Ben Morris, Images Toby Phillips
There's still a sign on the gate that reads 'Beware Dobermanns, Donkeys and Ducks' which Alexandra Bastedo would use for the title of her autobiography.
There's still a place for Bluebell, a beautiful horse who was likely to be put down due to respiratory problems before Alex stepped in and gave her a home. She enjoys a happy existence with her companion Bluey constantly at her side.
There's still a team of volunteers looking after the animals, including people recovering from brain injuries, as Alex was a great supporter of providing opportunities that would help people in rehabilitation.
But sadly, the ABC Animal Sanctuary will now have to survive without Alex herself. Internationally, Alexandra was best known for her role as beautiful secret agent Sharron Macready in The Champions. Her other TV and film credits include Absolutely Fabulous and Batman Begins.
But her legacy is undoubtedly the Alexandra Bastedo Champions (ABC) Animal Sanctuary which has survived for over 30 years, more than ten of those in West Chiltington. There, along with a devoted team of volunteers, she provided food and shelter for hundreds of animals including ponies, horses, donkeys, geese, turkeys, peacocks, goats, cockerels, rabbits and pigs that were otherwise facing a grim future.
Alexandra died on 12th January, but during her illness she had been regularly speaking to trustees and close friends to ensure that the sanctuary would continue after her passing. We paid a visit and talked to those at the sanctuary and discovered that, whilst it may have been Alexandra's passion that kept it alive for so long, there are many others happy to devote time to care for the animals...
Cheryl Cook: Cathy and I were both with Alex when she passed away. That very Sunday people had come to collect our pygmy goats. I told her the four pygmy goats had been re-homed and she said 'that's brilliant'. She cared for the animals right until the end. I came down to the sanctuary and spoke to the volunteers every day after she died, just to keep everyone in the picture and to make sure they knew that the sanctuary was not going to close suddenly. It was a very emotional time for everyone, as she knew all the volunteers here. Alex was very hands on until she became too ill. That was very frustrating for her because she loved being involved.
Mary Law, Volunteer: I didn't know Alex before I came here, but I did know her husband, as Patrick and I worked together 50 years ago as I was an actress. When I first came up here, we both looked at each other and said 'I don't believe it!' It was lovely knowing them as they were both super people and I loved having coffee and chatting with them. But there is a lovely atmosphere at the sanctuary and it's still here, and it's still strong. We would be heartbroken if it were not, as it's like a sanctuary for us too. You come up here to forget. If you've had a bad day, you arrive here and go 'That feels great!'
Cathy Sims: Alex had been putting things into place over the last year, when she knew she was having difficulties. A lot of what she did she passed over to Cheryl, and some aspects to Di, who is in charge of the cattery. Alex left the land for the sanctuary, but we still need to raise money for the day-to-day expenses. There have never been reserves in terms of funds; it's been very much hand-to-mouth. It was actually only established as a charity four years ago, so there is no financial legacy here like you sometimes have at animal sanctuaries.
Cheryl: It is difficult without Alex being here. I could always go up to the house and ask 'What do you think about this?' She was always there to answer. Now of course, she isn't. I still have those discussions but I don't get an answer. Her presence is here though. It sounds silly, but when I am by myself, I am constantly talking to her and thinking 'What would Alex have done?' That is how I get over it. Cathy, Alex and I used to discuss things and sort things out, and now she's not there, but you have to get on with it. There's no way we'll let it go, but it is
challenging.
Cathy: Many people have said they will continue to support us. In the past we've had charity dinners with celebrities such as Virginia McKenna, Lorraine Chase and Christopher Timothy, and they've all been fantastic in
supporting us and we hope they will continue to. Sue Jameson has given us great support too. They were friends of Alex, and then became supporters of the sanctuary.
Cheryl: We have about 30 equine animals here, with about a dozen Shetlands, six donkeys, four large horses and some ponies, and they cost a lot of money. They eat about 40 bales of hay a week, as we only have two on haylage. We are at maximum capacity in terms of equines. Not many people are rehoming horses, as more people are ringing us up to ask us if we can take them on. We always do home checks for any animal we re-home and if we're not satisfied we don't go ahead with it. We do have a few lifelong residents, mainly the ones who are old or have an illness. We are fortunate to have an excellent equine vet, Alistair Macvicar at Anvil Veterinary Clinic in Copsale, and he helps us enormously.
Di Humphries: The sanctuary is also well known for re-homing cats. They are my babies! Last year we had about 60 cats at one point that we were looking to re-home. Our open days went really well last year, and we re-homed about 20 over two days. But as we had so many left we held a re-homing event just for cats at the end of September. Fourteen went in just a couple of hours, so that was amazing. What's nice is that we keep in contact with the new owners and they tell me how the cats are doing. It's like a mother's circle with cats! We hope to build a new cattery later this year. Our idea is to have pens either side of a central corridor, with bedroom areas and an outside run. It'll be insulated, like a boarding cattery, but with an outside run.
Cheryl: Alex used to say that cats need 'Cat Telly'. So the outside play pen area is their Telly area where they can watch people and animals. We need money for everything but we do have various projects planned and a major one is the new cattery. We've had a few leaks in recent weeks because of all the rain. The weather has been challenging, as it's hard to get through the mud. We do need more volunteers to help out with maintenance. We have two good men at the moment, but they can only do so much. We probably have about 65 volunteers in all, and they do different things. Some will just help with cats, someone helps with accounts and others help on our open days. Everybody has set days and there is a supervisor here all the time to make sure the right work gets done.
Mary: I've been volunteering here for four years. I had sort of retired and I knew I would be bored to sobs if I stayed at home. Seeing as I'd always had horses I thought I might be useful. My intention was to do a bit of grooming, but that's sort of gone down to mucking out most of the time! I like meeting people and doing things. I am 81-years-old and I honestly believe that if you retire, you die. My father said that to me years ago. So I come here on Thursdays and Fridays and I love it. The work here is never ending. I would like to do a lot more mane pulling and grooming but there just isn't time.
Cathy: Alex was always very keen for us as a charity to welcome school groups and people from places such as BIRT (Brain Injury Rehabilitation Trust) near Slinfold. Even when she wasn't very well, she would come down and spend time with them, talk to them, and have her picture taken with people.
Renata Bielinska (BIRT Employee): We bring people who are recovering from brain injuries to volunteer. They are not ready to go back to their normal job so they do some voluntary work first. It's very therapeutic, and there are coffee breaks so there is a chance for them to socialise. We are very grateful to Cheryl, because we have people with different difficulties and she always tries to adapt the job to our needs. They always have the chance to do something here, and it is very good for them. After being discharged, some of our service users continue to come to the sanctuary as they really enjoy it.
Ewen Cameron (BIRT Volunteer): I come here every Thursday, and change the water for the birds and feed the goats. I always wear shorts, no matter what the weather, as I spent my youth in the north of Scotland so this is warm for me! I love it here. I've been at BIRT for a few months, as I was hit by a car roof rack on the back of the head whilst working as a landscaper. This is one of the highlights of my week, as I was brought up with animals. My father had a farm, so it is like my childhood again. I feel like I am responsible for some of the goats and the birds as I look after this area every week.
Cheryl: We could always do with volunteers. It's hard work and not particularly glamorous, especially at this time of year, but it is good fun. It doesn't need to be mucking out; even baking cakes for our open days would be a way of helping. You can also become an ABC Friend, an ABC Champion, or sponsor an animal. Three of the girls here set up a Cost of a Coffee Club, in which you give £2.50 to instead of one drink a month. There are many ways people can help.
Cathy: Alex is still a very, very big part of the sanctuary. Everything she had came into the sanctuary; it was her life.
Cheryl: "This is her legacy and we will carry on in the way she wished us to. Obviously she knew what the plans were for the future, and we will keep it as much as we can in the way she wanted it to go."
Please visit the website at www.abcanimalsanctuary.co.uk or call 07584 359311 for details on how to donate or become a volunteer.