Strange Friendships at Holbrook Animal Rescue Centre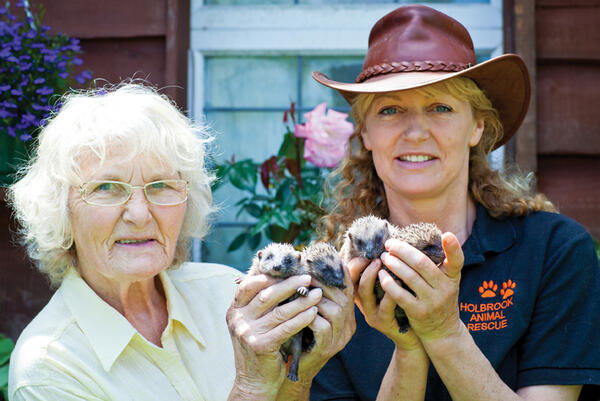 Strange things are happening at Holbrook Animal Rescue in Horsham. In the aviary, there is a starling that the rescue centre has raised as a chick. His best friend is a rabbit, and the two play together during the day and sit together at night.
The team have also come across a Shetland pony that thought it was a sheep. It was brought up with sheep and it used to bleat. There are so many stories that Laura Santini, who runs the rescue centre with a little help from her family, has even written a book about it, called Animal Tails.
The book, written from the perspective of the animals, has recently been extended and re-written and the new version is expected to be published soon. Holbrook Animal Rescue Centre aims to provide loving new homes for as many animals as it can. They have looked after cats, dogs, horses, hedgehogs, birds, chickens, rabbits, badgers, squirrels and many other animals over the last 20 years.
The centre works in conjunction with other animal welfare organisations and helps with the neutering, veterinary care and feeding of stray and abandoned dogs and cats. Laura said: "The animals we have here come from many
different backgrounds but all have the same basic need - that of a home where they will be cared for and no longer live in fear or hunger. We started by taking on ponies. There was a news article about foals going for meat, long before they should even leave their mother, and that's actually what kicked us off.
"We already had horses but we thought we'd go out and rescue a few of these foals and find new homes for them.
"Then over the years we've seen many different animals. We've had foxes and woodpeckers, the odd deer, sometimes it's a referral from the RSPCA as we all try to help each other. We still have four horses here at the moment but we have about 130 in foster homes. If they're nice horses people take them on for riding and it's amazing how many people want an old horse as company for a horse they've already got.
"We always provide a home check to ensure they are responsible people and can provide a good home. We have to turn a lot of prospective homes down."
Once a year, Laura travels over to Greece to take a number of street dogs and find them new homes in Germany. They are hoping to extend their Greek connections by setting up a new shelter on the island of
Zakynthos. They are currently appealing for donations for this project, but most of the costs involved with running Holbrook Rescue Centre is actually covered by Laura and husband Cliff, who use any spare money from their Move It Removals business to fund the rescue centre.
Laura admits it's a "hobby gone very large!" She added: "I love the animals, I would never see anything suffer. It's my life and I love it, although it's very, very hard work and can be a bit gritty. We're a family of animal lovers."
For more information visit https://holbrookanimalrescue.co.uk/