Sussex Prairie Gardens Near Henfield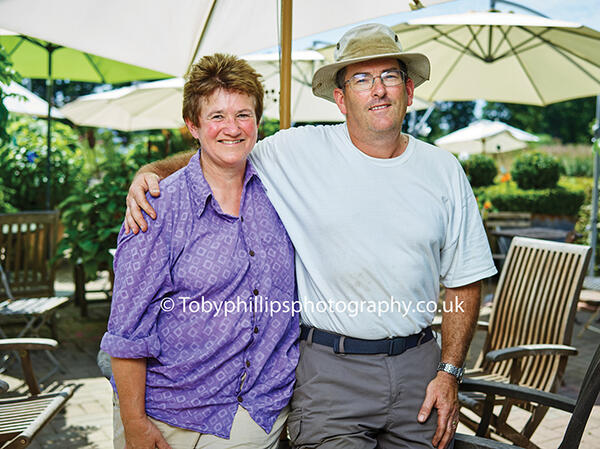 Published on 31st July 2018
Sussex Prairie Gardens near Henfield is celebrating 10 years as one of the most unusual gardens in the District. We meet owners Paul and Pauline McBride...
Pauline: I grew up on the farm here, although it's undergone a few changes since then. My family had beef cattle and grew hay across 32 acres of fields, meadows and grassland. There was no real garden to speak of.
Paul: We were both employed by a wealthy Swedish businessman in Luxembourg. Our task was to create a garden from scratch, with 10 acres of land to work with. After a couple of years, our employer read an article in The Sunday Times about a renowned Dutch designer called Piet Oudolf.
Paul: Piet had just won a Gold medal at the Chelsea Flower Show and had a reputation for naturalistic, prairie style planting. We were fortunate enough that this media mogul could afford to bring him in, so we spent two years working alongside Piet in Luxembourg. He has since designed things like High Line Park in New York and RHS Wisley, becoming one of the world's leading garden designers. For us, it was like an artist getting the opportunity to work with Michelangelo!
Pauline: It was inspiring. We could absorb Piet's knowledge and learnt so much about prairie planting, which was already something we were interested in. It also made us think about what we could do with our own beautiful farm back home. We had been making gardens for other people for years, but never had the chance to design one of our own.
Paul: We saved up money during our 12 years in Luxembourg and bought the land from Pauline's parents. We had a vision and it was always the intention to share our creation with other gardening enthusiasts by welcoming the public.
Pauline: Prairie gardens have become fashionable, but 10 years ago, the idea was quite revolutionary. It wasn't like your average British garden. It was a leap into the unknown, but that was our unique selling point. That and the animals, of course! We still have pigs and rare breed Shetland sheep. Just last week, visitors had the chance to try sheep-shearing!
Paul: We specialise in what is known as naturalistic planting, or prairie planting. The prairie term comes from the fact that most of the plants come from North America. It's naturalistic because it is a wild form of planting. It's loose, relaxed and informal, like a wildflower meadow. However, a wildflower meadow only looks good for one month, whereas our garden improves as the summer progresses. It looks as though it looks after itself, but there's a lot of work behind it!
Pauline: When we planted the garden in 2008, we had 60 of our friends and family helping us. The concept was to invite people to move among the plants. More formal gardens have 'Keep off the grass' signs, but we wanted people to be able to run their fingers through the grass and take a close look at flowers. You can move between borders and stand next to a 3m plant. We don't go crazy with secateurs, so we keep the seed heads and enthusiasts can see the textures, colours and shapes of a plant's full cycle.
Paul: Initially, we couldn't afford to advertise and ran a bed and breakfast to give us the money to support the gardens. For the first few years, it was just the two of us with some volunteers. It was only when the Royal Horticultural Society (RHS) asked us to become a partner garden that things changed. Suddenly, we were featured on garden trails and when the RHS promoted us in its magazine, it turned our fortunes around.
Paul: Some people are confused by the description of a prairie garden and ask us where they can find the cacti plants! When they hear 'prairie' they think of cowboys and John Wayne. We haven't gone down that route, as we would need glasshouses to protect the plants during winter. However, the plants we have come from the prairies, where it can reach -40 degrees. They have no problem surviving a Sussex winter, although some plants can be susceptible to heavy rain. As well as North America, we have plants from countries including Russia, China and Canada. If we find something that suits the garden but happens to come from Japan, we'll bring it in!
Pauline: We like to make things a little out of the ordinary and offer something different to the traditional National Trust garden. That serves us well, as if people are visiting several gardens in one day, they will come here as it provides a contrast.
Paul: A lot of English gardens are all about spring. Come August, there is almost nothing to see. However, that is the time that we are coming into our peak. Summer and autumn is the big show time here. Our layout is different too. There's no beginning or end and people appreciate that chance to explore. Typically, gardens are divided into 'rooms' and visitors move from one to another without seeing the full garden. Here, you see the full picture and you can wander around to see the finer details.

Pauline: Sculpture is a passion of mine and art is a major feature of the garden. We support local artists and sell their work here. We have a link to the Horsham art group (HAOS) through sculptor Janine Creaye, who has exhibited here. We always have an artist in residence. This year, it is Miranda Ellis, whose glass work and bee space project can be seen around the garden. Art is an extra element of interest to people and occasionally visitors who may not be enamoured by the garden enjoy the art instead!
Paul: We host many events and workshops. For one North American themed event, we've visited by a re-enactment group of Blackfoot native Indians. They bring a huge collection of native American artefacts and stay in tipis!
Pauline: Our Indian summer bazaar in August is another of our popular events. We have marquees of clothing, jewellery, bedspreads, tablecloths and gifts from India and Nepal, with curry for lunch and activities for children. We also host outdoor theatre from the Rude Mechanical Theatre Company, and workshops ranging from basket weaving, glassmaking, textiles to creative writing. Juliet Sargeant, who has won Gold awards at Chelsea, runs garden design courses here in the summer too.
Paul: We have two plant fairs in August. Our plants are different and even knowledgeable and well-trained gardeners don't know half thespecimens in the garden, which makes it more interesting. Consequently, they're always looking to buy our plants. We produce about 15,000 plants a year from cuttings and divisions, so visitors can see something they like in the garden and buy it. We have over 2,000 types of plant, but people only ask for about 30% of them.
Pauline: One plant that people go mad for is Echinacea, which is like a large pink daisy. That is one of our signature plants and people are well aware of its health benefits. It is said to boost the immune system and reduce the symptoms of colds or flu. We also have allium summer beauty, a beautiful pink flower that is a big seller. Another way we generate income is through the tea room, with our home-made cakes always selling well!
Paul: We don't really want the business to grow much more, as we like being hands-on, weeding and working in the garden. If you grow too big, you become a pen-pushing manager! As well as our own team, we have fantastic local volunteers and students too. Sheffield University runs one of the country's leading landscape gardening courses, so students come here to learn about propagation and gain hands-on experience. But we're always here too and it's nice that visitors can meet us both. It gives the gardens a personal feel!


Visit Sussex Prairie Garden at Morlands Farm, Wheatsheaf Road (B2116), near Henfield, BN5 9AT. The garden is open from 1-5pm six afternoons a week (closed Tuesdays) until 14 October 2018. For more details call (01273) 495902 or visit www.sussexprairies.co.uk