Denne Road Cemetery in Horsham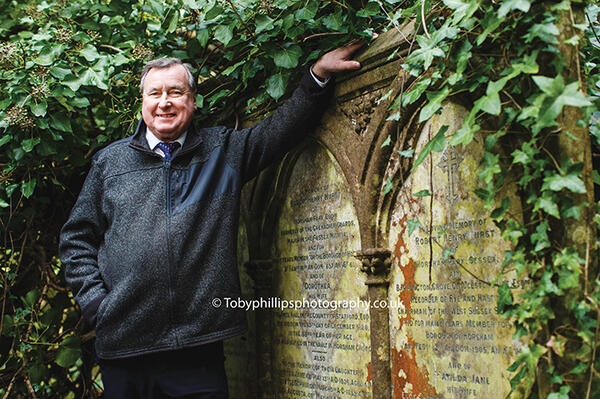 Published on 1st March 2018
Denne Road cemetery is an important part of the town's historic heritage. Its beauty today owes much to a period in which it was left largely untouched, with many gravestones hidden among the trees and undergrowth or concealed by ivy.
Many are so well covered that they're all but impossible to locate, whilst others have sadly been lost to vandalism.Yet buried here are people whose lives and work contributed significantly to the Horsham that we know today.

Leonardslee Plants
Denne Road cemetery came into being after St Mary's churchyardbecame full and was closed in 1856, although burials in existing graves continued there. Land was acquired in Denne Road and the cemetery was opened on 4 July 1852, becoming the only permitted town graveyard four years later. By 1880, the original part of Denne Road cemetery was full.
In the second edition of The History and Antiquities of Horsham, published in 1886, Dorothea Hurst wrote: "It was found necessary to enlarge the cemetery and a piece of ground was bought for this purpose by the parish, adjoining the existing one. A house was erected as a lodge in which a gardener, who also acts as a sexton, resides."
Burial records show that the new part of the cemetery was used from 1881 onwards. In 1884, the Parish Magazine reported that the churchyard had been transformed by the planting of trees and shrubs supplied by W. Egerton Hubbard, the owner of Leonardslee. A Peace Garden was created in 1990 at the far end of the main path, which contains plants from the Allied countries who took part in the Second World War.

Prominent Figures
The older part of the cemetery is entered via the fine lychgate. This area contains the graves of some of the most notable Horsham residents from the early 19th century. The burials date from 1852 - 1880. Parish records show that some 2,700 burials took place between this time, but only about one in nine have gravestones and many of these are now illegible.
The newer part is entered from the gate beside the lodge. It is divided into 12 sections of varying size and character, with three sections dominated by the town's leading families of the time.in the far north-eastern corner by the railway, the graves of the Eversfield, Bethune and Tredcroft families can be found, along with those of prominent figures. Some sections became overgrown with trees and ivy and covering many unmarked burials.
By 1898, the newer part of Denne Road cemetery was also becomingfull and it was clear that a new burial site would have to be found. The Independent Order of Oddfellows Weald of Sussex Lodge lent Horsham Urban District Council £1,000 to buy part of Hills Farm as a cemetery, at 3% interest over 30 years.
So, in 1900, 15 acres were purchased by HUDC and theHorsham Rural District Council and Hills Cemetery was opened two years later. Consequently, burials in Denne Road decreased sharply in number, but families who owned plots continued to use them. Occasional burials continued until 1967, but mainly for the scattering of ashes.
The Horsham Burial Board, which by then controlled all the town's cemeteries and graveyards, was replaced by the Horsham District Council Burial Service in April 2002.Unfortunately, Denne Road cemetery was subjected to vandalism, as well as the ravages of time and decay. The Padwick family headstones were toppled over, but later restored by J. Gumbrill, the monumental masons.Thankfully, the work of Horsham District Council has helped quell vandalism in recent years.

Titanic Memorial
The council is responsible for looking after closed cemeteries in Steyning, Storrington, Warminghurst and St Mary's, as well as active sites at Hills and Roffey. Paul Kirkbride, cemeteries manager, said: "The Denne Road site is pretty and people like to have a wander in the spring and summer. People often ask about the memorial to the man who died on the Titanic and enjoy walking around the Peace Garden."
"There's been a lot of work done to open it up. We've cut back the ivy and brambles which is time-consuming because the work is all done by hand, as it's a conservation area. But it's worked as the cemetery is more open and pupils from a nearby school even enjoy outdoor activities in the Peace Garden. Unfortunately, the area suffered from vandalism, which is a shame, particularly as many notable figures from the town's history are buried here. Fortunately, we've dealt with that by maintaining the site."
Some years ago, Horsham Museum Society started to record the graves in Denne Road Cemetery. Of the total number of burials, 1182 are women with 1072 men. But the most poignant statistic is that some 990 children lie buried there, generally in unmarked graves. The most tragic case is perhaps that of the Cutt family, who lost six children under 3 in the 1880s.
Some of the townsfolk of the 19th and early 20th century can be reasonably well documented, with the help of parish records, censuses, directories, photographs and family research. The people buried at Denne Road include the gentry families who owned land in Horsham in the 19th century, as well as the clergy, lawyers, doctors and schoolmasters who formed the professional upper middle class and the tradesmen who built up their own businesses and gave the town its special character.
These are all people who left their mark on the town and helped make it what it is today.Here, we highlight some of these characters, although many more are detailed in Waking the Dead: A Pocket Guide to Denne Road Cemetery, by Susan C. Djabri. The book can be bought at Horsham Museum.
Henry Padwick (1804 - 1879) was a lawyer, money lender, railway speculator and racehorse owner with stables in Findon. He made a great deal of money but was known to be ruthless in his dealings. Through his deals, he bought the Manor House in the Causeway and several large farms for himself. It was said that Henry suffered from paranoia and a note hints that he may have committed suicide.
Walter Cooper Dendy (1794 - 1871) came from a family that had been prominent in Horsham since the 16th century. The Dendys were largely responsible for the building of the first Baptist Chapel in 1721. Walter followed his father's profession as a surgeon, at the London Children's Hospital, and put up a plaque to his parents and five other siblings in St Mary's Church. Walter was also a writer and artist whose book Sketches in Prose contains a lyrical description of the park at Hills Place.
A rather grand tomb is that of Cecil Martyn, who died at the age of 33 in Algiers, in 1870. As a memorial, his wife offered to build and generously endow All Saints' Church on land that she owned, to serve the fast-growing suburb of Roffey. Cecil's grave was cleared of the ivy that had once completely concealed it, by volunteers from The Green Gym.
The maltster James King (1808 - 1878), who established himself in the Bishopric, has a large and well-preserved marble table-top tomb. His wife, Mary, helped to carry on the business after he died, and his sons Charles, Frederick and John established King and Sons as a limited company in 1893. The Kings went into partnership with the Barnes family in 1906 and created Horsham's most famous brewery.
Thomas Oliver, a railway builder and engineer (1834 - 1920) has a magnificent tomb in which his wife Caroline and eldest son are also buried. He built Tanbridge House, a fine Victorian mansion. After Thomas' death, it became Horsham High School for Girls and his billiard room became the school's assembly hall. The house has now been divided into flats.
Katherine Fox (1811 - 1869) and her cousin Elizabeth Hepworth (1812 - 1886) lie together in an overgrown grave that tells a sad but touching story. Katherine's father, Benjamin Fox, a former lace merchant, built Chestnut Lodge in Pondtail Road in 1828 as a private asylum for his daughter, whom he described as "an imbecile". He also built Sussex Place in London Road as a source of letting income for her care after his death. Elizabeth looked after her afflicted cousin until Katherine died at the age of 58. Their burial together is a recognition of Elizabeth's self-sacrifice.
Two solicitors connected with law firms that are still practice in Horsham are buried in the cemetery. Alfred W. Rawlison of Rawlison and Butler, succeeded his father, John T. Rawlison, who set up the firm and is buried in St. Mary's churchyard. The Rawlisons had previously been well-known brewers in Horsham. Arthur Cook Coole (1839 - 1917) served as secretary of the Corn Exchange. The legal firm that he founded, still has offices in Carfax, now as Coole Bevis LLP.
Thomas Honywood (1819 - 1888) was one of the most remarkable men to live in Horsham in the 19th century. He was the town's earliest known photographer and was also an archaeologist, artist, inventor of "nature printing" and builder, as well as Chief of the Volunteer Fire Brigade. His grave is at the far end of the cemetery.
Solomon Charman (1844 - 1899) was descended from the Charman family from Warnham. He is buried with his wife Mary, who died in 1935. The stone also commemorates their son, John James Charman, a young saloon steward on his first voyage, who went down with the Titanic in 1912. His story was researched and made public by John Charman, former Vice Chairman of the Sussex Family History Group.
Edward Burstow (1821 - 1891) was another Horsham man of many talents. A skilled architect, he built the Corn Exchange in West Street in Italianate style in 1866. He also invented the pentacycle, which had a brief period of popularity before being replaced by the "safety" bicycle.

PICTURES: TOBY PHILLIPS
WORDS: BEN MORRIS (adapted from Waking the Dead: A Pocket Guide to Denne Road Cemetery, by Susan C. Djabri)
If you're planning on visiting the Denne Road Cemetery, Waking the Dead is a useful guide. It can be bought at Horsham Museum and Art Gallery on the Causeway at www.horshammuseum.org