West Grinstead Ploughing Match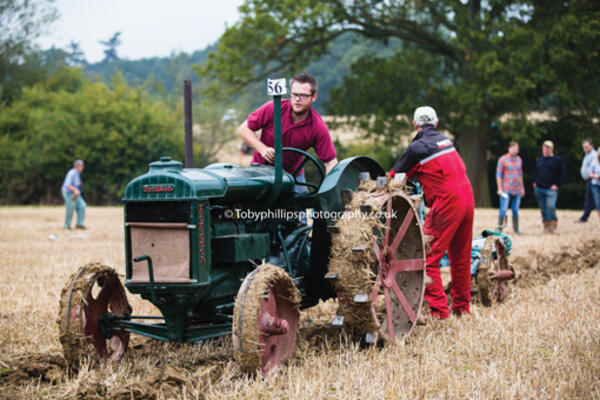 Published on 7 October 2014
Ross Stow, a mechanic by trade, is having trouble with his 1945 Fordson Standard tractor, which has so far only dragged his Ransomes RSLD plough through about 150 yards of soil.
He is doing all he can to spark the tractor back to life, but it's looking unlikely that Ross will be walking away with a first place rosette at the West Grinstead & District Plough and Agricultural Society's annual ploughing match.
The competition in these vintage and classic ploughing categories can be fierce, but there are plenty of other people willing to lend Ross a hand.
Graham Piper, who used to be a farmer but now works for a Plant Hire firm, is ploughing two 'lanes' down in the field at Broomlands Farm in Warnham. Spotting a fellow competitor in trouble, He steps off of his 1959 International tractor, and goes to help. As an owner of three vintage tractors, he hopes his experience will help, and briefly, Ross does get his Fordson on the move once more. But luck is not on his side today, and before long, he comes to a grinding halt.
Fortunately for him, it's all just a bit of fun. Ross said: "I'm not a farmer, but my grandfather was and I'm told my great grandparents were involved in setting up the first Cranleigh Show. Our family has been out of farming for two generations. However, when my grandfather died in 1989, he had a collection of vintage tractors. Most of them were sold but a couple stayed with the family and gradually we've expanded the collection.
"We now have about 20 tractors, including four of these Fordson Standards, which is what would have been used by farmers for ploughing during the war. However, we are not doing very well with ploughing today! This is only the second ploughing match I've ever done, and the last one was eight years ago. We came here for a bit of fun really. I have the Ransomes plough which is probably worth over £1,000 and it's no good it being sat in a shed doing nothing. So I figured that, if we have it, we might as well use it, and booked into four matches!
"I watched a DVD on how to plough, but I think that was probably the wrong thing to do. It has been nice here though, as people have tried to help us, and the judges have been encouraging and willing us to give it a go."
The encouragement is there as the organisers and other competitors would like to see more young people trying their hand with old machinery.
Graham said: "I like plough matches because there's a sense of competition and it keeps alive the traditions of farming, as they would be lost otherwise. Here, you'll see ploughs from horses right through to the new machines, as this is one of the best ploughing matches in the region.
"My next match is in Burwash and I'll see many of the same people. We are like the Formula One circus pulling into town, but with old tractors. There's a bit of banter between us, a little bit of competition, and then we move on. What we would like to see is some younger faces. There are many young farmers here, but they all want to drive the big, modern, air-conditioned tractors, and not many want to use these vintage ploughing machines, as it is hard work."
Next Generation
Another 'young' farmer is James Grantham, a Shoreham farmer who has been ploughing since the age of 16. He said: "I started coming to competitions when I could learn how to drive a tractor. I used to plough with a reversible, but then I bought a Crawler, restored it, and now I use that because it's such a challenge.
"I go to three ploughing matches during the season, with the other two being in Falmer and Burgess Hill. The winners at these competitions go to a County competition, so it is competitive as well as being fun. Some of the old boys are really competitive but for me this is just a good day out."
As a first time visitor to the West Grinstead Society's annual ploughing match, I was somewhat surprised by the scale of the event. Visitors can walk through a century of farming history, taking in horse or steam powered ploughing, on to vintage and classic machinery, right through to the modern day where huge tractors effortlessly pull six furrow reversible ploughs. From the cabin of these new machines, farmers use GPS software to
automatically manage the width of the plough.
Away from the ploughing matches, there is a host of livestock competitions, as well as terrier and ferret racing, gun dog demonstrations, baled hay, welding and hedge laying competitions, sheep shearing, and a tug-of-war. Trade stalls, some terrific local produce and the Harris Bros Funfair all add to a pleasant atmosphere.
The event's location varies from year to year, but this year's event was held on land off Robin Hood Lane in Warnham, with the permission of famer Dominic Gardner and landlord Jonathan Lucas (recently featured in AAH as the High Sheriff of West Sussex).
Prizes to be Won
There are numerous cups and prizes to be won, as well as numerous rules which must be adhered to! These rules are not a problem for Ian Williams, who is one of select few keeping the art of horse ploughing alive in the south east.
Ian is a fourth generation farmer, and horse ploughing has been a big part of his life. He attends many ploughing matches and normally finds that his only competitor is Gerald Winter. He said: "It is only me and Gerry keeping horse ploughing going in the south-east really. We attract a big crowd here though, so we know horse ploughing is important to these countryside events. We are very ompetitive, but it is friendly too!
"We have to plough a third of an acre during these competitions, which sounds a lot but it's not really that hard. My horses are Clydesdales, and today I have two sisters – Madge and Dolly - but I have another three at home and all five can plough. The horses pull a 1932 Ransomes, which was the bee's knees in its day!"
Whilst I was fascinated by the machinery, I struggled to note the differences between the cultivation efforts of the various competitors. With my farming knowledge based solely on a trip to Fishers Farm, and a den made within a stack of hay bales when I was seven, I didn't even understand what AAH Photographer Toby meant when he told me to meet him 'near the green six-farrow reversible'.
So I spoke to Richard Kilner, the chief ploughing steward, for an insight into the judging process.
He said: "They are judged on numerous categories such as the opening, which is important as you must make sure that you have a good start in order to build a straight ploughing line. "Judges look for straightness, and how all the rubbish is spread and buried so that you get a good firm seed bed in order to plant the crops.
"Then we want a night nice neat finish.
"If you go across to the reversible ploughs, which are more modern commercial ploughs used in practical farming, then you'll see this is a day out and a bit of fun for the farmers. But in the vintage sections there is a lot of time, effort and money spent to keep some of these old tractors going, and there's a lot of interest in them.
"They are the people who are out every weekend at ploughing shows, and some of the competitors take it very seriously."
Growing Success
Away from the ploughing fields, the main ring was busy throughout the day with the dairy and beef cattle classes, a large variety of sheep breeds and of course the ever popular young person's lamb handling class, which saw a great number of youngsters parading their sheep to the crowds.
This year also saw a record number of trade stands, with a vast array of modern and vintage equipment, whilst the clay shoot, and a 'meet the farmer' education area also proved popular. The Young Farmers Club did an excellent job of keeping the crowds entertained with a variety of activities.
Rowan Allan, Hon. Secretary of the Society, said: "The Committee were delighted with another very successful day and we are always very grateful for all the ongoing support -including of our 2014 President Nick Herbert MP - which enables the Match and the Society's other events to continue to grow and be a success each year.
"In addition to our ongoing support of local charities, the Society is also very pleased to continue the annual Bursary awarded to candidates looking to develop a career in agriculture".
For more information on the Society and Ploughing Matches, visit www.westgrinsteadploughing.co.uk