Coronavirus Volunteers in Horsham District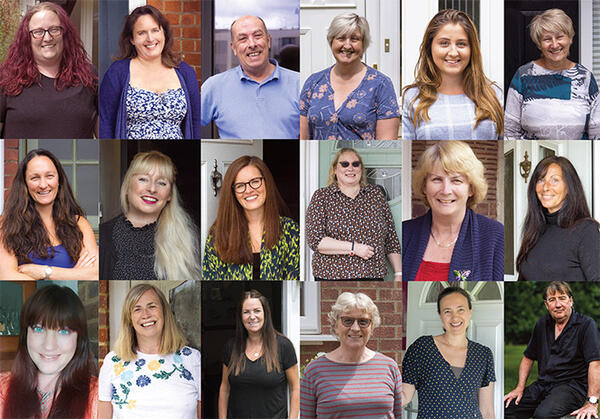 Published on 22 June 2020
In response to Coronavirus, Volunteer Hubs were established to help the most vulnerable people. Horsham District Council worked in partnership with social media and community groups to co-ordinate a fast and efficient response to enquiries, ranging from food shortages to emotional support. AAH spoke to Gavin Hewins, administrator of the popular Horsham Facebook page and instigator of the Horsham Self Isolation Support (HSIS) page; Anna Green, who played a key role in expanding the voluntary network; and Dave Smith, Liz Tidy and Roger Cato of the Mannings Heath Millennium Group, which set an example for others to follow…

How was the network of volunteers established?
Gavin: Horsham Self-Isolation Support (HSIS) was set up independently before Volunteer Hubs were established across the Horsham District. The Horsham Facebook page has more than 31,000 followers and we were starting to see messages from people needing help. Some had medical needs and couldn't pick up prescriptions, while others needed groceries. We were also being contacted by people across the country and beyond with relatives in Horsham, wanting to know if anyone could help.

Why establish a separate Facebook group?
Gavin: Initially, we were posting messages on the main Horsham page as they came in, asking for help each time. But on such a busy site, you're broadcasting information to thousands of people. Also, most visitors signing in only really see what the page administrator "reposts" or "shares". If somebody needed help collecting a prescription at 10am, I might not see that message until much later. So, we created a designated HSIS page where people could post messages quickly.

Was there a good response?
Gavin: Having the Horsham Facebook page was a great way to advertise the HSIS site. I posted a message appealing for anyone self-isolating who needed help, or anyone willing to help, to "like" the HSIS group. It went nuts, with 6,000 people following the page and hundreds offering help. It quickly took on a life of its own and was too much for me to manage alone. Sharon Goldring became the main administrator and recruited more moderators, including Anna Green.
Anna: I'd already leafleted in my own street, reaching out to help neighbours, before I contacted HSIS offering my help. Having spent 20 years working in crisis management including public health emergencies around the world, I thought I could assist them. I recognised the importance of introducing a mapping system to create a volunteer network, but at that point HSIS was just a Facebook group. I felt it could be so much more as there was a lot of momentum in the community and a sense of shared responsibility.

At this point, HDC hadn't organised the Volunteer Hubs?
Anna: The Council had been caught a little off-guard, which isn't surprising when you consider the national response. Demands were being thrown at them by the Government and there was confusion over what HDC should be responsible for.
Gavin: Everyone was running around like headless chickens. Yet teams of volunteers were already working independently. Mannings Heath had set an example for us to follow, reaching elderly and vulnerable people who weren't on Facebook.
How was the scheme established in Mannings Heath?
Liz: We set up a Millennium Committee in 1998 and it was such a success in terms of organising community events that it continued.When it became obvious that we would soon be facing issues around Coronavirus, the committee discussed what we could do as a village to ensure people stayed safe. On 16 March, well before the lockdown, we decided to deliver a letter to every house in the village, with the name and phone number of a contact person in each road. Those contacts were already in place, but the letter also presented us with an opportunity to appeal for volunteers to collect prescriptions or shopping.

When did the amalgamation of the voluntary effort start to take place?
Anna: A group of us from HSIS met with HDC at Parkside. The Council wanted to cover the entire District with Volunteer Hubs. The Council was initially trying to deal with everything centrally, but in my experience, it's best for volunteer groups to handle general enquiries and for local authorities to manage the more complex cases.

How did you go about organising the network across the town and District?
Anna: We used a street map of Horsham and used the Facebook page to find volunteers. Hundreds of people offered to help and we matched volunteers to 175 zones in the town, with up to 20 people operating in some. By creating the map, there was no overlap and we could identify areas where help was still needed. Once that was in place, whether people contacted HDC or the Facebook page, we could quickly get a message to a local volunteer. It required a Herculean effort, as we even had to do background checks on volunteers. We then distributed leaflets, with the contact details for the nearest volunteers.

What did people need help with?
Gavin: In the first few weeks, government advise was to stay indoors and isolate if you had certain symptoms. Whether it was the virus spreading or people being overcautious, many chose to stay at home and needed help with their shopping. I volunteer in Southwater (under village co-ordinator Angie Choat) and typically would collect groceries or prescriptions.
Anna: Initially, we heard from people wanting their dog walked or asking where to buy toilet roll. Really, all of that's just background noise when you have elderly people at home, frightened because they can't leave the house. The important thing was to get essential food items and prescriptions.

Where did you direct people when the supermarket shelves were bare?
Gavin: On the Visit Horsham website, which I also administer, we included COVID-19 essential stores. So, when people asked where they could buy flour, we posted a link. There were people literally fighting over pasta at one point, yet Carmela Deli in the Carfax was closed and had plenty in stock. We helped them reach new customers for everyone's benefit.
Anna: Some people have relied on food banks, in some cases having been pushed into poverty because of the pandemic. Horsham Matters (which operates food banks in association with The Trussell Trust) have done an amazing job, constantly evolving their practices to meet demand.

What problems have you come up against?
Dave: We put together a set of guidelines for volunteers in Mannings Heath. They wanted to know how to deal with people's money for shopping or medicine, and how to maintain a safe distance when delivering. We also had to organise a Certificate of Authentication for volunteers, as at one point people viewed anyone driving with great suspicion! There was also the problem of multiple volunteers going to the same place, so we co-ordinated trips to avoid four people visiting Boots at once.
What changes have you seen?
Anna: In the first couple of weeks, we had a lot of referrals for care support as families went into lockdown. Suddenly, people living on their own didn't have someone coming around to wash them or cook them a meal. After a few weeks, we were seeing more mental health issues and there were some tricky cases. We set up an HSIS telephone support group, which helped, but there were some incredibly sad stories. We established a vulnerability criteria, like a traffic light system. For a red emergency, the Council tried to manage the situation, although often even those cases were managed by the lead volunteers.

Can HSIS/Volunteer Hubs create a long-lasting legacy?
Gavin: I would like to keep the HSIS page going as a community-minded group. Hopefully, people are willing to stay on a reserve list as volunteers, so if anything happens - floods or heavy snowfall – there is something already set-up where people can turn to. That way, it could have a legacy. The pandemic has created a strong network of communication between HSIS, Horsham District Council and Horsham Matters, and that's another positive thing.
Roger: In Mannings Heath, we've seen cases where one person has spoken to the same volunteer several times and has eventually bypassed us. I'm sure that's happened everywhere, with neighbours setting up friendship groups without needing to report back. That too is a great thing.

What have you enjoyed doing during the lockdown?
Anna: The biggest thing for my family has been getting the kids involved in gardening. We had a greenhouse which was only used for storage. Now, we grow tomatoes, cucumbers and potatoes!
Gavin: I'm pleased to see people diversify their shopping. We've been buying groceries from Crates Local, bread from Truffles and beer from The Tipsy Fox. I hope we remember the stores that were there for us when we needed them.
Horsham Facebook Self Isolation page: www.facebook.com/groups/HorshamSelfIsolation/
Photos: Toby Phillips Photography
Interviews: Ben Morris(Note: Interviews were conducted separately in early June and pieced together for the article.)