FORMER PILOT CREATES SPITFIRE EXPERIENCE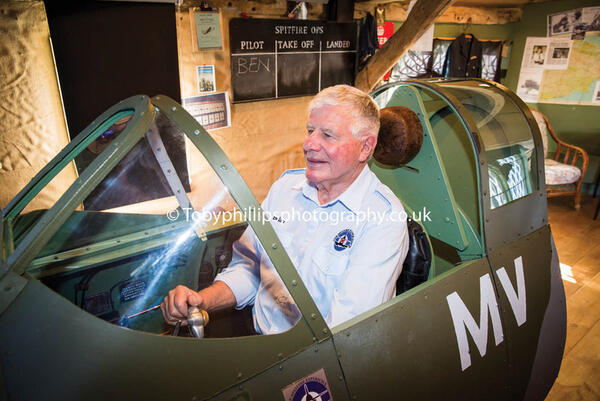 Very few Spitfires survived into the 21st Century. Of the 22,500 that were built between 1938 and 1946, fewer than 300 now reside in museums and private collections around the world. Of those, only about 50 are airworthy.
The sight of a Spitfire in flight can be an emotional experience for anyone with memories of World War Two, and for every generation this iconic plane has come to define perhaps the most important chapter of modern British history.
That's why they remain so revered. One man, David Cundall, has spent 16 years searching for a fleet of up to 60 Spitfires which he still believes are buried in crates in Myanmar.
Whilst there may be a lack of Spitfires in the air, there is another option...
Brian Smith, a former pilot with the RAF and later British Airways, has constructed a unique Spitfire flight experience in a cabin at his Wisborough Green home. RAF uniforms hanging on the wall, log books sit next to ration books and old newspapers, and Vera Lynn records grace the airwaves, to create a nostalgic feel to the experience. But it is modern technology that brings the experience to life.
Brian has built a cockpit of a Spitfire Mark IX using realistic controls and dash displays from Spitsim Flight Controls, and linked it to a Microsoft Flight Simulator X, by RealAir. Using high capacity graphic cards, each flight takes place on three huge screens spanning the width of the cabin.
Brian said: "Quite a lot of people who have come here have simulators at home, on a computer controlled with a joy pad, but I wanted to create a totally realistic experience. That's why we have the crew room with memorabilia and brandy and cigars.The Spitfire cockpit came as a flat pack kit from Creative Cockpits in Cumbria. It had to be painted and put together so I did that, and we put the initials MV on the side as a tribute to Mary Villiers who lives in Horsham.
"Mary is a former Air Transport Auxiliary (ATA) pilot who flew Spitfires during the war, and she has been here to see it. The initials were a nice surprise for her.We've also put small tributes to Wing Commander Johnnie Johnson, who was seconded to a Canadian squadron. That's why there is a maple leaf on the side. The other tribute is to the pioneering female pilot Joan Hughes, who like Mary ferried planes during the war.
"We've had two former Spitfire display pilots from Goodwood and Duxford here to try it and they have both given us their approval. We were pleased with that as anyone can fly it, but to have someone who knows the feel and speed of a Spitfire say it is good, is fantastic for us.
"You can feel the vibration through the frame and the floor. When you control the throttle, move the rudders and apply the brake, the feeling is very reminiscent of the real thing. It's great when you are sitting in it as you really believe you are there."
The multi-award winning FSX Spitfire package includes both the Merlin powered Spitfire Mk IX and the Griffon-
powered Spitfire Mk XIV. There are thousands of airfields in its programme, and players can adjust cloud
formations, visibility and airflow. Replicating the sound is also important, so Brian has linked the computer software to large stereos that recreate the sound and vibration.
The sound is so convincing that the village vicar looked up at the sky when he heard the noise during a recent walk along the lane! But it is the allure of the Spitfire that is the reason for the simulator's success.
"It is nostalgic," said Brian. "It can be emotional for people, and we've seen that with former pilots who have tried it.It's the Spitfire. It's an iconic plane. I wouldn't have done this for a 737 or a Cessna, but because it's a Spitfire everyone is drawn to it.
"I was born in 1938 in London and as a little boy I can remember seeing Spitfires overhead and them shooting German planes down. For the many people who saw Spitfires in action, those images will never fade. Of course, it was a success for the RAF, which makes it even more important.
"When people sit in the cockpit, they can get lost in the moment. The tail lifts at 60mph and at 100mph you pull back gently on the stick and you're in the air. It's a good feeling and people become quite excited. There was a chap rolling the plane, doing aerobatics, so I grabbed the phone and said 'Fred, it's the airport manager, he wants to talk to you'. Fred took the phone and said 'hello!' He was totally lost in the moment!"
The simulator is now open to businesses and small groups of people who would like to try their hand at flying the
Spitfire. The Spitfire Experience team raise money for the RAF Benevolent Fund, which has donated a number of items including a phone, table and wartime papers and records.
Local businesses have even chipped into building the cabin, with West Sussex Antique Timber Company
fitting the flooring, whilst friends and former colleagues have donated items too. Brian said: "Most of the things have been donated. It's amazing how many people have said 'Do you know, I might still have an old uniform in the loft!'
The Spitfire Experience costs £40 per person - why not make up a group and come and fly with your friends? To book call The Spitfire Experience team on 01403 700346.