TRAVELLERS: WE COME IN PEACE!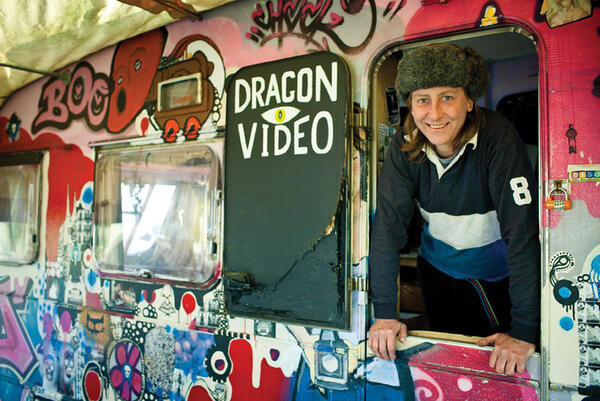 Six months ago, a twenty-year-old called Finn was heading to a festival in Kent probably feeling somewhat disillusioned. Homeless and disowned by his family, his long-term prospects didn't look good. But he was taken in by strangers, given a place to live, and now life is a little less difficult.
The people who accepted Finn into their group were travellers. But in spite of such acts of kindness, for most people the sight of travellers nearby triggers a reaction unlike any other. Normally rational adults become suddenly concerned with the well-being of their power tools. They recall somebody telling them that there is always a rise in crime whenever travellers are nearby. Parents keep children indoors in case they are stolen and turned into trapeze artists.
Of course, not all groups of travellers may have such honest intentions as the new travellers, including Finn, that recently stayed on land in Washington, near Ashington. About ten caravans arrived at a scenic site overlooking Windmill Quarry just before Christmas. The group agreed a deal with Biffa to remain on the site – in a beautiful location right next to a smock mill - until February 1st.
They claimed that they would leave the site as they found it and cause no trouble, but as several of the group point out, there are many different types of travelling communities and some are not always well-meaning. As a result, the house-dwelling majority tend to view any convoy of Transit vans and caravans with disdain and mistrust.
No wonder then, that it is often difficult when the time comes for Horsham District Council to find suitable sites to accommodate them. At the end of 2011, the council published the results of an independent study into finding suitable sites for 'local' Gypsy, Travellers and Travelling Show People.
The study identifies 13 potentially suitable sites ranging from a single pitch to 10 pitches. Some of the sites are new and some already have personal or temporary planning permission. Others are unauthorised sites that have been 'tolerated'. The sites are at Greenfield Farm, Barns Green (4 pitches), Land adjacent to Greenfield Farm, Barns Green (1 pitch), Land at Fewhurst, Coneyhurst (4 pitches), Rowfold Nurseries, Coneyhurst (10 pitches), Land at Honeybridge Lane, Dial Post (5 pitches), Oaklands, Dial Post (3 pitches), Southview, Five Oaks (4 pitches), Oakdene, Pulborough (1 pitch), Parson's Field Stables, Pulborough (1 pitch), Smithers Rough, Rudgwick (10 pitches), Land adjacent to Hillside Park, Small Dole (12 pitches), Former depot, Warnham (2 pitches) and Lane Top, West Chiltington (5 pitches).
Horsham District Council will use the study findings to inform work on the preparation of a strategy for the
provision of sites. In a bid to find out the views of travellers, we spoke to people staying at the Washington site about their way of life…
Liefried McClaren: "I spend my whole life travelling and have done since I left the army in 1991. I served in Iraq but was made homeless after being kicked out of the army and couldn't get a home or a job and the only community that would take me in were the travelling community.
"I'm from Scotland but the winters are much easier here in the south. I teach music –drums, guitar, flute, whistle – mainly to people on traveller sites. I'm trying to live a self-sustainable lifestyle and at the moment we are setting up solar panels that can power a recording studio so we can lay down traveller music for posterity. But it's not just folk music – there is some drum and bass in there too!
"We'll be travelling to a few festivals this year – anywhere that will take us. We're lucky in the south in that there is a large number of two-day festivals held here. It's difficult to move around - our way of life is protected under law but there is no way of doing it legally. A lot of travellers are happy to settle on a piece of land offered to them by the council, but that is not us – we want to move on. We require transit sites for a short stay and sometimes a small fee. We prefer to do this – stay in a pretty place overlooking the countryside than a field on the edge of a town. Here, we have done a deal with Biffa to stay until 1st February. That way, there are no expenses for them and we have a good arrangement and will leave the place tidy. Travellers have been here before and one of the staff was attacked, so they may have been initially a bit unsure, but our group has a good reputation."
Finn: "I was disowned by my family and forced out of my flat. I went to a festival last year called Small World in Headcorn, Kent. I needed a new family and whilst there I met a few people and a guy invited me to stay with the travellers. I wasn't really sceptical as my dad came from a traveller family but he isn't one any more. I needed somewhere to live as I was sleeping in a tent so I asked around and within a few days somebody had found me a caravan.
"I just like being outside - it's very inspirational for me as I'm an artist. My art is based on geometry and Islamic geometry especially. I'd like to start my own fashion business using the Islamic geometry on clothing and as my logo. I do have drive and ambition, but I can live this way of life and have ambition. It's a hard life but it is worth it – I have learnt a lot in five months here.
"I know that there is a lot of fuss about travellers. People are very hesitant about them, but this group is really good and they are some of the nicest people I have ever met. I'd be happy spending the rest of my life with some of these people. I think this is as good as any other life, but it's hard. You have to work every day just to keep warm.
"I can't speak for the rest of the people on this site but I would like to be able to stay somewhere that was more permanent. I would like to settle on one site and be able to run my own business and I can't do that as I don't have an address here. I don't particularly like squatting on land but it's what you have to do when you have nowhere else and no-one else."
Chrissy Alleyn: "My kid is at college in Brighton, studying music, so I have to stay close. I can't just abandon my daughter. She lives on another site in Brighton with close family, but I hate the city. By living like this, I get to stay in places that are derelict. My thinking is 'sod you then, if nobody is going to appreciate these places, I'm going to.' Here I get to enjoy a million pound view.
"I live a very green, low impact life. My costs are very low - my electricity bill is zero as I run power from five solar panels, my gas bill is about £300 a year and half my heating is wood fired so when it gets really cold I can retreat into the office. On this site there are about ten of us, including three children aged from three months. The baby was born on the previous site. We have social workers, students, self-employed builders - all the trades you have in your neighbourhood. It's simply a neighbourhood of people who prefer living in houses with wheels on.
"I was adopted when I was about nine months old. When I discovered my family aged about 30 I found they were
travellers too. Up until I was 20 years old I was convinced I was a Russian Prince!
"During winter I sort my rig out and repair the damage from the previous season and get ready for the rigours of the next year. But I've got nowhere where I can do this legally in the UK. Nobody will rent me space and I can't go on normal caravan sites because I have a painted trailer.
"There is a huge variation between different travellers – there are gypsies, there are Irish and then there are us – the New Age travellers, or Peace Convoy, Brew Crew or Medieval Brigands if you prefer. We were demonised under Thatcher, along with the miners. The travellers taking Stonehenge for a party was seen to be a huge political threat at the time.
"There are various different groups of new travellers with different aims. We just want a reliable quiet park-up where we won't disturb anyone and will not be disturbed, to get on with our lawful business, for a few months at a time. We know that there is a lot on untenanted land and we also know that metal theft is on the rise. As long as we are here, no metal will disappear from this place – it will cost the owner nothing for us to be here except sometimes an increase on their insurance payments. But most of what we've done is bring benefits. If we show we are a family community that is happy to work for landlords, then that could work for both of us. But we do not speak for all travellers.
"There had been a metal theft on the site in the month before we came here, and a security man had been attacked. Needless to say he was terrified when we turned up. But we reassured him and he could see that we were good people just doing our thing – albeit at a slower pace than most people. We tidy up when we leave a site. Sometimes that is as much as we are able – if we are on a time schedule from a court.
"We do tend to make more of an effort when we are on good terms with the landowner, as nobody likes to live in a nasty neighbourhood. If people dislike us, then we struggle to give respect back to them, but under normal conditions I expect to leave a place better than I found it.
"There are some – very few – long term sites, but it is difficult as they usually charge rent. This is a quirk I have though - I believe that I was born on this planet and should be able to stand somewhere on it without having to pay somebody rent. Nobody is willing to let us buy land to park on, because it will be in their neighbourhood. I can completely understand that – they're the sort of people that I wouldn't want as neighbours either!"