All Aboard at The Ark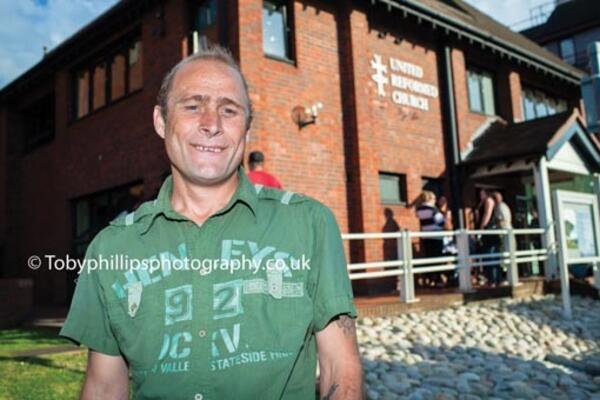 Aaron Vincent is forty years old and homeless. He has slept rough in stairways and car parks in Horsham, eaten food from bins, been addicted to drugs and on several occasions has considered taking his own life.
Yet, as he talks to us, he is smiling. There's optimism in his voice and a glimmer of hope in his eyes. He talks of getting his life back on track and the possibility of seeing more of his three children.
Aaron has very much been handed a lifeline by The Ark, a group set up by Lisa Burrell two years ago. The Ark operates as a drop-in centre held three days a week at the United Reformed Church in Springfield Road, Horsham, from where it provides help and support for people with alcohol, drugs and gambling addictions, as well as housing and benefit support.
Aaron said: "Lisa has put me up at her house for a while. Before that I was living on the streets. I would sleep in the stairways of flats in The Needles, as the heat used to come out from under the doors of the flats.
"Sometimes I would sleep in Swan Walk toilets just so I could keep warm. A lot of the time I was on my own, but I've got a mate who is also homeless and in the winter we've had to cuddle up together. We put cardboard down so we are not lying on a cold floor.
"You do get called names, as we couldn't shave very often so we had long beards. You'd be called Grizzly Adams and things like that.
"I had a drug addiction about three years ago, but I got myself clean. I would eat food from the bins behind Swan Walk but I always tried to eat it a day before it was out of date! I'm 40-years-old now and there have been three times that I thought I would kill myself, but in all honesty I didn't have the guts to do it. I went to different places and thought I could jump, but there must have been something inside that stopped me from going through with it.
"I have three children and there was a period of five years when I didn't see them. It is only in recent weeks that I have been able to see them at all and that is because my life has changed since I met Lisa and started coming to The Ark.
"I used to steal a lot of food but haven't stolen since I've been staying with Lisa. I now go to church as well, and I have taken on board the Christian message. I go to Church on a Sunday.
"I've been coming to The Ark for close to two years now and I've come a long way. I want to get some accommodation, but for a guy of my age it's a case of how long's a piece of string? I don't come here just for the food parcel – The Ark has taught me not to steal, not to lie, and I feel like a new man.
"The next step is to get myself a flat, and then I could see my kids every weekend. If I had those two things I'd be a happy man and wouldn't ask for anything else from the world. Lisa is an angel. They broke the mould when they made her. I can't speak highly enough of Lisa and her husband Mike."
Lisa worked for a law practice several years ago, but after she married, started working at Christian Family Concern in Croydon. From there, she went to work for the YMCA, a Christian-run charity providing young people with a safe place to live.
During Lisa's time at the YMCA, she gained experience in drugs and alcohol intervention. But the YMCA was not reaching all of those in need, and Lisa felt compelled to help people of all ages. She said: "The YMCA is great but it only meets the needs of people aged 16-25 and there are others in town that have alcohol, drugs and homeless issues, or are just struggling with life in general.
"Around that time the United Reformed Church set up its food parcel service and then the church offered me the use of the building. "The Ark was born out of a period of prayer with other Christians. One of our trustees is a retired reverend, my husband is a trustee, and another trustee is a senior nurse. Our Chair of trustees is involved with drug and alcohol rehabilitation so we all came together with the same heart."
The Ark meets three times a week, on a Monday, Tuesday and Thursday, and it's effectively a drop-in centre. Lisa and a team of volunteers offer help and advice on benefits, drugs and alcohol, and housing. They also
have links to other agencies, and hold literacy and numeracy courses. A food parcel service runs on a Tuesday evening.
Lisa said: "What tends to happen is that people come in and they have not engaged with other services, and they don't want to. "We find that once they have engaged with us, we can say to them 'how about we refer you
to here, and come with you to the first meeting'? Then we can help them.
"We work with addaction, Sussex Alcohol and Substance Misuse Service, and I amtrained in drug and alcohol intervention too so we can offer our own help. We also work with housing and social services, but everybody over the age of 18 has to have a priority need to be housed.
"If they're 16-18 they fall under the responsibility of Social Services and will be accommodated. Over the age of 18 there is no requirement to accommodate them unless there is a priority need. One or two are rough-sleeping in Horsham but most people end up on the sofa surfing circuit. We know at any one time of about 20 that are precariously sofa surfing, and we occasionally find someone who is sleeping in a tent or in stairwells on a regular basis. It's not just men – there are three women we've had in the last year that were in this situation but have now been housed.
"My husband and I are really lucky that we have been able to share our home with some wonderful people. It's about sharing life, helping people along. We don't have a 'hands-off' approach.
"At the end of the day, God is very clear about sharing and what he has blessed us with, so we do."
Whilst The Ark is based in a Church (provided by the United Reformed Church free of charge) and is run by Christians, the Bible is not forced upon those that attend. Janet Sowerbutts is a retired minister and is one of the
trustees at The Ark.
Janet said: "There is no Bible class pushed on people, but it's there if they want it. There is no forcing or no compulsion. A little while ago, a few people did want to learn more about it so somebody came in and held a session on the Bible.
"They get the idea that there is a Christian flavour behind this – we say grace before a meal – and if they ask questions we answer them. We are trying to do what God would want us to do but there are no rules – they
don't have to go to church and they don't have to read the Bible. But we do hope that they will be influenced by the care and love they receive here.
"We are changing what we do here. In the beginning, it was the food that was vital and giving people a healthy meal was the first thing that we had to do. Then we focused on addictions. But what has taken over is helping people to find accommodation and in some instances finding work.
"You can't talk to them about beating a drug addiction until they have somewhere to live. For some of the people that come here, The Ark has been an absolute lifeline. People in Horsham are unaware of what is happening in our society at the moment – the needs and the loneliness of a lot of people who find themselves on their own. It's fine for the council to provide accommodation, but this can leave people isolated and with nowhere to go. You need social contact. But society doesn't deal holistically with the whole person.
"When somebody comes through the door we don't know what their need is and we have to be open to that. Not all of the people that come here are addicts– some come for the social aspects. They come for friendship."
As well as being a place where people can sit down and have a chat over a cup of tea, visitors can play pool and table tennis. The group has also enjoyed days out camping, bowling and visiting the seaside. Some enjoy cooking and preparing the food parcels, with food donated by churches, businesses and individuals (including one local businessman who drops in potatoes, carrots, tomatoes and fresh vegetables).
Others like to paint, draw or make greetings cards, or take advantage of the volunteers who help with writing CVs, claiming benefits and personal finances.
As well as drugs and alcohol advice, GamCare visit each week, providing help and information on gambling addiction. One of the beneficiaries is Robert Stones, who built up credit card debts and fell into gambling in a bid to eat into his financial deficit.
Robert said: "I have epilepsy so you can't work and there is a lot of discrimination when it comes to getting a job. People don't want to know. I worked at Gatwick and enjoyed a job there for a couple of years but the fits got worse and I started having dizzy spells.
"One day I fell down an escalator and they said I was a danger to others in the airport, so I had to be dismissed. After that, I went to the doctors and got a letter saying I was unfit for work and I'm now on benefits. I started out getting disability allowance and then I got a flat sorted out. But then I got a credit card and the debts went up. I also got a loan from the bank thinking I could pay the interests off and I couldn't. It spiralled out of control.
"I thought I couldn't cope so a couple of years ago I took an overdose and ended up in hospital. I didn't know about The Ark at this time and was thinking about ending my life. I thought a way out of the debt could be
gambling.
"I started with bingo and horse racing, then moved on to roulette. Without this place I would have gone further downhill and built up more debt. But this week I've been able to sort out a debt relief order. I'm still gambling but not as much as I was. Lisa has sorted me out gambling addiction counselling and the man from GamCare comes to see me on a Monday.
"If it wasn't for this place, a lot of these people here with addictions - drugs, alcohol or gambling – would be outcasts of society. But they are not outcasts - they are normal people who have had problems in life and need help. They will sort out anything for you in here. It's like a big family – it's an amazing place."
Another person to have benefitted from The Ark is Sherene Gilbanks. During our visit, Sherene, 24, was cradling her eight-week-old daughter Scarlett.
Sherene said: "I had an appointment at The Ark when I first came to Horsham, and that was when I met my boyfriend Martin. I had been in prison for three months - I have been in prison a couple of times for shoplifting -and I was released last August and came here. I was working with addaction, which is a drug rehabilitation service that helps you get clean. I'm now off the drugs and clean. I was addicted to heroin, but I've been clean for a couple of months now and it's going well.
"When I fell pregnant, I thought 'what am I going to do now?' That was when I started coming off the methadone. It's hard to do – it's taken two or three years to come off the drugs and stay off it. We have been housed now in Horsham. The Ark has helped a lot. It's somewhere I can come to if I need to talk to anyone, and I can relax. Life is a lot better at the moment."
It's been only two years since The Ark was formed, but it is helping those in our community most in need. In the future, Lisa hopes that they can help even more. She said: "We've been here for two years, and we've seen changes in everybody – positive changes. Success here is that one small step - it's not a giant leap.
"Our desire is to have a house in which we can have more people come and live with us and get their lives back on track."
Until that day though, the visitors to The Ark are grateful for what they have. Janet said: "Lisa is the most remarkable woman in the world.
"The number of people out there that are in secure accommodation, out there that have got a job, out there who have found their feet, because of that one person, will surprise you."
For more information contact Lisa on 07825 284054 or visit www.thearkhorsham.org.uk