AAH EDITOR PENS DEBUT NOVEL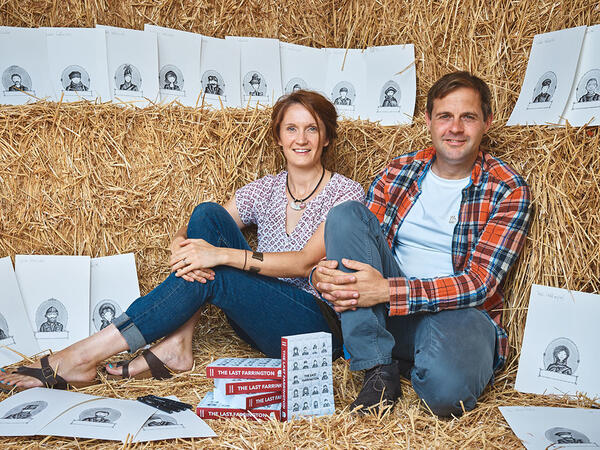 Published: 4th September 2018
So, who's this then? On the right is Ben Morris, the editor of AAH, who has written his first book, The Last Farrington.
He's using his own magazine to promote it? I know. A bit narcissistic...
And on the left? That's Sonia Morris, an artist from Broadbridge Heath. Sonia, who is Ben's cousin, has drawn 31 illustrations of individual characters for the book.
That's a lot of characters? Most of them only make a fleeting appearance before dying in unexpected fashion. As is evident on the sleeve, members of the Farrington family have been speared by a narwhal, poisoned by a spider, dropped from a mountain by a golden eagle and diced into tiny pieces by a wood chipper.
It's a horror then? Not at all. It's aimed at the young adult market, although it helps if they come with a warped sense of humour. It's also a great book for anyone who grew up in the 1980s.

What's it about? Warren Farrington is the last surviving member of his family, famous for generations as both brave, intrepid adventurers and pioneering businessmen and women. For 200 years, they have died in inexplicable accidents, leading to Warren living an isolated existence at Farrington Towers. Every aspect of his life is managed to meticulous levels of safety by the enigmatic Director and the elite guards of the Farrington Protective Force. Warren's only friend is an 80-year-old bowtie collector. His life changes forever shortly after his 15th birthday, when a deranged man in a bird costume claims to have kidnapped a twin sister Warren never knew existed. That's all we'll say without a spoiler alert.
Does it include magic? There are no wizards, elves, orcs, goblins, magic wands or dragons. Instead, the reader is treated to German pop music, cow tipping, lawnmowers, Victoria sponge cake and The Wirral Young Farmers' Association.
The Wirral Young Farmers' Association? The book has rural themes running through it. Thus the farmyard setting for the photo. Ben said: "My sons love reading but it seems that most modern books, even those outside the fantasy genre, offer impossible plots. Central characters have James Bond-esque adventures or utilise their video game skills to prevent Armageddon. But you can create page-turning thrills with more mundane scenarios - a tractor chase for example - through good dialogue, rather than excessive action."
Sounds dull! It has its dramatic moments, but if you're looking for a story where the hero stops a nuclear bomb one second before detonation, The Last Farrington isn't the book for you. Ben said: "I'm not totally at home when writing action, although the feedback to the book's dramatic scenes has been very positive. I prefer witty dialogue and I'm very proud of the relationships that form, particularly between Warren and his unlikely companion, Gary, who is proving to be a lot of people's favourite character."
People have read the book then? Ben gave an early draft to several members of a local book club and the feedback was hugely encouraging. They made just one suggestion; to cut the last line. It has indeed gone. Not everyone has loved it though; Ben's youngest son, who is 10, quickly ditched it for a dinosaur encyclopaedia...
Where did Ben get the idea for the book from? The plot came together during dog walks along the South Downs. However, he had a library of weird death concepts from a job he had after college.
That needs explaining… Ben said: "I went along to a Horsham job agency with a friend, Gary Coleman. We both took a job at an electrical meter reading company and I ended up spending four years there. The work was so tedious that we would constantly exchange emails and there was always comical aspects to them. It was the era when people rejoiced at discovering new things on the internet and one day an email was distributed about The Darwin Awards, which highlighted weird deaths reported around the world. Me and Gary ended up writing our own fake Darwin Award contenders. George Farrington's grisly demise is one of those that I came up with 20 years ago."
Why has it taken so long to write? The full plot of the book only developed recently and it's all been written over the last year. Ben said: "A couple of years ago, I interviewed Matt Charman, who I went to school with at Forest. I then hosted a Q&A with Matt at The Capitol, after he was nominated for an Academy Award for his work on Bridge of Spies. Seeing Matt again did give me a bit of a kick up the backside, as he's achieved so much. So, I decided to do something with my old ideas and The Last Farrington was the one I chose to focus on first."
Where can I buy a copy? Ben has printed just over 100 copies of the 460-page paperback book. It's only available at Crates in Carfax and at Horsham Museum in Causeway, from 7 September.
Is it on Kindle? Yes, and it's a better bet! Ben said: "Inevitably, there are a few small errors in the book. They're so much easier to spot in print! As I mentioned in my column on P5, I'm a little embarrassed about one or two of them. These have been corrected on the Amazon Kindle version, which also has a slightly different first chapter. I felt the opening two pages didn't flow like the rest of the book, so I made tweaks."
Who has published it? Ben has published it through AA Publishing Ltd. He hopes that, after processing feedback, he'll have the confidence to submit the book to literary agencies and publishers. Ben said: "I've found the rules for submitting to agencies a little frustrating. They want to see the first few chapters. To be honest, not a great deal happens at the start of The Last Farrington and a key character doesn't enter the fray until much later. So, I've gone rogue!"

Buy The Last Farrington (ISBN 9781916436008) for £7 at Crates or Horsham Museum. Ben will be signing copies at Crates on Saturday 15 September, at 11am. The Kindle eBook can be purchased for £3.99 here