Where Horses are a Way of Life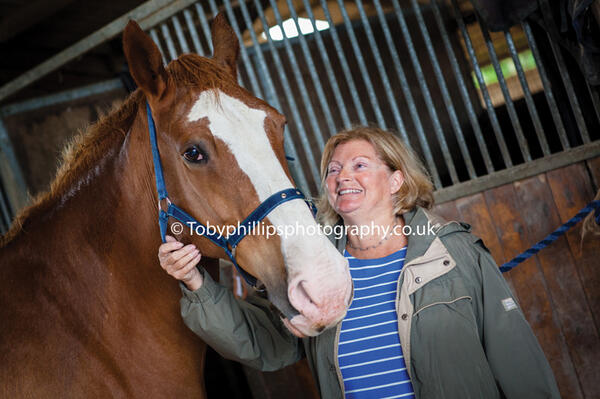 At the age of four, Anne Hawes was inspired to create her own glorious chariot after watching Ben Hur. She took her donkey, which was often seen sporting a Fez as Anne liked Tommy Cooper, and using some string she had found, managed to tie her own pushchair to the animal.
As she climbed into her elegant chariot, her mother Bette discovered what Anne was up to, grabbing her daughter as Noddy, the noble steed, charged off with a pushchair flailing about behind him. Anne's chariot racing career had come to an abrupt end, but her love for all things equine has defined her life.
Today, Anne runs the West Sussex Livery in the village of Dial Post. Here,she keeps her own horses for eventing, runs a livery yard, and operates a horse and pony share scheme for adults and children. As the third generation of a local farming family, Anne has lived in Dial Post on the Knepp Castle estate all of her life.
Her grandparents ran a farm at Swallows in the small village, before Anne's parents Dick and Bette took over after World War Two. Dick went off to fight at the age of 17 and survived the war. After that, he was happy running his beef and dairy farm.
The family also developed a pedigree flock of sheep at Swallows, which was renowned as one of the best flocks in the country. An extensive breeding programme led to Dick and Bette creating an operating theatre at the farm for embryo transplants, allowing them to create more top quality sheep.
But a mistake in the preparation of the sheep's food rations by a third party supplier would have a devastating impact on the farm. Most of the sheep were killed or mutilated, triggering an exhaustive two-year legal battle between the farm and the supplier.
Anne said: "It was a terrible time as all the stock you had was suddenly dying. Trading Standards took the supplier to court, and then we did as a farm. We won the battle but lost the war, as that effectively ended the sheep breeding and that was the catalyst for us concentrating on horses.
"We started hiring horses out for hunting initially, and it just grew. I was passionately silly about horses from the age of four. My first pony belonged to the driver of the lorry who would come and collect the milk churns. I worked at Knepp Castle when I was young, walking out the hunters on a Sunday, mucking out, everything. The grooms there taught me a lot and as the years passed I seemed to amass horses. Horses are like a drug, except they are more expensive!
"When mum and dad retired, I moved to Church Farm South and just carried on, with my daughters Penny (who now runs the Crown Inn at Dial Post with husband James Middleton-Burn) and Jo (who runs a farm in Barns Green) growing up with horses too.
"The share scheme started as I didn't want to get rid of my girls' ponies as they were great and we loved them. Someone asked 'can we ride Robin?' and I thought it was a fantastic idea. We moved to New Barn Farm 13 years ago and now we have a wonderful team of riders here. Most of the horses are owned by the farm, but are shared by riders. We look after them properly, and the parents don't have to buy a house with stables and horses or have riding knowledge and experience.
"It's a way of girls being able to ride without having a rich family. And also, it's not boring for them as the girls are not alone. Lifetime friendships are built here. It's like a pony club here, but also as a yard we belong to the Horsham and District Riding Club because they do lots of events and help brings the riders on."
Sadly, Bette died a little over 18 months ago, but this 'formidable lady' is still fondly remembered by the young riders at the yard. Anne's team is led by Lorna Tullett, the yard manager. Lorna, who has a BHS Stage IV Riding qualification, is at the yard every day to look after horses in the 30 boxes in large internal stables.
She said: "I've loved horses since I was young and for me this is the ideal job. I normally start at about 7am, feeding the horses, turn them out, muck out and exercise them. If they are going to a show I bathe them, plait them, clean the tack and make sure the lorry is loaded with all of the right equipment.
"I also do some teaching independently, and give the girls lessons here too. I have my own horse, Daisy, and we regularly compete too. We went to the National Championships as part of the Horsham and District Riding Club team, which is a major evening contest. We came 5th out of 20, which is quite impressive at such a high level."
The performance of some of the yard's horses is remarkable as, in terms of facilities, the West Sussex Livery is not the most modern of operations.
Anne said: "The whole ethos here is to bring the horses on positively but nicely. We work them then give them a rest. You don't want to bombard them. We enter the competitions but it is not all about that. There are a few rosettes and silver cups around the farm, but they are not polished or engraved. We don't like the cups as it costs £20 to engrave them!
"What we do here is give young riders the opportunity to learn all aspects of owning and riding a horse. You can't just jump on a horse and go. With golf clubs, you put into the garage until you need them next, but horses are a way of life.
"So we have no fancy jump fences here, and I always say that if anyone can ride in my school, they can ride anywhere! But I like it that way, and we find that our horses jump supremely well in competition. Murray this season has not knocked a pole down in show jumping, as he and his rider have such a good relationship."
Murray has been one of the more remarkable success stories at the yard in recent years. The Dun Connemara performance stallion won an award for being the Best Ridden Connemara Stallion, and the youngest rider at the yard, Melissa Joannides, recently rode him at Badminton.
Anne said: "I had always wanted a Dun Connemara stallion. A friend of mine phoned me up and told me about a colt for sale in north Wales. I looked at the breeding, saw he was a Kilmurray Bay Mirah foal and bought him unseen.
"When I saw my 20-month-old colt for the first time, he was in a shocking state. He had something called sweet itch, so he was agitated and his owner couldn't cope with him. We brought him to the farm, gave him a few baths and started him off with hunting.
"Melissa was initially riding Woody, but I showed her this scruffy little urchin, Murray, and said 'this is what I want you to ride next!' But underneath the pig's ear is a silk purse. Once he was used to the hunting, he did some winter dressage, then some hunter trials, and finally show jumping. At the end of it, we had reached a point where we could put them all together. You want a horse to reach that point without being stressed, because if you have a stressed horse or pony they are not going to perform their best, and as the girls here know, poor preparation
prevents perfect performance!
"Murray has won the Connemara performance award for two years running. I think he is the perfect pony; a child can ride him, an adult can ride him, and he is so versatile and clever. There are many great breeds, but I do
particularly love this breed and crossed with a thoroughbred, it's fantastic. He also has such a striking colour – he looks like he has stockings on – and that is being passed on to his foals."
There is no shortage of Murray's foals at the livery. Some have been planned, whilst others have been the result of Murray's adventures. Galaxy is a consequence of Murray escaping into a field with several Exmoor ponies on the Knepp estate!
Whilst there are a good number of fine horses at the yard, such as Foxglove and the old timer, Rosebud, seven-year-old Murray may prove pivotal to the yard's future success. Anne has several of his offspring, foals and yearlings and the vet recently confirmed that two more mares are in foal by him.
Anne said: "Melissa is a very talented rider and you could see that from an early age. She has ambition to go with it too. You can have the talent, but you need the luck and the right horse, which she has with Murray. Lorna has worked very well with Melissa, and if she remains focused she can be successful with Murray.
"It is tempting to sell Murray's foals, as there is obviously value in them. But you don't always know how they are going to be produced elsewhere. We want to bring them on properly, as that's the best advert for Murray and the Connemara stallion. When we retire him from competition, which hopefully won't be for quite a while, his
progeny will then be competing. There is no hurry for that to happen, except I would like to do it before I depart!"
For more details visit https://www.west-sussex-livery.co.uk/