Alexandra Bastedo's Animal Sanctuary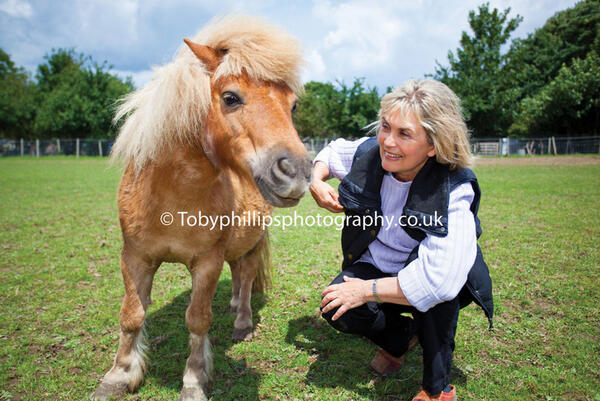 Published July 2011 in AAH Magazine
There's a small sign on a gate that leads to the ABC Animal Sanctuary which reads 'Beware Dobermanns, Donkeys and Ducks'.The sign doubles as a title for the memoirs of the sanctuary's owner, suggesting that - despite a host of major television and film appearances -Alexandra Bastedo considers the sanctuary to be her greatest achievement.
Alexandra is best known for her role as beautiful secret agent Sharron Macready in The Champions, a hit TV show in the 1960s and 70s. She has also appeared in Absolutely Fabulous, EastEnders and even had a small role in Batman Begins in 2005.
But when we arrive at the Alexandra Bastedo Champions (ABC) Animal Sanctuary in West Chiltington, she's wiping her hands dry on her jacket, having just been caring for a cat that is just getting used to her new home. The cat had been taken to the vets to be put down by her owners, because she was clawing at a new sofa.
Thankfully, the vet called Alexandra, and now the cat has dogs, geese, turkeys, peacocks, goats, ponies, horses, donkeys, cockerels, rabbits and two Vietnamese Pot Bellied Pigs for company. Alexandra said: "We are seeing a lot of people unable to care for their animals. People are having houses repossessed, and the cost of everything has risen. We heard from one lady recently who cannot afford to keep her two ponies anymore. We also have a lot of animals where owners have gone into residential homes or have died, without making provision for their
animals.
"Sometimes their relatives then take the animals to the vets to be put down. People don't consider what will happen to their animals when they can no longer care for them and expect rescue centres to pick up the pieces."
Alexandra has been running an animal sanctuary for nearly thirty years, moving to West Chiltington from her former home near Chichester eight years ago. The sanctuary rescues abandoned animals, providing them with care and when possible a good new home. Some animals that require special care or diets, such as Nutmeg - a pony who is blind in one eye - or are too old to be re-homed, become permanent residents at the sanctuary. Each individual animal may have individual requirements, meaning a huge workload for Alexandra and a team of 55 volunteers.
Alexandra said: "I feel we are stretched, but most places are. There's a lot we would like to do, but there are always food and vet bills which take priority. We have different diets. We have one animal who needs wet hay, and a white pony who needs haylage, and we have to make sure conditions are right for each animal.
"There is a lot to consider and it's a lot of work. It's not just dealing with the animals and cleaning, we are fundraising all the time. Our Open Day in May raised £9,000, which was fantastic, but we had a vet's bill for £3,000 outstanding. We are having to deal with high hay prices at the moment, and when you're getting through 30 bales a week you're talking over £180 each week at current costs."
Often finding herself working from early morning to midnight with a team of volunteers on a shoestring budget, you can understand why Alexandra "gets cross" when she hears about bigger animal charities losing millions of pounds in the Icelandic bank crash. "You think, well why am I having to do this then if you can afford to put away that kind of money?" she said.
In these economically challenging times, small charities such as ABC Animal Sanctuary are having to work even harder to attract much-needed funds, at a time when they are increasingly in demand. The sanctuary website now
receives some 6,000 visits per month. This year, Alexandra is hoping to raise money for a new stable for Marty the horse, a new home for Pygmy Goats, and the replacement of posts for the aviary which houses 80 birds, ducks, geese, chickens, bantams, turkeys and two peacocks!
All this means that Alexandra is spending less time with the animals and more time on administration, publicity and fundraising. She said: "You are forced into a position of authority. You have to spend less time with animals in order to deal with the general picture. You have to delegate what others can do."
Please visit the website at www.abcanimalsanctuary.co.uk for details of how to donate.